News
New Marvel's Avengers Characters Leaked by PC Dataminers
More heroes are joining Marvel's Avengers as playable characters, according to discoveries made by dataminers.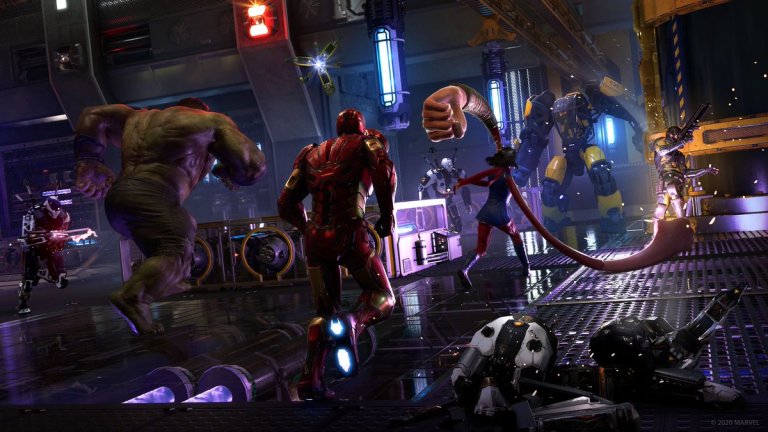 The Marvel's Avengers PC beta went live last weekend. As you'd expect, dataminers have busied themselves with uncovering the title's secrets, including future content coming to the game. One interesting tidbit discovered by these dataminers (via Eurogamer) is a list of unlockable playable characters within the game's code.
On top of the game's central cast of Avengers — Iron Man, Captain America, Thor, Hulk, Black Widow, and Ms. Marvel — there are quite a few other additions that fans of the Marvel Cinematic Universe will be excited about. The datamined list features many characters that have either appeared or will appear in an upcoming MCU movie or TV series.
The list of new playable characters includes Ant-Man, Black Panther, Captain Marvel, Doctor Strange, Falcon, Hawkeye, Hulkbuster, Kate Bishop, Mar-Vell, Mockingbird, Quake, Scarlet Witch, She-Hulk, Vision, War Machine, and Wasp.
We already knew Hawkeye was coming to the game as DLC post-launch but the rest of these characters haven't yet been confirmed as playable characters. Hank Pym/Ant-Man has shown up in trailers and is even referenced in the game's beta, but this is the first time he's been mentioned as a playable character. Other big-name heroes, like Black Panther, Captain Marvel, and Doctor Strange, had yet to be revealed by Square Enix at all.
Eurogamer speculates that the inclusion of Hulkbuster, which is already Iron Man's special ability in the game, could mean that the fan-favorite mech suit will be spun off as its own playable character at a later date.
One character missing from this list is Spider-Man, who we know is coming to the PlayStation versions of the console but not to Xbox Series X, Xbox One, Google Stadia, or PC. Judging from this list, it seems that Spidey won't be swinging to any other platforms any time soon.
If you haven't had a chance to jump into the Marvel's Avengers beta, we spent a weekend with it before it launched to the public and came away a bit underwhelmed with the experience. Repetitive level design and dull enemies rob the fun combat of a bit of its spark. We really loved playing as Black Widow and Kamala Khan/Ms. Marvel, but felt that the beta did too little to tease what should be a superhero spectacle on par with the Avengers movies. Instead, Marvel's Avengers is a bit ordinary.
Compounding an already worrisome situation is the fact that Square Enix seems to be set to use Marvel's Avengers as a marketing platform for commercial partnerships. Verizon and Virgin Mobile subscribers, for example, will be able to unlock special skins for their heroes, while buying packs of 5Gum will get you other perks in the game. Yikes.
All fans will be able to finally get their hands on Marvel's Avengers when the game launches on PlayStation 4, Xbox One, Google Stadia, and PC on Sept. 4. The game is coming to Xbox Series X and PlayStation 5 at a later date.