News
Where to Pre-Order the Tears of the Kingdom Switch OLED, Pro Controller, and Carrying Case
If you want to get your hands on that Legend of Zelda: Tears of the Kingdom Switch OLED (or its accessories), you're probably going to have to hunt for a pre-order.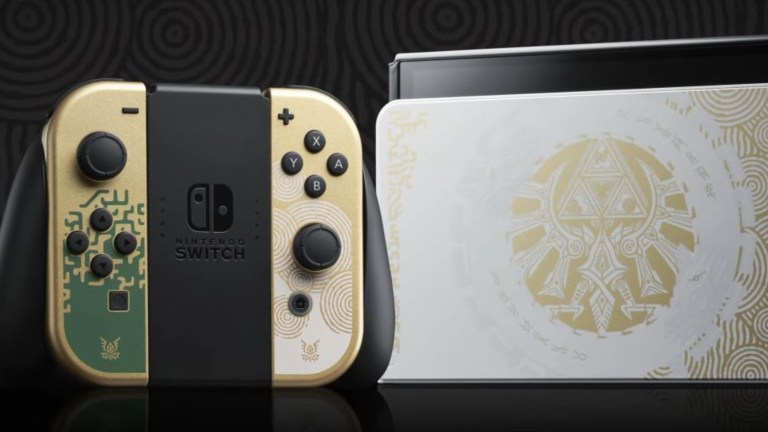 It wouldn't be a modern new Zelda game release without a ton of special edition accessories, and Nintendo is certainly pulling out all the swag stops for Tears of the Kingdom. Some will even be lucky enough to snag a special Tears of the Kingdom-themed Nintendo Switch OLED. Of course, that's assuming that they're lucky enough to beat all the scalpers and pre-order one, that is.
The Tears of the Kingdom Switch OLED model will be released on April 28 and retail for $359.99 (which is surprisingly close to the base OLED model's MSRP). While functionally similar to the base Nintendo Switch OLED, this special edition of the hardware features a beautiful Zelda-themed design on both its docking station and joy-con controllers. Unfortunately, you do not get a copy of the Tears of the Kingdom game (which will cost at least $70) as part of that package. Nintendo is also releasing a Tears of the Kingdom-themed Pro Controller and Switch carrying case, though those are not being released until May 12: the day that Tears of the Kingdom itself will be released.
Of course, that special Nintendo Switch OLED is the star of this show. It's a fantastic special edition console for Zelda fans, though I honestly wouldn't be surprised if some OLED holdouts used the release of this new hardware as an excuse to upgrade their old Switch. Granted, a recent series of rumors suggest that Nintendo is preparing to reveal its next major piece of hardware in the near future, but the Switch OLED is certainly the best version of the current Nintendo Switch.
While Nintendo has said that you will technically be able to purchase all of these accessories via your local retailer, Nintendo fans know what that means. Unless you get really lucky and find one of these out in the world, you're going to have to try to get pre-order these accessories if you want to avoid paying absurd third-party seller prices for the privilege of owning them. So far as that goes, here's what we know.
Where to Pre-Order The Legend of Zelda: Tears of the Kingdom Switch OLED, Pro Controller, and Carrying Case
As of the time of this writing, there are only a few pre-orders live for the Tears of the Kingdom Switch OLED, the Pro Controller, or the carrying case. However, more and more are going up throughout the day, so you should be able to pre-order any of those special editions via your favorite major retailer very soon.
In the meantime, here are a few links to the product pages where those pre-orders should go live. We'll be updating these links soon (hopefully today, if those pre-order rumors are accurate) with the actual pre-order links as soon as they are available.
Where to Pre-Order the Legend of Zelda: Tears of the Kingdom Nintendo Switch OLED
Best Buy (LIVE!)
GameStop (LIVE!)