News
Hogwarts Legacy Release Time: When Will the Game Be Playable For PS5, Xbox Series X, and PC?
Since Harry Potter is a global phenomenon, Hogwarts Legacy will be released roughly around the same time in every region. Deciphering that time is another matter entirely.
Hogwarts Legacy is based on the Wizarding World universe created by J.K. Rowling. You can read more about Rowling's history of transphobic remarks as well as find resources to support LGBTQ organizations here.
The train to Hogwarts has almost pulled into Platform 9 3/4, but some people are confused about when they are supposed to board. Thankfully, the publishers have provided a handy guide to help anxious players make sense of their tickets (and the game's bizarre release schedule).
Because of certain business decisions, the current-gen versions of Hogwarts Legacy will essentially ship with two distinct release dates. Everyone who buys the game physically or pre-orders the standard version will get to play on February 10, whereas anyone who purchases the Deluxe Edition will get to play 72 hours early. But when can gamers actually start on those days? You won't need Professor Trelawney to figure it out.
According to the official Hogwarts Legacy Twitter account, the different ports are tied to different release clocks. The console versions will launch at midnight in each respective time zone, with the exception of PST. PST gamers will get to play Hogwarts Legacy at 9 pm on February 9th (the lucky muggles). Meanwhile, the PC version will launch globally at 10 am PST/1 pm EST. As for Early Access release times, those are a case of "second verse, same as the first." Anyone who pre-ordered the Deluxe Edition on Xbox Series X/S or PlayStation 5 can start playing at midnight, February 7, in their timezones (again except for PST, who still get to start at 9 pm the day before), while PC owners will all start at 10 am PST/1 pm EST.
Of course, console gamers can always use the famous "New Zealand trick" to play the game early. Since the game will technically launch in New Zealand ahead of any other region due to how the global time system interacts with Hogwarts Legacy's release schedule, those who set their console's location to New Zealand will be able to play the game nearly a day before anyone else.
Here are a few handy release time maps that should help you make sense of the whole thing.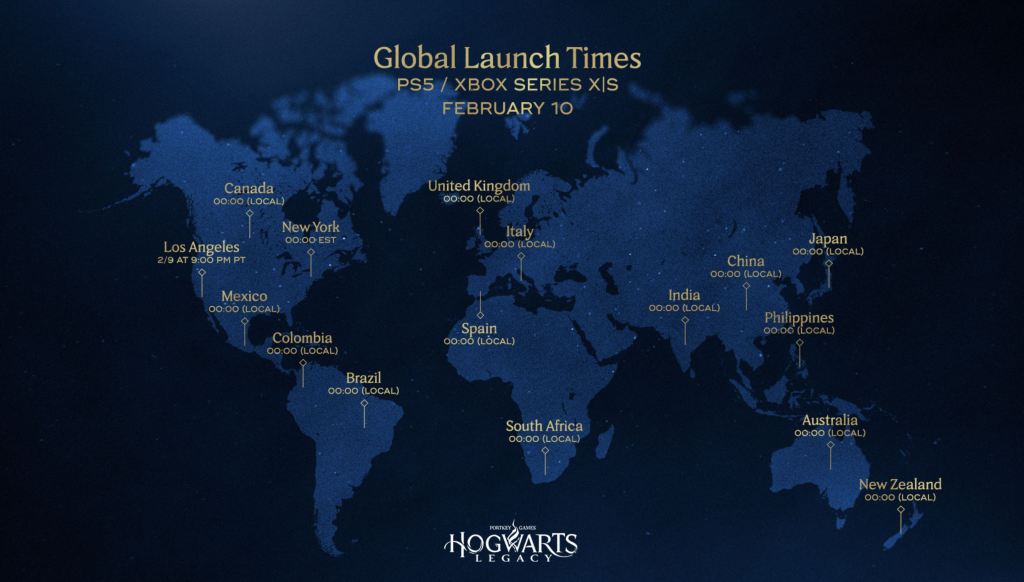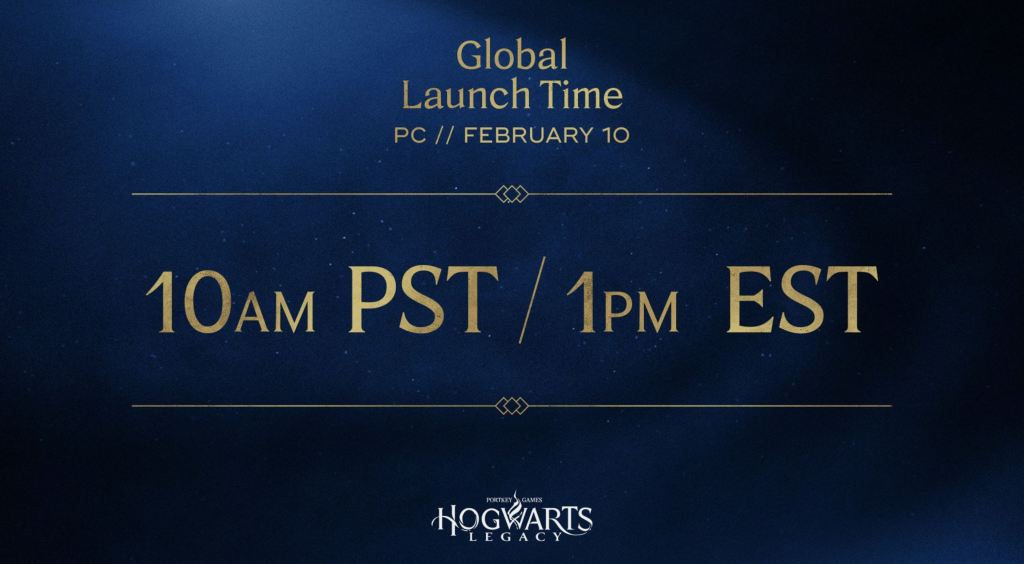 As is usually the case, all the above release times only apply to digital pre-orders. Gamers who ordered physical copies will either have to wait for them to arrive in the mail (sorry, don't expect an owl to deliver them) or have to visit their local retailer. Also, Early Access only applies to the digital version.
Regardless of whether someone purchased the Deluxe Edition, everyone who pre-ordered Hogwarts Legacy digitally probably wants to know when they can start installing the game. A midnight release is all well and good, but it puts gamers with slow internet at a distinct disadvantage, especially since the game requires around 85 GB of hard drive space (give or take depending on the platform). Unfortunately, each version features its own pre-load schedule. Xbox owners must have drunk some Liquid Luck since they can pre-load Hogwarts Legacy right now, whereas PS5 players will have to wait until 72 hours before their respective release dates (e.g., Deluxe Edition owners can download it on February 5). As for PC gamers, they drew the short straw because they won't get to pre-load the game at all.
That's everything you need to know about Hogwarts Legacy's various start times.