News
Halo: The Master Chief Collection Crossplay Will Connect Xbox One and PC Players
343 has confirmed that Halo: The Master Chief Collection is getting crossplay between Xbox One and PC! We also know what content will be available during the Halo 3: ODST public flight.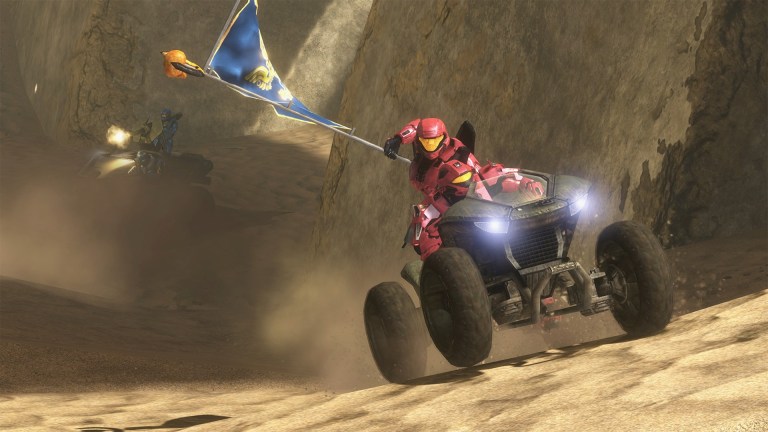 While developer 343 Industries prepares to unleash Halo Infinite on the Xbox Series X later this year, the studio is also hard at work on improving the PC and Xbox One versions of Halo: The Master Chief Collection. In a blog post on Halo Waypoint, 343 has detailed a new update that will bring crossplay, mouse and keyboard support for Xbox One, a custom game browser, PC fileshare, new graphics and audio options, and more to the collection.
Currently, all of these updates are slated for 2020, but 343 declined "to commit to specific dates as things need to remain a little flexible in our development schedule as some items may get moved around depending on how development priorities shift over time."
The studio didn't really elaborate further on any of these updates besides confirming that "crossplay, input based MM, and server region selection" would all come to the game at the same time, while "custom game browser, per game graphics options, and mouse and keyboard support for Xbox" would also be bundled together at a later date. The fact that crossplay and mouse and keyboard support for Xbox One are scheduled for different content drops could make it challenging for an Xbox One player to go up against a PC player at first, but this is all of course subject to change.
343 also updated fans on when they should expect the release of other Halo games on the PC version of the collection.
"In addition to the above, we are committed to bringing ODST Campaign and Halo 4 on PC, as well ODST Firefight (with updated networking) to both Xbox and PC in 2020."
Barring any big surprises — like Halo 5: Guardians on PC — the release of Halo 3: ODST and Halo 4 will complete the collection on PC. 343 confirmed that it'll begin Halo 3: ODST's "flight" (user testing) soon now that Halo 3 has fully rolled out on PC.
"We do not have final timing just yet for when flighting is going to start, but we are looking to get things rolling within the first few weeks of August. Stay tuned for our MCC Development & Flighting Updates over in the Insider Forums HERE to stay in the know."
Here are the full details on what content users will be able to test during the Halo 3: ODST public flight:
NEW FEATURES
Customization: Updated customization will be available for Halo 3: ODST.
Firefight Matchmaking & Firefight Custom Games: Firefight's networking model has been completely overhauled for its addition into MCC.
Theater: Theater will be available for use with Mouse & Keyboard for Halo 3: ODST.
CAMPAIGN
Flighting will support the following ODST Campaign missions with options for all difficulty levels, single player, and co-operative online play:
Campaign Missions: Mombassa Streets, Tayari Plaza, Uplift Reserve, NMPD HQ, Data Hive, and Coastal Highway.
Campaign Playlists: Flight Test, Flight Test (Heroic), Hoofin' It (Tayari Plaza, NMPD HQ, and Data Hive), and Street Smart (Mombassa Streets).
FIREFIGHT MULTIPLAYER OPTIONS
Halo 3: ODST's flight will support various multiplayer Firefight options. This will include Custom Firefight Games and Firefight Matchmaking. Below is the content that will be available:
Maps: Crater (Night), Rally (Night), Crater, Lost Platoon, Windward, Chasm Ten, and Last Exit
Playlists:Firefight Heroic and Firefight Arcade
SETTINGS AND OPTIONS SUPPORTED FOR PC
Below is a complete breakdown of Settings and Options included in the flight for PC:
Settings – Controls: Configure Mouse & Keyboard and Configure Gamepad
Settings – Video: Field-Of-View, Vehicle Field-Of-View, Gamma, Window Mode, Aspect Ratio, Resolution Scale, V-Sync, HUD Anchoring, Unified Medal Display, Framerate Limit, and Graphics Quality
Settings – Audio: Game Volume including Menu Music Volume, Game Music Volume, Effects Volume, Voice Chat Volume. Also, Voice Chat Channel, Push to Talk Voice Chat, and Multiplayer Game Sounds
Settings – Gameplay: Crosshair Position, Show Invite Notifications, Enemy Player Name Color, Multiplayer Game Timer, and Credits
Settings – Network: Network and Relays
Settings Accessibility: Subtitles, Change Language, Convert Text-To-Speech, and Convert Speech-To-Text
More Halo news as we learn it!