News
Halo Infinite Graphics "Harken Back" to Classic Halo, According to 343
Some fans have criticized Halo Infinite for having "bad graphics" and delivering a disappointing gameplay demo overall. 343 and Xbox have responded.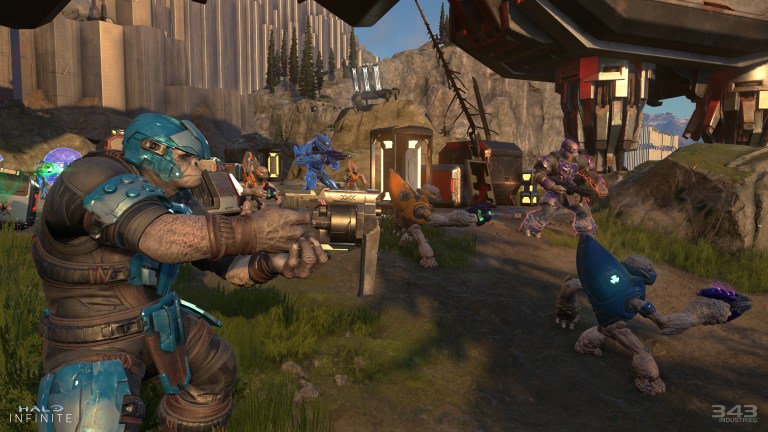 Xbox Game Studios and 343 Industries finally lifted the curtain on Halo Infinite, the next chapter in the beloved first-person shooter series, during a digital games showcase in July. While the gameplay footage that was revealed certainly created some excitement for the Xbox Series X's flagship title, it's left some fans underwhelmed.
The major point of contention is the game's visuals, which look subpar, according to some. On Twitter, some users lambasted the gameplay footage, pointing to screenshots of Brutes, the environments, and weapon textures as examples of how 343 seems to be taking a step back in terms of the franchise's graphics. There were even suggestions that past installments like Halo: Reach, a game first released in 2010 and recently re-released with a graphical upgrade for PC, looked better than Halo Infinite's first demo.
Of course, for as many people criticized the look of the game, others, including 343 itself, defended Halo Infinite's visual presentation as an art style choice driven by nostalgia. To some fans, the visuals are a positive, as they showcase an art style more akin to the colorful Halo: Combat Evolved and the series' roots. This approach to nostalgia is also evident in the game's box art, which in many ways recreates the classic Halo: Combat Evolved cover.
In a closed-door Q&A session after the gameplay debut, 343 creative director Chris Lee spoke to several outlets, including Kotaku, and addressed the demo's visuals, explaining it all came down to making the game feel like classic Halo.
"This really speaks to the spiritual reboot concept that we started this project with, where we really wanted to take the learnings from Halo 4 and Halo 5 and […] look across the entire history of the Halo franchise and embrace the most iconic elements and bring those forward for gamers today," Lee said. "The visual language kind of brings back, harkens back, to some of those iconic looks that we've had in Halo."
343 definitely packed plenty of nostalgia and callbacks to the original Halo trilogy into the nine-minute demo, as Master Chief shoots and melees his way through ranks of Covenant enemies with assault rifles, shotguns, plasma weapons, and the franchise's iconic, high-precision pistol. We watch as he maneuvers a Warthog across the rocky landscape of a Halo ring, mowing down Grunts and Jackals on his way to take down one of three land-to-air cannons. Kotaku even pointed out how this demo mirrored an early mission in Halo: Combat Evolved where Master Chief has to save three groups of stranded space marines after they crash land on the first Halo ring.
But there were some new things, too, including a new grappling hook called the Grapple Shot that Chief can use to launch himself at enemies, pull items towards him, and reach platforms above him. The demo also teased an upgrades menu, which 343 told IGN is related to items Master Chief can find in the field to upgrade his equipment.
"The grapple and the drop shield that we showed are kind of in that concept of a spiritual reboot that harken back to the equipment system in Halo 3," 343 explained. "Those are two new equipment items that Chief will be able to find and use as you play through the game."
Responding to the criticism surrounding the Halo Infinite demo, Xbox Marketing general manager Aaron Greenberg stressed that the game is a "work-in-progress" that's still in development and will continue to evolve as the Holiday 2020 launch approaches.
"Listen, we're in the middle of a global pandemic. It's July, we're far from Holiday [2020], you're seeing a work-in-progress game," Greenberg told Inside Gaming after the Xbox Games Showcase.
Greenberg also explained that the presentation was broadcast live in 1080p and he invited fans to revisit the footage on the official Halo YouTube channel, which now has the demo running at 4K 60 fps: "It's very hard to show the full power and graphical fidelity of what Xbox Series X will be able to deliver for you over a stream. Go back and look at it in 4K 60."
Check out the demo running at 4K 60 fps below:
Greenberg also said that a lot of progress is still being made on Halo Infinite leading up to the release. "I can tell you, because we see build check-ins every week, and they make progress week after week, so between now and Holiday it's just going to get better and better."
One interesting tidbit that 343 revealed during the Q&A (via IGN) after the showcase was that the Halo Infinite demo wasn't actually running on an Xbox Series X at all. Instead, 343 ran the demo on a PC that matched the Xbox Series X's specs. You can see what the core specs are below if you need a quick refresher:
343 didn't comment on whether running the demo on PC might have affected the visuals shown in the demo. That seems unlikely since Halo Infinite is also being released on PC this holiday and should therefore be optimized for that platform, too.
Whatever your opinion is on Halo Infinite, its approach to nostalgia, its visuals, or its relevance in 2020, this is a game people will likely spend a lot of time talking about in the weeks and months before the Xbox Series X finally launches. As far as Microsoft's next-gen console, it's still slated to release in Holiday 2020.
Halo Infinite will launch on Xbox Series X, Xbox One, and PC. Xbox Game Pass subscribers will be able to play the game at launch at no extra cost as well.