Sponsored
G.I. JOE's COBRA Is Slithering into Gunship Battle: Total Warfare
Gunship Battle: Total Warfare is all about spreading peace and freedom over land, sea, and air, and in order to do that, sometimes you need to make unlikely alliances.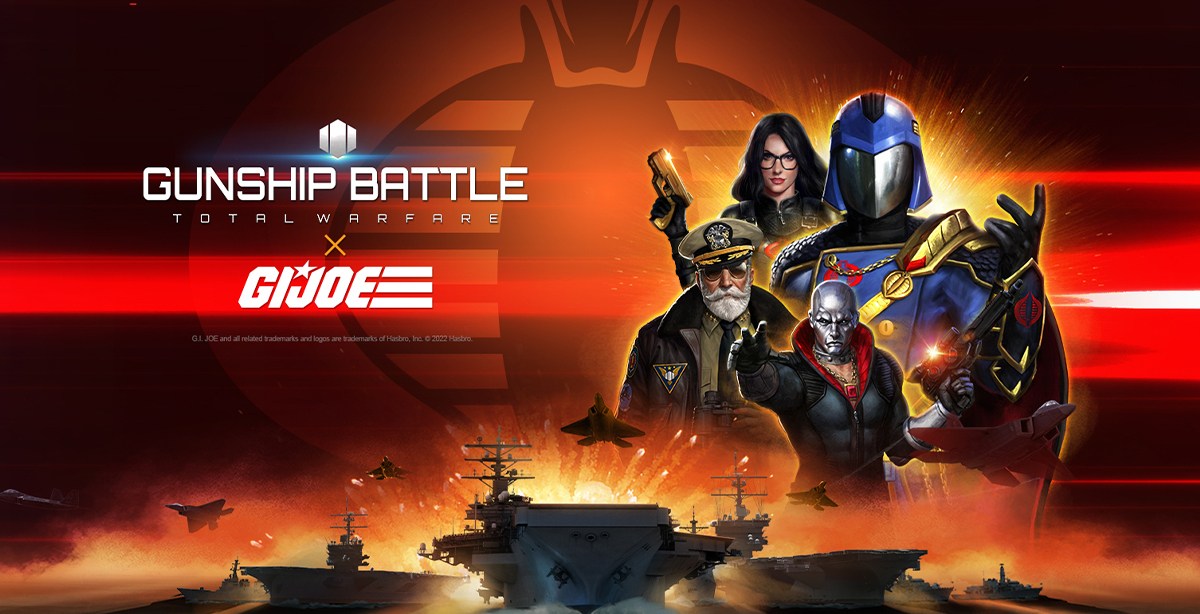 Crossovers are a popular event in any video game. Introducing characters and gear from fan-favorite franchises into an established game is a great way to keep things fresh and the playerbase engaged, especially when the crossover features more than just a few rewards. The best crossover events feel like they're seamlessly adding to the core experience with new adventures and things to see.
Case in point, game developer JOYCITY is teaming up with Hasbro to bring characters from the legendary multimedia titan G.I. JOE to the popular mobile game Gunship Battle: Total Warfare. The game tells the story of a naval captain (i.e., the player) trying to stop the terrorist group known as the New World Armada from obtaining nuclear weapons and kickstarting World War III. What better allies could gamers ask for than a crack team of soldiers with anti-terrorist experience like G.I. JOE? 
Just one problem: those aren't the allies players will receive during this crossover event. In a plot twist that is sure to shake the foundation of the game, players will have to instead team up with the villainous COBRA. What could possibly go wrong?
Check out the announcement trailer below:
During the crossover event, COBRA's top brass – Cobra Commander, Baroness, and Destro – will take center stage in a special story arc. COBRA has taken command of the USS Flagg, G.I. JOE's Nimitz Class Aircraft Carrier (which is a real ship classification), and teleported into the world of Gunship Battle: Total Warfare. COBRA's plan? To get players to collect and use a new resource called M.A.S.S. Profile, which powers COBRA's "M.A.S.S. Device." Since the New World Armada also uses M.A.S.S. Profile, COBRA is willing to "ally" with players to get their hands on as much as possible, but to what end? Audiences will have to play through the game's new quests and events to find out.
This crossover has more to it than just a story that, according to the press release, is full of deception and subterfuge (we'd expect no less from Cobra Commander). Everything about the event is COBRA-themed, including its rewards. The event features a Battle Pass full of COBRA-themed Avatars, Portraits, Nameplate Skins, Base Skins, and Equipment. And the crossover also sports "neo-retro" visuals that capture the characters' likenesses from the original G.I. JOE cartoon and translate them into the art style of Gunship Battle: Total Warfare.
While G.I. JOE characters have made guest appearances in other games, both G.I. JOE and COBRA usually have equal representation. Gunship Battle: Total Warfare marks the first time that COBRA has been placed in the spotlight, and with a new story to boot. Moreover, this limited-time event marks the game's first crossover in its three years of service. With any luck, it will be the first of many. After all, what event with COBRA would be complete without G.I. JOE?
Gunship Battle: Total Warfare is available now on the Google Play store and App Store.