News
Ghost of Tsushima Map Size: How Big is the PS4 Game?
Just how big is the map in Ghost of Tsushima? We have the details.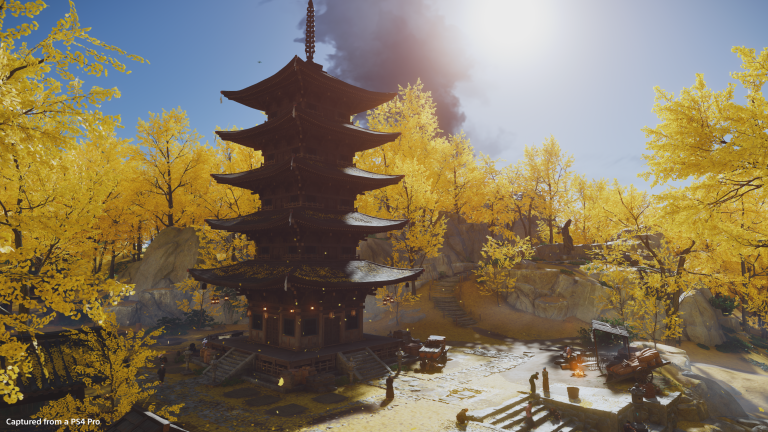 Ghost of Tsushima is the latest first-party AAA exclusive for the PlayStation 4, and like The Last of Us Part 2 before it, it's receiving plenty of critical praise for its depiction of Japanese culture and art as well as its homage of classic samurai stories, including the movies of film auteur Akira Kurosawa. On top of that, Ghost of Tsushima features an excellent story and a satisfying mix of swordplay and stealth gameplay.
As the release date approaches, those gamers looking to jump into Ghost of Tsushima right at launch might be wondering what they're in for in terms of the size of the game. Now that we've done quite a bit of exploring, we have some answers.
The Tsushima Island in the game is based on the 274-square mile real-life Japanese island located between mainland Japan and the Korean peninsula. You can check out a screenshot of the game's map below:
And here's a map of the real-world island:
Just how big is the island in the game and how long does it take to explore it? Well, you shouldn't expect 274 square miles, but it's still a pretty big game world that's broken up into three regions: Izuhara, Toyotama, and Kamiagata.
As first reported by Games Radar, Izuhara and Toyotama are where you'll spend most of your time completing quests before moving on to Kamiagata for the last section of the game. You'll first get to explore Izuhara (the southern region of the map) at the start of the game before unlocking Toyotama (the central region) later in the story and then the icy land of Kamiagata (northern region) for the final battle with the Mongol invaders.
Twinfinite did some math, measuring the length and distance of both chunks of the island, and calculated that the game map is 11.02 square miles. That's a lot of space to explore! While Twinfinite says this means Ghost of Tsushima's map is smaller than the ones found in The Witcher 3: Wild Hunt (20.8 square miles) and The Legend of Zelda: Breath of the Wild (28.9 square miles) players should still expect plenty of things to do and places to see in the game. In fact, there's so much packed into the map that you'll likely spend a pretty long time on Tsushima Island before finishing the game.
Chock full of main quests, side missions, and other open-world activities, Ghost of Tsushima took our reviewer 45 hours to complete. That includes completing the main missions, side quests, and other in-game activities such as finding shrines and participating in duels as well as spending a considerable amount of time with photo mode. (If you haven't heard already, Ghost of Tsushima's environments are absolutely gorgeous and will likely be the subject of many excellent screenshots.)
Of course, your mileage may vary in terms of how long it takes you to finish Ghost of Tsushima. it all depends on how you approach the game. GameSpot reports that you can beat Ghost of Tsushima in "roughly 20 hours" if you only focus on the main story missions but agrees that it'll take 30 hours or more to finish if you also tackle the side quests and other activities.
Ghost of Tsushima creative director Nate Fox confirmed to Voxel (via VG24/7) that the game will last around 30 to 50 hours, depending on whether you tackle the side quests. Fox encouraged players to spend time on the side content, though

"I would highly recommend that everyone get off the main route and get lost on Tsushima Island, there is a lot to discover there," Fox told IGN. "Tsushima Island covers the biomes you can find on mainland Japan, from snowy mountains to bamboo forests, to waterfalls and rolling grasslands, it's all there. We want to give enough stuff to keep it electrifying for the player."

Ghost of Tsushima is out on PlayStation 4 on July 17.