Features
Fortnite vs. PUBG: Which Is Better for You?
Fortnite and PUBG are two of the hottest games in the world, but which battle royale experience is best?
In many ways, it can be hard to distinguish what makes Fortnite and PUBG unique experiences. Both are battle royale titles in which 100 players duke it out on a big map until there's only one survivor still standing. Both games also offer the option to play solo or as part of a squad. You can find special modes in each game, they're incredibly popular among streamers, and they both so happen to be among the most successful games in recent memory.  
For all of their similarities, though, PUBG and Fortnite are actually quite different. In fact, for as much as people like to joke about a future where every game features a battle royale mode — just look at the new Call of Duty game — these two titles prove that there's enough room in the genre for a variety of experiences and innovations. 
But you're not here for that. What you want to know is whether or not you should be playing Fortnite or PUBG. That's a tough question that isn't made any easier by the quality of both games. There's a reason that millions of people have devoted most of their playtime to one of these titles. 
At the end of the day, though, there must be a recommendation. With that in mind, here is what you need to know about PUBG and Fortnite to determine which game is the one for you.
Gameplay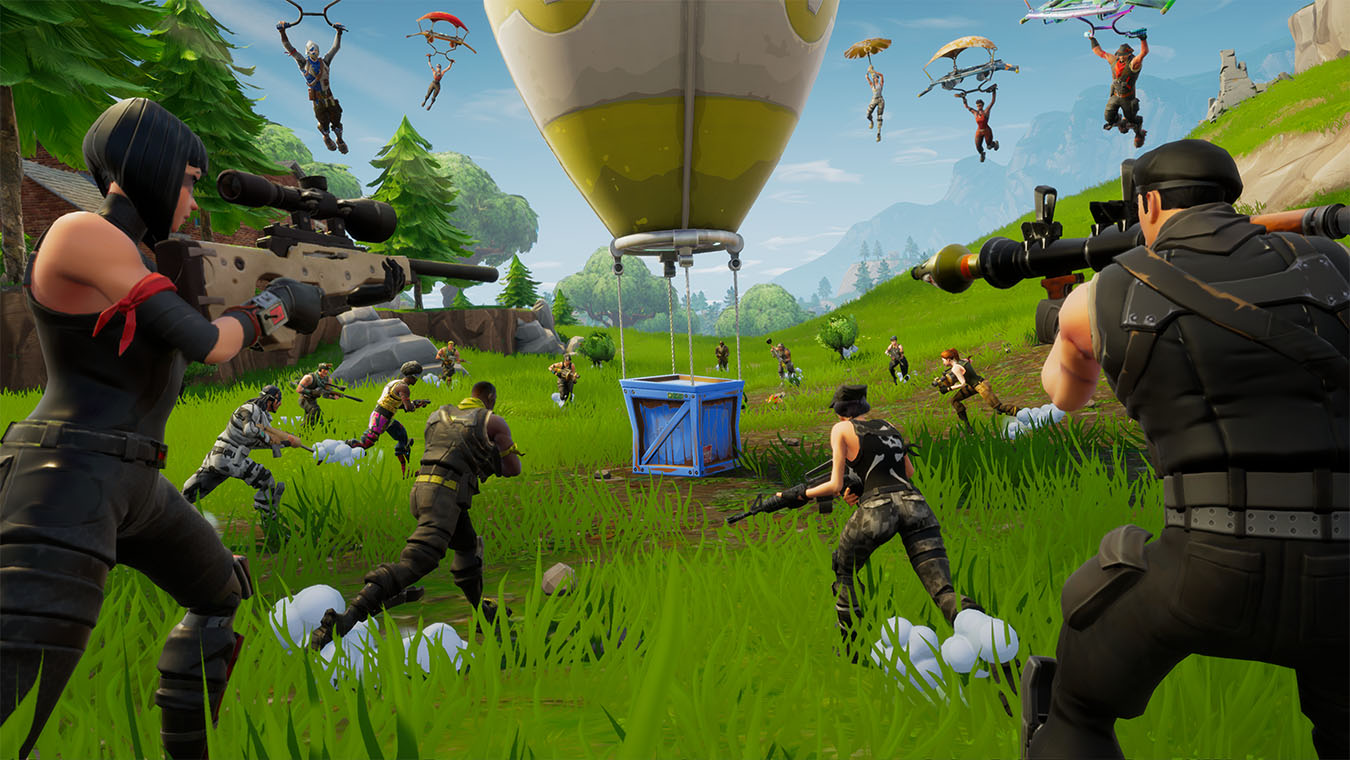 Fortnite
Fortnite is a fast and furious battle royale title that is perhaps best described as an evolution of the arena shooter genre. Speed is arguably the most important skill a Fortnite player can have. Players have to be able to quickly craft stairs and walls, switch between weapons, and think fast enough to manage it all. Even picking up items requires you to quickly manage what you do and do not need. Standing still is sometimes an option, but sniping isn't quite as effective as a long-term strategy. Your health is also important, but you can recover it fast enough if you're not absolutely surrounded.
PUBG
PUBG is a battle royale game by way of the military shooter genre. When you drop into one of the game's maps, you'll need to hurry and find the best items available. That said, unless you drop into a highly-populated area, you're actually encouraged to take your time and analyze the situation. Deliberate tactics are what rule the day. That includes the ability to recognize the best position on the map and move towards it in anticipation of where the play area will be. Of course, if you do jump into a high-traffic area, be prepared to put your shooting skills to the test.
Platforms and Price
Fortnite
Fortnite is currently available on PlayStation 4, Xbox One, Microsoft Windows, iOS, and Mac operating systems. The game runs very well on all devices – even iOS – and offers crossplay between nearly every combination of devices besides the Xbox One and the PlayStation 4. The game is even coming to Android sometime in the summer of 2018. The game is free-to-play across all platforms but does offer quite a few opportunities for in-game purchases. Generally speaking, character skins are more of a culture in Fortnite than they are in PUBG. That means you might want to grind for them or try to buy them.   
PUBG
PUBG is currently only available for PC, Xbox One, Android, and iOS. While it is possible to play the game on Mac computers, there is no official way to do so at this time. There's been no indication that the game will come to PlayStation 4 in the near future, either. At present, the preferred way to play PUBG is on PC. The game's Xbox One version suffers from technical issues, control problems, and a comparative lack of updates. While the title is playable on Android and iOS, neither version offers the full experience. PUBG is free-to-play on mobile devices but costs $29.99 on PC and Xbox One.
Graphics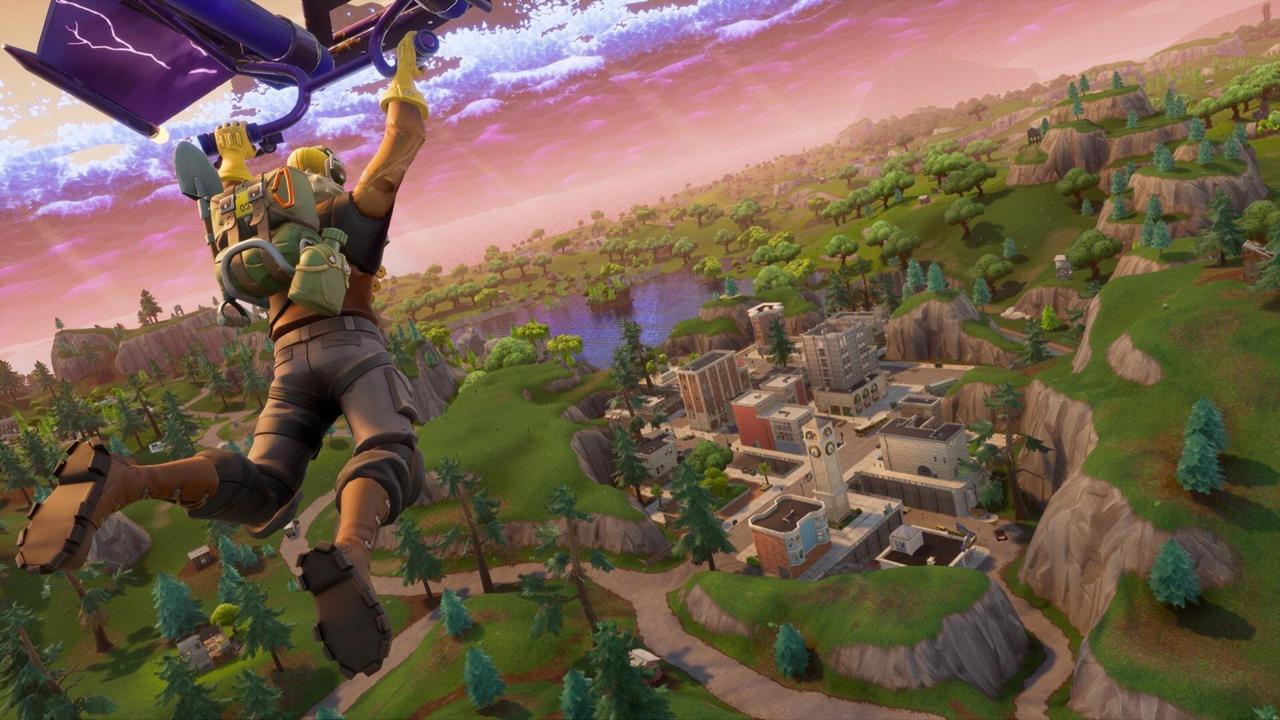 Fortnite
Fortnite isn't the most visually impressive game on the market, but it is one of the most visually appealing shooters out there. The game's colorful levels and wonky area design are in stark contrast to the vast majority of battle royale games out there. Fortnite visuals remind us of what would happen if you took the imagination of a child when they're playing with their action figures and projected it on a screen. While some of the open-air areas in Fortnite are a little bland, the game's firefights invoke memories of New Year's Eve firework displays no matter where you are.
PUBG
PUBG goes for a more realistic visual style – much like the rest of the game – which isn't a bad thing. The problem is that PUBG's visuals are kind of…bland. If you're playing PUBG on a high-end computer with a great internet connection, you may occasionally encounter a moment of technical beauty. Otherwise, PUBG's visuals are somewhat muddy and uninspiring. Granted, that is very much an intentional design decision given the playstyle and mood of the game, but don't expect to feel inspired by PUBG's visuals and do expect to be occasionally put off by them.
Sound Design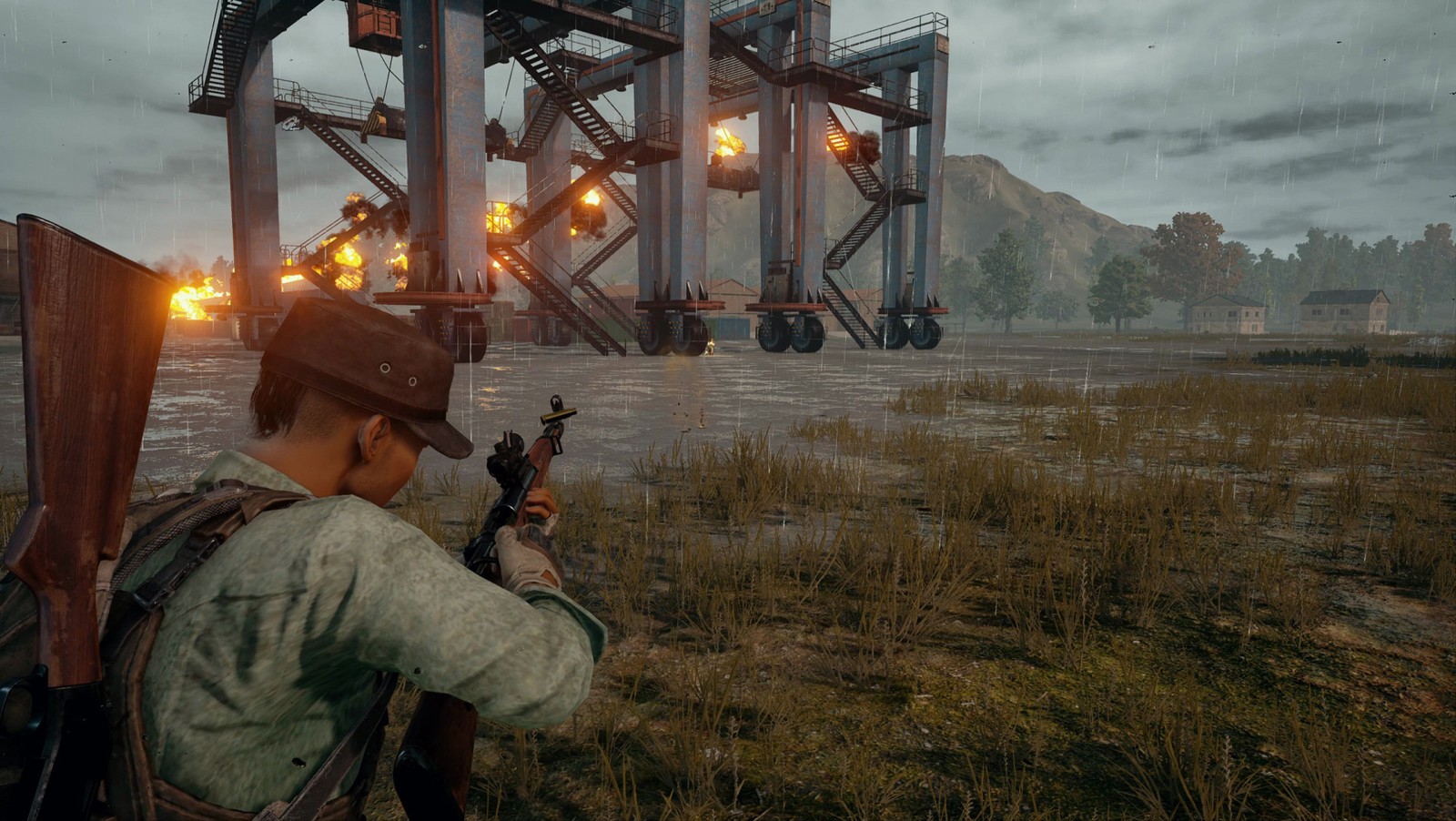 Fortnite
Sound design is one of Fornite's weakest elements (at least in terms of its competition). That's not to say that the sound in the game is bad – everything functions largely as it should – but there's little in the game that makes you go "wow" when you hear it. Sound is also not that important to the game's combat, as you're likely to get a visual indication of where an enemy is before you need a sound to tip you off. During the game's quiet moments, you may find yourself wishing that the game had a few more exciting sound cues.
PUBG
PUBG's sound design is one of the best in video game history. While that certainly speaks to the quality of the game's individual sounds – that's especially true of the game's gun effects – it has more to do with how sound factors into the overall experience. An enemy's gunshot can tell you where they are, what they have, and what they are trying to do. Figuring out how to read every sound is key to truly mastering the game. PUBG's sound design is one of those aspects of the game that never fails to impress.
Weapons and Items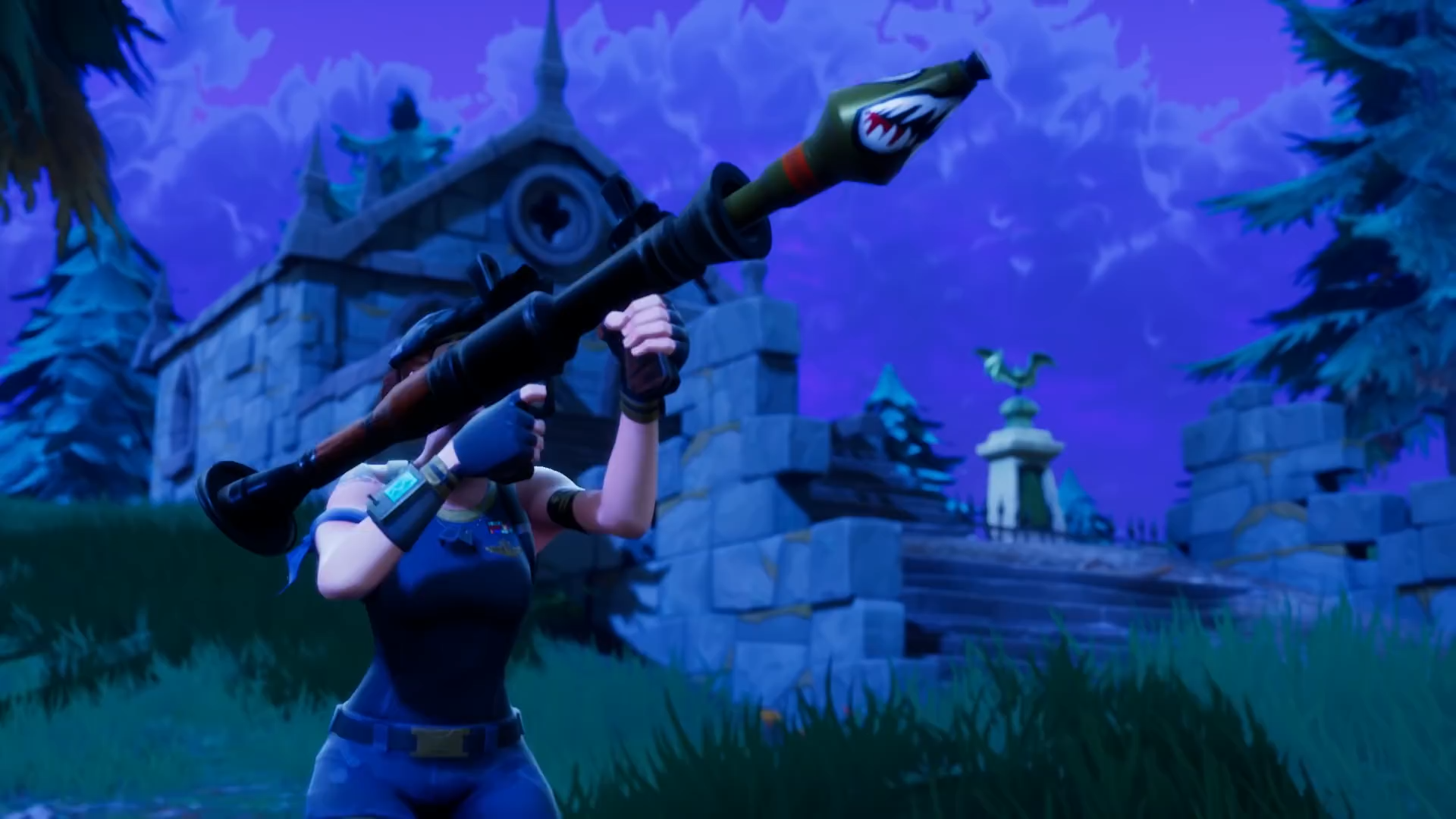 Fortnite
Fortnite's assortment of weapons and items is somewhat odd. While the rest of the game is crazy and sometimes cartoonish, most of the game's weapons are based on real-world guns. That's not to say that you can't do things in the game like launch a portable fort or ride a rocket across the map, but most of the game's action revolves around shotguns and assault rifles. Weapon management in Fortnite boils down to ensuring that you have access to a variety of weapons and items that will allow you to stand your ground in just about every situation.
PUBG
Unsurprisingly, PUBG features quite a few recreations of real-world weapons. Unlike Fortnite, though, where a variety of weapons are needed to succeed, there's more of a hierarchy in PUBG's arsenal. Melee weapons are basically useless, pistols aren't much better, and even shotguns can be incredibly situational. What you really want is a good assault rifle with top-tier weapon attachments and a variety of scopes. It's also much harder to win in PUBG if you don't manage to loot some level three armor by the time that the player count is reduced to a handful of survivors.
Vehicles
Fortnite
The only vehicles currently in Fortnite are the party bus that you use to fly into each match and your customizable glider that helps you zip from area to area. Outside of that, Fortnite is surprisingly vehicle-free. Epic has stated that it has no immediate plans to add vehicles to the game. The studio's stance on the matter likely has something to do with how vehicles might affect the flow of the game. At present, Fortnite's fast and furious playstyle is at least partially derived from the game's insistence that players traverse on foot and the smaller, more contained nature of the game's areas and map.
PUBG
PUBG players have the ability to traverse maps in cars, boats, bikes, buggies, and more. Vehicles are a huge part of the PUBG experience, which is somewhat surprising given how the game really emphasizes a "boots on the ground" military approach. The trade-off with vehicles is that they offer a way to zip from point to point across PUBG's large maps, but they also leave you vulnerable to gunfire from just about every angle. Vehicles are a big "come shoot me" sign you wear around your neck, but they're also often essential to victory (especially when playing with squads).
Maps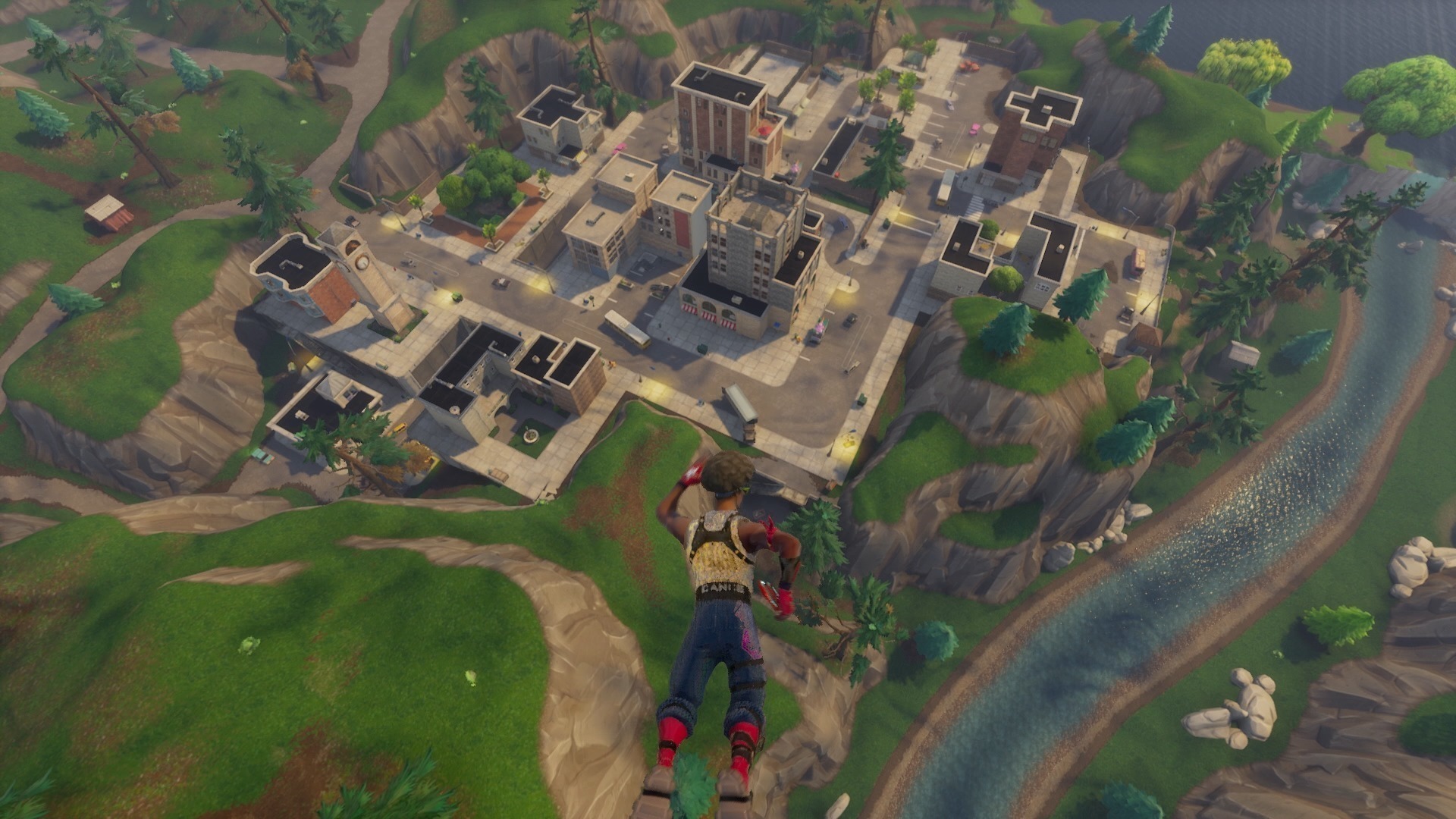 Fortnite
At the moment, Fortnite only offers one battle royale map. That might sound like a bad thing, but Fortnite's lack of multiple maps has actually proven to be one of the developer's best design decisions so far. In lieu of creating many multiplayer maps, Epic has elected to modify the existing map in surprising ways. From a long-awaited comet that ended up drastically altering certain areas of the game's world to occasional Easter eggs and treasure hunts, Fortnite map is constantly evolving. At the same time, the map is familiar enough to make you feel like you're coming home every time you boot the game up.
PUBG
On PC, PUBG allows players to queue into one of three maps (Erangel, Miramar, and Savage). Mobile players will be able to access Erangel and Miramar, while Xbox One players are currently only able to play on Erangel. Each of PUBG's maps emphasizes a different style of play. Miramar is more open and encourages sniping (while offering less hiding options), Savage is smaller and leads to more gunfights, while Erangel is something of a middle-ground. The maps themselves are generally well-designed – opinions on Miramar vary wildly – and there's certainly something to be said for the visual and gameplay variety they offer.
Special Modes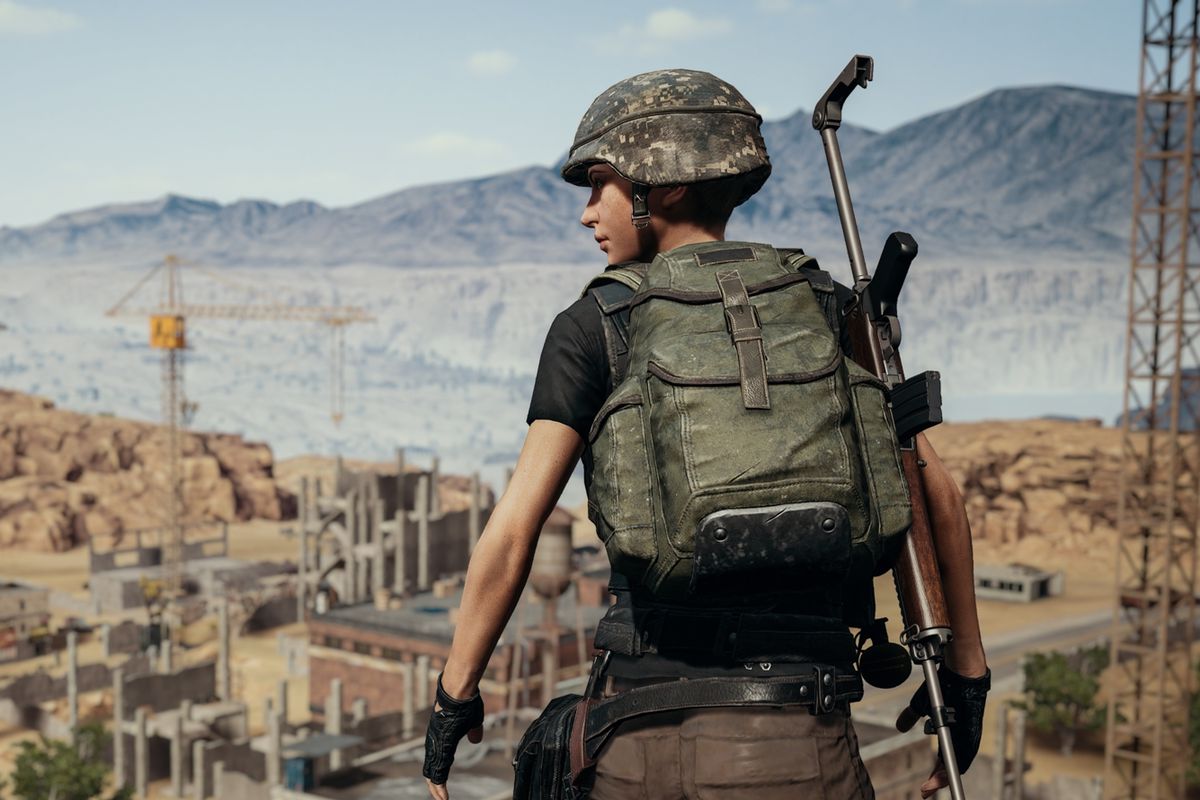 Fortnite
One of Fortnite's greatest contributions to the battle royale genre is the way that developer Epic has emphasized the value of special modes and events. Fortnite regularly features special events that allow players to do everything from participating in 50 vs. 50 battles to the recent Infinity Gauntlet challenge that allowed players to assume control of Thanos. The latter event showed the reach of Fortnite's popularity and the potential of its basic premise. All things considered, Fortnite is still the best battle royale game for timed events.
PUBG
The PUBG team was late to the game in terms of special events and it's been trying to make up ground ever since. While PUBG's events aren't quite as exciting or creative as those in Fortnite – due partially to the broader themes of Fortnite –  PUBG has featured a few events that some actually prefer to the base game. For instance, the recent War Mode – a PUBG variant on team deathmatch – was so well-received that many feel it should be added to the game permanently. Still, PUBG has a long way to go before it catches up to Fortnite in this respect.
Stability/Hackers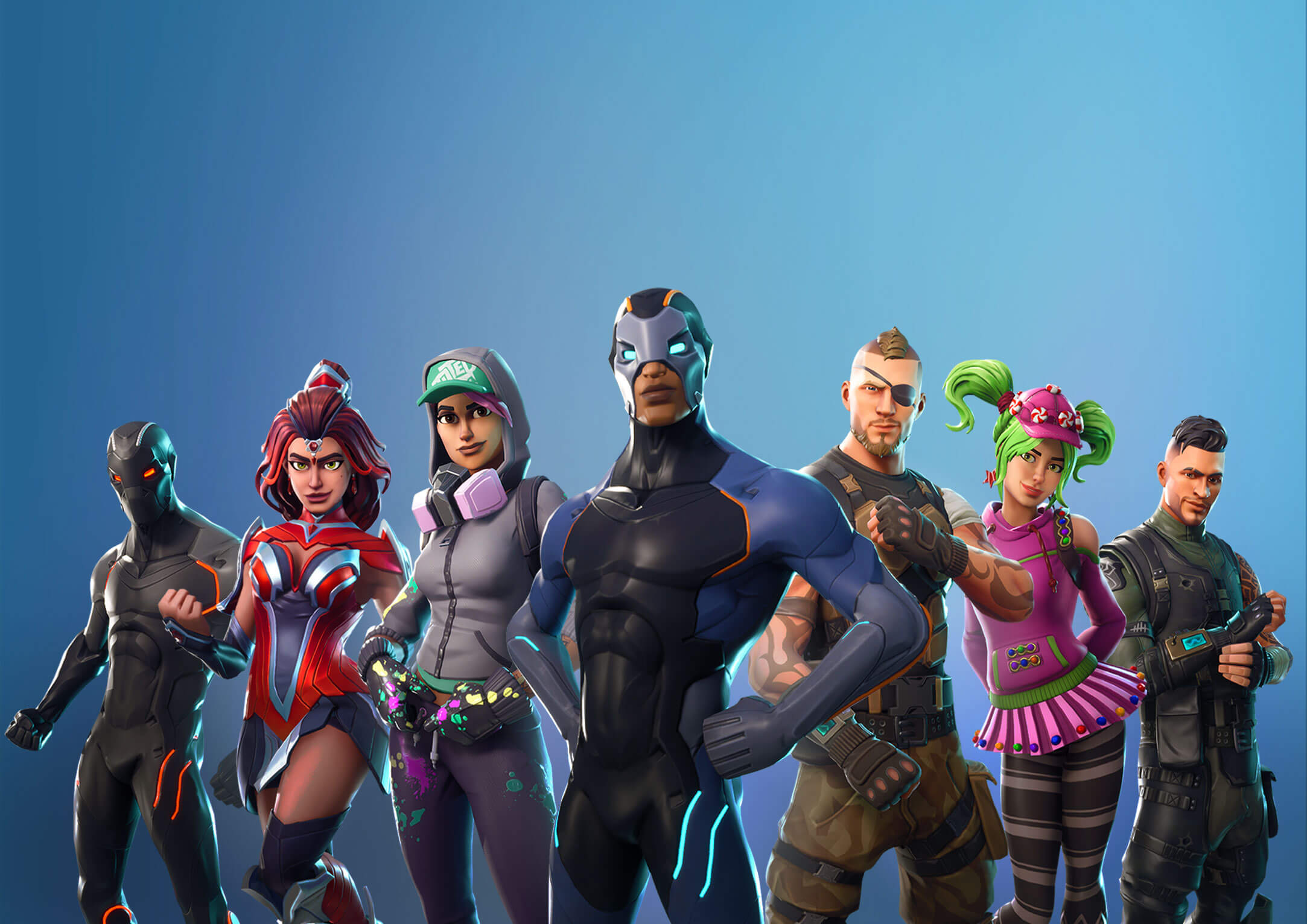 Fortnite
Fortnite has proven to be a remarkably stable game for such a popular title. While server downtime and spikes in performance quality are certainly not unheard of, most people who hop into a Fortnite game are going to encounter an optimal experience. As for hackers…well, they exist. Fortnite's PC version suffers from hackers just like most other popular competitive PC games do. Most concerning are the reports of entire accounts being hacked and used to steal personal information, but it's not clear how widespread those attacks really are.
PUBG
PUBG has long suffered from performance issues. Those issues stem from the game's true early access launch. That is to say that the PUBG team didn't really anticipate that the game would become such a massive hit as quickly as it did. Since the spike in popularity, the PUBG development team has been scrambling to improve the game's general stability. The PC version has benefited greatly from those efforts, but the Xbox One version of the game is still miles behind. PUBG hackers are also quite active, but recent crackdowns have ensured that most of them are just trying to win high-level matches rather than steal player information.
Skill Level
Fortnite
If you want to be a top Fortnite player, you need to learn to craft on the fly. The best Fortnite players are able to instantly recognize what they should craft in order to protect themselves and secure a better position. That isn't to say that aiming isn't important in Fortnite, but rather that the game's arcade/arena shooting style means that there are more spray and pray opportunities here than in other games. That also means that Fortnite is slightly more welcoming to lower-skill players. Still, there's a big difference between an average Fortnite player and a great Fortnite player.
PUBG
PUBG is arguably a more mechanically demanding game than Fortnite. At least that's true of certain "traditional" shooting game skills, such as precision aiming. While you'll occasionally have the opportunity to go full auto against your enemies in PUBG, most battles are done from at least a decent distance. That means that you'll need to be able to pull off some perfect shots in order to kill the enemy before you give away your position. However, PUBG's lack of a crafting system also means that players get to focus almost entirely on loot management and shooting. Depending on your personal preferences/skills, that might actually make it an easier game to master.
Success/Popularity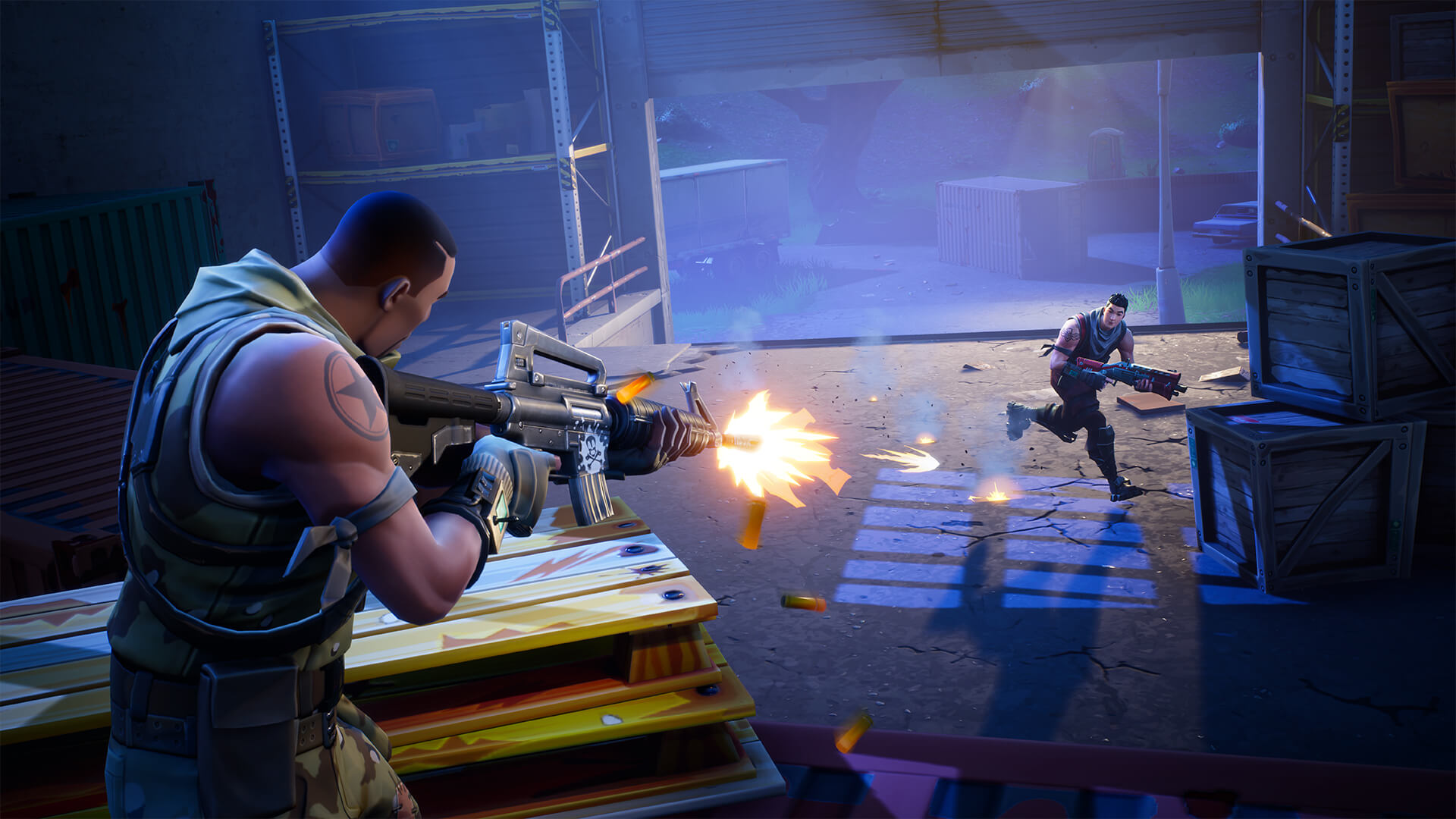 Fortnite
Fortnite is currently recognized by many as the most popular game in the world. The last playerbase estimate suggests that around 45 million people play Fortnite. Part of its success can be attributed to its availability on PlayStation 4, its free-to-play status, and the general quality of its console and mobile versions. Despite being a free-to-play title, Fortnite brings in a ton of revenue every month. For instance, Fortnite brought in an estimated $125 million in February 2018 (largely through microtransactions and special edition purchases). That number is likely even higher when the game is promoting a special event or a change in competitive seasons.
PUBG
PUBG was the runaway hit of 2017. To date, the game has sold over 30 million copies on PC alone and has broken almost every concurrent player count record on Steam. It's also recognized as the game that helped revitalize the genre. The game made over $700 million in 2017 and continues to be a hit no matter how you measure it. However, PUBG is losing ground to Fortnite. The game's concurrent player count is dropping on Steam, PUBG isn't nearly as popular as it once was across streaming channels, and the game's monthly revenue has recently been surpassed by Fortnite. It remains to be seen if PUBG will be able to catch up to Fortnite.
What Makes It "Fun?"
Fortnite
The fun of Fortnite is derived largely from the insanity of the experience. From its colorful visuals to the absurdity of some of its items, Fortnite is not a game that takes itself seriously but can be taken seriously by those who wish to become great at the game. Regardless, it's perfectly possible to enjoy yourself in Fortnite without fretting about your skill level or even "winning." The act of watching a match unfold and doing your best to win – or just mess around with your friends – while the chaos ensues is good enough to guarantee you'll enjoy playing the game.
PUBG
The joy of PUBG is derived almost entirely from the inescapable tension that the game offers. If you enjoy playing horror games, you'll likely instantly recognize the appeal of PUBG. There's something to be said for jumping into a high-traffic area in the game and shooting your way to victory, but most matches require you to navigate through thick layers of tension as you try to locate the enemy, stay alive as the play area closes, and sneak in a few kills. People aren't jumping around and dancing in PUBG – there's sadly no dancing at all – but the stories each match generates never fail to entertain.
Which Is Right for You?
The diplomatic – and technically correct – answer is that these are both very different games and that you should try them both. The much more amusing and helpful answer is that you should try Fortnite first. 
Not only is Fortnite the most popular game in the world, but as a free-to-play battle royale title, it's a great way to determine whether or not you're interested in the battle royale genre in the first place. The game's rapid action, colorful style, and regular updates also make it more accessible to a wider array of gamers. It certainly doesn't hurt that the game is well-optimized across a variety of platforms. 
However, there are many gamers who are simply going to enjoy PUBG more. As a grounded military shooter, PUBG is better able to utilize the tension of the battle royale "last man standing" scenario. It's also a game that places more emphasis on mechanics such as aiming, bullet drop distance, and the survival aspects of the battle royale concept.
So in the end…yeah, there's room enough for both of these popular games. However, we recommend you start with Fortnite.