Forspoken Review Roundup: Is This Square Enix's Next Hit RPG Franchise?
Is Forspoken Square Enix's next big franchise or does this RPG stumble out of the gate? Here's what reviewers have to say so far.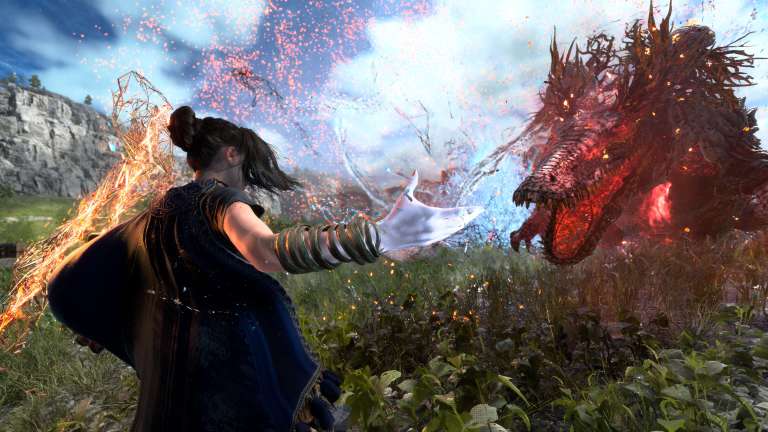 Square Enix's Forspoken is certainly one of the biggest new releases of 2023 so far, but its road to release has been a bit rocky. Not only did many previews (including our own) point out some of the game's notable early issues, but full reviews of the game have been embargoed until the day before its release, and many outlets have reported that they did not receive an early review code. As we are one of those outlets, we're instead bringing you a roundup of some of the notable Forspoken reviews so far.
At the moment, it seems safe to say that reviews of Forspoken are mixed and trending towards slightly negative. You won't have to look hard to find praise for the game, though much of that praise is tempered by the reality of some of Forspoken's shortcomings. Other outlets were much more concerned with those shortcomings.
At the time of this writing, Forspoken has a 68 Metacritic score and a 69 OpenCritic score. Those scores are going to change one way or the other as more reviews come out, but here's a look at what some early reviewers are saying about the title.
Michael Damiani, Easy Allies:
"After all is said and done, Forspoken emerges as a solid new IP. It has its fair share of issues, but the longer you spend time in Athia, the more its world draws you in with its intriguing combat and the simple pleasure of freely crossing massive environments with spellbinding abilities. Luminous Productions is definitely onto something with this concept, it just needs a bit more focus and refinement. At the very least, Forspoken proves its worth on its own terms, and demonstrates the potential to someday hang alongside Square Enix's staple franchises."
Score: 8/10
Kyle Hilliard, Game Informer:
"Forspoken's story and combat fail to reach the heights of its movement and exploration, but thankfully those two latter elements make up most of the experience. I sprinted, often literally, through the campaign in about 15 hours, and now I have a large world filled with nooks and crannies I'm eager to run through and explore. The narrative won't linger with me, and I avoided combat in the open world often, but I loved making Frey leap and fly through Athia to discover all its treasure chests and secrets."
Score: 7.5/10
George Yang, Variety:
"Despite its pacing flaws, Forspoken is a fun adventure, and the developers nailed the minute-to-minute gameplay with Frey's parkour abilities and magic spells. The dialogue between her and Cuff is witty and memorable, and there's incredible attention to detail in Athia's world and history through the game's many collectibles. There's a lot of potential in both Frey's character and Athia's lore that could make for more exciting stories."
Score: Unscored
Tom Marks, IGN:
"Forspoken is the sort of game you've probably seen before – from its stereotypical fish-out-of-water fantasy story to its giant open-world map full of repetitive optional tasks. Its combat is flashy and fun enough to entertain across its comparatively short RPG campaign, with fights that do a good job of pushing you to shake up your use of elemental powers even when the overall variety of enemies isn't particularly impressive. Its parkour system is also satisfying enough, despite the scenery you are running through being about as picturesque as a bowl of rocks with an Instagram filter slapped on. There's a kind of person that might be enough for, happy to spend hours and hours uncovering every inch of Forspoken's needlessly large map after the main story, but that doesn't mean I was able to find much reason to do so once the credits had rolled."
Score: 6/10
Jordan Helm, Hardcore Gamer:
"Where Forspoken should've been a striking and appealing fresh start for Luminous Productions, the end result sadly is a game not only bland and unpolished but deprived of a reason to care for its unfolding mystery. A bevy of technical inconsistencies, lackluster open-world design, and, most disappointing of all, a handful of systems with genuine enjoyment that at times don't see their potential fully realized. Bad enough that both the plot and the writing barely fashion anything remotely interesting or easy on the ears, it's what excuse Luminous have for a world to explore that ends up the true let-down across a sub-twenty-hour adventure. Underwhelming, at times shockingly so, for all its emphasis on parkour, traversal, and the brisk pace magical abilities can bring, Forspoken seems stuck in a kind of regressive, backward-thinking form of game design that ultimately it has no answer to."
Score: 2/5