News
Elden Ring Review Roundup and Metacritic Score
Elden Ring's first reviews suggest that the game does so much more than live up to the hype. Here's what critics have to say about the much-anticipated game.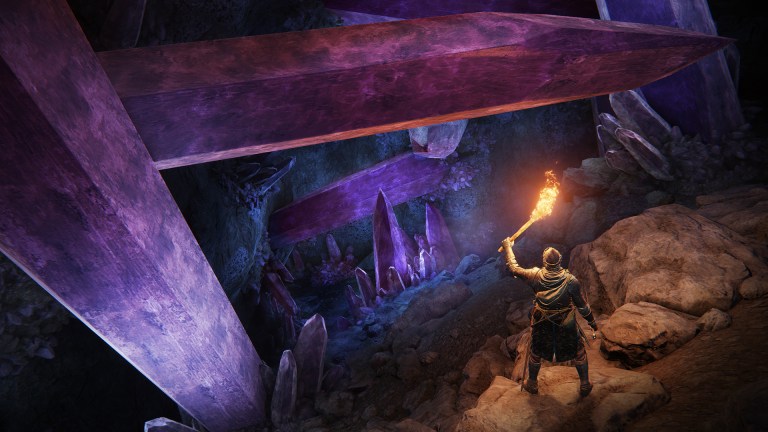 After years worth of meme-tier hype that started before we really even knew anything substantial about the game itself, Elden Ring is almost here. You may think that there's no way the game can possibly live up to that almost absurd level of anticipation after all this time, and…well, you'd be right. According to most of Elden Ring's early reviews and the game's current Metacritic score, it absolutely exceeds the hype.
FromSoftware's open-world take on the Soulsborne concept is a sweeping triumph that, much like The Legend of Zelda: Breath of the Wild, will inevitably change how we talk about the open-world genre as well as gaming in general. While the game's already loyal fans are those who will celebrate the title's success earliest and loudest, make no mistake that even those who have worked to avoid the Soulsborne games and their many imitators will soon be living in a post-Elden Ring world where developers across the industry will be looking to this title for inspiration and design cues.
While we'll soon have a lot more to say about Elden Ring, don't just take our word about how special this game is. Here are what the industry's top critics are saying about FromSoftware's masterpiece:
Metacritic and OpenCritic Scores
Metacritic Score: 97 (Still Updating)
Opencritic Score: 97 (Still Updating)
Elden Ring Reviews
Aoife Wilson, Eurogamer
"Elden Ring remains a glorious game, one that established fans are going to savour for some time to come, and one that may just welcome new fans into the FromSoft fold. Sumptuous visual design, dark and detailed lore, and a vast-but-intricate open world are reason enough to venture out into the Lands Between. Add to that FromSoftware's unforgiving and unforgettable gameplay loop and this is something truly special."
Score: Unscored (Essential)
Daniel Tack, Game Informer
"Elden Ring challenged me, captivated me, and enchanted me, an unyielding deluge of discovery and artistic vision unbound. Elden Ring represents a truly amazing combination of various game elements that all come together to create something fascinating, special, and unforgettable. Elden Ring isn't just the best game this year; it's one of the best games ever made."
Score: 10/10
Mitchell Saltzman, IGN
"It is no exaggeration to say that Elden Ring is FromSoftware's largest and most ambitious game yet, and that ambition has more than paid off…Throughout it all, while the fundamentals of combat haven't changed much from what we've seen before, the enormous variety of viciously designed enemies and the brutal but surmountable bosses have brought its battles to a new level. Even with all the threads I didn't manage to tug on my first playthrough (of what I'm sure will be several), what I was treated to can easily be held amongst the best open-world games I've ever played. Like The Legend of Zelda: Breath of the Wild before it, Elden Ring is one that we'll be looking back on as a game that moved a genre forward."
Score: 10/10
Chris Carter, Destructoid
"To say I was blown away by Elden Ring is an understatement. Sure it's still going to appear esoteric and unapproachable to a subset of people. There are things it could still do better in terms of onboarding, and it could do even more on the front of quality-of-life enhancements for returning Souls players.
But as an experience, it's one of the most wondrous and open-ended games I've played in years. It has so much to say from a design perspective that people will be talking about its choices for years on end, and playing it for longer."
Score: 10/10
Jordan Middler, VGC
"Rarely after a review do we feel so inclined to continue exploring a game to its absolute fullest, but with Elden Ring, there's no way to know what that fullest actually entails. There are things in the distance that we don't know how to reach. There are probably hundreds of secrets that will take a community full of players to actually uncover. It's a sense of adventure that's so rare in games, and one that we can't recommend highly enough."
Score: 5/5
Michael McWhertor, Polygon
"Demon's Souls and Dark Souls game director Hidetaka Miyazaki has not taken comparisons of those games to The Legend of Zelda series with much joy. 'I feel deeply unworthy of the comparison,' Miyazaki has said, calling the early Zelda games 'monumental' works. But it is hard not to see the Zelda series' influence, particularly the groundbreaking open-world adventure The Legend of Zelda: Breath of the Wild, on his company FromSoftware's new game, Elden Ring.
Nintendo's 2017 Zelda game appears to have had a powerful, and overwhelmingly positive, impact on FromSoftware's beloved style of action-RPG. Elden Ring is a deeply impressive adventure of incredible breadth and depth, blending From's style of rich, challenging combat with exploration, discovery, and new levels of player freedom."
Score: Unscored (Recommended)