News
E3 2022: Why the Physical and Digital Shows Were Canceled
Even though E3 held an all-digital event in 2021, the expo's organizer surprised almost everyone by canceling any hope for a 2022 show.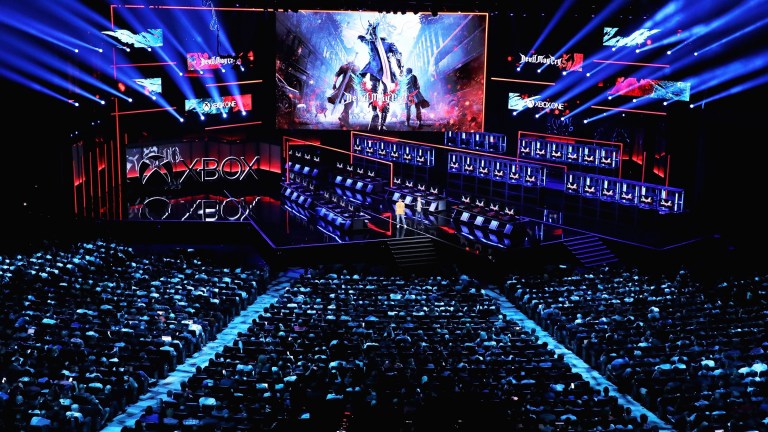 In 2020 and 2021, many conventions that relied on large physical crowds, such as E3, were canceled to help prevent the potential spread of COVID-19. While some of those expos have since reopened their gates to live attendees, we now know that E3 2022 will not only not take place as a physical event but will also not be replaced with a digital showcase (as was previously rumored).
Recently, the Entertainment Software Association announced that they have decided to completely cancel E3 2022. While some suspected the ESA may still hold E3 as a digital event in 2022 (as they did in 2021), the organization has since made it clear that there will not be an E3 event this year in any form. That means no physical show floor to demo upcoming titles, and no digital Nintendo Direct-like stream to display the latest game trailers and announcements. Gamers across the internet responded to that news with a resounding, "Why?" Why did the ESA cancel E3 2022 entirely after demonstrating that the show could at least function in a digital capacity? As it turns out, the answer to that question may also spell doom for E3 in 2023 and beyond.
Let's start with the ESA's official press release, which does shed a little light on this whole situation. On the decision to cancel E3 2022, it states:
"Instead, we will devote all our energy and resources to delivering a revitalized physical and digital E3 experience next summer. Whether enjoyed from the show floor or your favorite devices, the 2023 showcase will bring the community, media, and industry back together in an all-new format and interactive experience."
At face value, the ESA claims it wants to take a year off and reinvigorate the organization in order to deliver the best E3 possible in 2023. That approach has certainly worked for other famous brands in the past. For instance, in 2015, Ubisoft made the initially surprising decision to stop publishing annualized Assassin's Creed games. Soon thereafter, Ubisoft released Assassin's Creed Origins, and the franchise enjoyed a resurgence in popularity as a result of their efforts. However, the ESA's true intentions in this instance might be a little more desperate than that press release lets on.
IGN is reporting that their sources claim that discussions revolving around E3 have been "fraught throughout the year," and that even though the company tossed around the idea of a "possible digital equivalent," those pitches lacked "strong momentum." As outlets such as GamesRadar and GameSpot have pointed out, big game publishers don't really need or even use the expo anymore. Nintendo has seen a ton of success thanks to its Nintendo Direct videos, which debuted in 2013, and Sony followed suit with similar PlayStation State of Play segments. Even EA joined the E3-less party in 2016 with its EA Play Live videos. 
According to GamesRadar, those digital presentations are much more developer-friendly as they help ensure that studios no longer have to hastily cobble together demos for the E3 show floor. Nintendo Direct and PlayStation State of Play events can showcase the kind of big trailers that were previously limited to E3 whenever they want, and studios can now release demos digitally more or less on their own schedules. Furthermore, reports have long suggested that renting any space on E3's show floor is prohibitively expensive. Why would companies spend tens (if not hundreds) of thousands of dollars reserving space at a convention to release a trailer when they can now just post videos on their own dedicated YouTube channels and Twitter pages for pennies on the dollar?
Put it all together, and you'll find that the increasingly popular consensus is that E3 is obsolete. More and more companies have skipped the expo in favor of their own proprietary presentations, and others might have already found a replacement in the form of Geoff Keighley's Summer Game Fest event (which is still scheduled to take place in 2022). While this is mere speculation, many outlets and gamers theorize that E3 2022's cancelation can easily be seen as the convention's potential death knell. After all, it's one thing to cancel the physical event given all the outside factors in play, but the decision to cancel a potential digital E3 2022 event and cede the floor to competing programs feels telling.
At the very least, it seems that the ESA may have canceled E3 because it recognizes the problems with the event's previous format and wants to spend as much time as possible reorganizing and reinventing the convention. While we can't say anything for certain, the future of E3 might hinge on those efforts to revitalize the expo. E3 could still return in 2023, and the event's turnout could still help determine whether the convention has a place in the current gaming landscape. Or, perhaps the ESA will decide it's fruitless to bring back E3 and cancel all future events (or even turn E3 2023 into the last one ever and go out with a bang).
When you look at all the context clues, it's hard to deny that E3 is struggling. One of the event's greatest strengths (a sense of tradition that has helped keep it alive and relevant in an ever-changing media landscape) has been rocked over the past few years. E3 2022 may very well have been sacrificed so the ESA could give the convention one final push. The fate of E3 now depends on that 2023 event and what happens between now and then. Will the expo return as promised, or is it time to finally say goodbye?