News
Star Wars Jedi: Fallen Order and Fallout Writer Chris Avellone Accused of Sexual Misconduct
Games writer Chris Avellone has been accused of sexual misconduct by several women, who described harrowing experiences with the writer.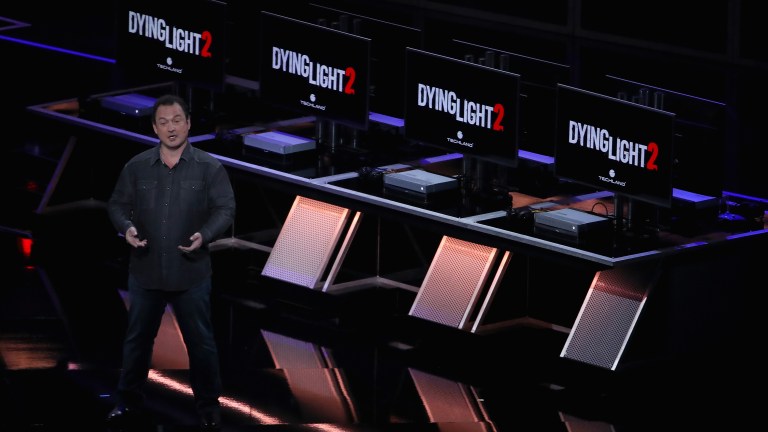 Chris Avellone, a veteran narrative designer on games like Star Wars: Knights of the Old Republic II: The Sith Lords and Fallout: New Vegas, has been accused of sexual misconduct by at least four women, according to Bloomberg. The revelations have prompted several studios who'd hired Avellone as a consultant, including Techland, Paradox Interactive, and Gato Studios, to break ties with the writer.
Avellone was working on Techland's Dying Light 2, and had recently contributed to Gato's The Waylanders and Paradox's Vampire: The Masquerade – Bloodlines 2, when women began to speak out about their experiences with the writer. Two women accused Avellone of trying to get them drunk and make sexual advances at them. One woman named Karissa, who declined to share her last name with Bloomberg for fear of harassment, described the episode with Avellone in detail on Twitter, accusing the developer of getting her "blackout drunk" to try to have sex with her.
"They were coming so quickly," Karissa told Bloomberg. "It was almost like as soon as my drink was gone, Chris already had one or two more for me. I remember refusing him, just being like, 'I'm good, I don't need another one.' He would literally just be like, 'Come on, let's go to the bar, let's get you another one.' He did that multiple times throughout the night."
Karissa said on Twitter that Avellone had acted this way with other women as well during industry events and described how she'd witnessed how one of her best friends had suffered "a year of heartache, gaslighting, and emotional abuse at his hands."
While Karissa remained friendly with Avellone until the episode with her friend, she said that her own experiences with the developer "actually didn't start to click with me until other women in the industry started coming forward with their stories, and seeing how similar they were to mine."
Video game designer Christy Dena told Bloomberg her own story about Avellone, also accusing him of getting her drunk at a convention in Melbourne in 2013 and taking her back to her room to have sex with her.
"I remember going back to the room, but then I don't remember much of what happened in the room at all," Dena said. "And then just waking up in the morning. He said, 'Oh, we didn't do anything,' but of course my clothes were off."
In response to Karissa's original tweet, another woman accused Avellone of "groping her repeatedly" at a nightclub in 2014.
"Every time you or his gf weren't looking, his hand was on my ass & he was trying to get me to go to his room," the woman wrote to Karissa. "I told him I don't fuck my friends' boyfriends & to stay the fuck away from me…"
Jacqui Collins, PR lead at Riot Games, shared her own experience with Avellone, posting the inappropriate messages he'd sent her on Twitter in 2013. Collins wrote that, while she forgave him at first after he apologized to her, she regretted it now.
Avellone replied to Karissa on Twitter, writing that he "thought things between us had ended well all up until seeing you off. That said, if I can't do anything to apologize for it, I understand, and there's nothing more to be done."
Since the allegations came to light, Techland announced that it has parted ways with Avellone, while Emily Grace Buck, narrative designer on The Waylanders, confirmed Avellone was no longer part of the team at Gato. Paradox wrote its own statement (via GameSpot), explaining that while Avellone contributed to Vampire: The Masquerade – Bloodline 2 "briefly," none of his work remained in the game.
The accusations lodged at Avellone come as the game industry as a whole reckons with a wave of stories of sexual misconduct, inequality, racism, abuse, and terrible working conditions at video game outlets like IGN and Twitch as well as studios like Spider-Man developer Insomniac Games. Many of the accusations have been compiled in a thread on Medium (via Bloomberg).