News
Call of Duty 80s Action Heroes Update Release Time and MOAB Details
Call of Duty is getting a new update that brings John Rambo from First Blood and John McClane from Die Hard to Warzone, Black Ops Cold War, and Mobile!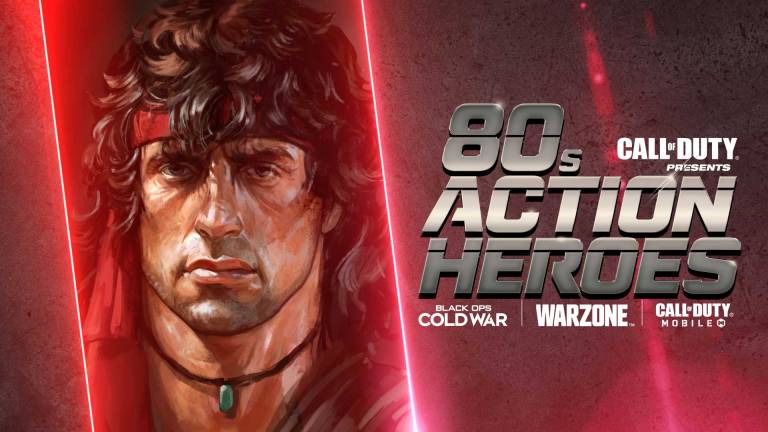 Call of Duty is getting its most action-packed DLC yet with the arrival of the '80s Action Heroes update and the Season 3 midseason patch. For Call of Duty: Warzone, Black Ops Cold War, and Call of Duty Mobile, this means iconic action movie heroes John Rambo (First Blood) and John McClane (Die Hard) are dropping into the game as new Operators, complete with their iconic get-ups as well as a few of the famous locations from their films.
In Warzone, players will be able to take the fight to Die Hard's Nakatomi Corporation building, which will replace the Broadcast Tower. This will be the perfect place to live out your John McClane Christmas fantasy, with "five floors of a space that will be familiar to those who know and love the original Die Hard," according to Activision, which also confirms the building will be the tallest structure in Verdansk '84.
"Nakatomi Plaza features multiple optional missions that can be completed during Battle Royale and Plunder for rewards both in-game and for your profile. This includes exploring the tower for Supply Boxes, defusing C4 on the tower's roof, and interrupting an arms deal gone wrong," Activision said in a blog post. "If you and your squad are lucky enough, you may even be able to do what no international criminal has been able to pull off before: successfully crack the Nakatomi Plaza vault and escape with its riches. But be forewarned that you won't be the only Operators looking for the keys to the vault."
On the Rambo side, Warzone's map will also get 10 "Survival Camps" as an homage to Rambo: First Blood Part II: "Find any of these 10 camps across the map, and you could walk out with some solid loadout items or the dog tags of comrades who fell long before your arrival. Collect enough of them, and you may be able to get an even greater reward."
Finally, a CIA Outpost has been added to one of the aircraft hangars in the northwest sector of Verdansk. Built as a place for "agents" to track Rambo, it's also being used as an HQ to "search for any identification of fallen soldiers and may bring in some air reinforcements should enough of them be collected for extraction. Maybe this can be used to stage an ambush that only a true guerilla warfare expert could handle."
If you want to see how this all looks, check out the trailer below:
Here's everything else you need to know about the '80s Action Heroes update as well as what else is coming in the Season 3 midseason update.
Call of Duty '80s Action Heroes and Season 3 Reloaded Update Release Time
The Call of Duty Season 3 midseason patch will drop on May 19 at 9 pm PT/May 20 at 12 am ET. At that time, you'll be able to get the two new Operators as part of their own bundles as well as jump into the new modes in Warzone, Black Ops Cold War, and Mobile.
The Rambo bundle includes the Legendary Operator; two Finishing Moves, including one using his signature bow and arrow; three Legendary Weapon Blueprints—an assault rifle, an LMG and a Knife Blueprint; a Legendary Calling Card and Emblem; and an Epic Watch and Charm.
The Die Hard bundle includes the Legendary Operator, a Finishing Move, three Legendary Weapon Blueprints—one tactical rifle, two SMG, and one assault rifle—a Legendary Calling Card and Emblem, an Epic Watch, and an Epic Weapon Charm.
Both bundles will be available for purchase until June 18 at 9 pm PT/June 19 at 12 am ET.
Call of Duty Season 3 Reloaded Update File Download Size
Black Ops Cold War Update Sizes
PlayStation 5: 10.3 GB
PlayStation 4: 7.1 GB
Xbox One Series X / Xbox One Series S: 13.1 GB
Xbox One: 8.3 GB
PC: 10.3 GB
Warzone Update Sizes
PlayStation 5: 14.6 GB
PlayStation 4: 14.6 GB
Xbox One Series X / Xbox One Series S: 15.2 GB
Xbox One: 15.2 GB
PC: 14.9 GB (Warzone Only) / 18.1 GB (Warzone and Modern Warfare)
New Call of Duty Season 3 Reloaded Features
The '80s Action Heroes update also brings a new limited-time Warzone mode called Power Grab, which will put over 100 players in a smaller starting circle than you're likely used to. Circle collapses will happen in five stages and there will be no Gulag, meaning dead is dead unless your teammates manage to buy you back or collect enough Dog Tags to bring you back. Dog Tags can be collected off of dead Operators or as rewards for finishing contracts or hiding in supply boxes. Dog Tags can also be redeemed for rewards, such as a UAV, Respawn Token, and Advanced Gas Masks and Specialist Bonuses.
Black Ops Cold War Season 3 Reloaded will bring three new modes to the game. The first two are Die Hardpoint and Rambo's Gun Game (out in Week 2), which play similarly to the standard modes but with some twists, such as buffs when you capture a hardpoint and additional firepower in Gun Game. The third is Multi-Team Elimination, which mixes traditional multiplayer with a battle royale-lite experience, pitting 10 teams of four against each other to be the last team standing. The update also introduces two new maps, the 6v6 Standoff and the much bigger, multi-team Duga, which is set in the Ural Mountains.
Call of Duty Mobile's new Guns Blazing mode will let players rack up kills for a chance to transform into Rambo or McClane. The mode will be available from May 20 to June 2.
An '80s Action Heroes meta event will task players with completing 18 challenges across Warzone and Black Ops Cold War for rewards. Finishing all of the nine Black Ops Cold War challenges will get you a semi-automatic tactical rifle Weapon Blueprint, checking off the nine Warzone challenges will reward you with a Bolt-Action Sniper Rifle Weapon Blueprint.
New Call of Duty Season 3 Reloaded Weapons
In Warzone, new weapons include Rambo's Combat Bow, a Killstreak which allows you to shoot explosive arrows at your enemies, while the projectile-shooting Ballistic Knife lets you perform melee attack both up close and from a distance.
Two new weapons, the Baseball Bat and AMP63 Pistol, will be added to Black Ops Cold War in season 3 before joining Warzone in season 4. "Obtain the AMP63 and Baseball Bat during Season 3 Reloaded in one of two ways: complete an in-game challenge to obtain the free base weapon or pick up a bundle with a Blueprint version when it appears in the Store."
When Is the "MOAB" Being Released?
With Season 3 reaching midseason, players are still wondering if this means the mythical "MOAB" — or "Mother of All Bundles" — DLC is closer to becoming a reality. While Call of Duty watchdog site COD Tracker recently debunked that the massive $100 bundle, which was rumored to include (among other things) every Battle Pass cosmetic from Modern Warfare's six seasons, was even coming to Warzone, some fans are still wondering if the recent "MOAB" leak on the Call of Duty website and app could point to a re-bundle of those old cosmetics for the Black Ops Cold War era.
The fact is that it's unlikely the MOAB will ever arrive, even as Activision continues to find new ways to add DLC to Warzone. According to COD Tracker, the MOAB leak is actually a collection of unused assets that have existed in the Modern Warfare game files since 2019 and were likely scrapped by the developers. While Rambo and John McClane might be making their way to Call of Duty, don't hold your breath for the MOAB.
You can find the complete details, including what's coming to Black Ops Cold War's Zombies mode, here.