News
Bloodstained: Curse of the Moon 2 Revives Retro Castlevania Gameplay
Bloodstained: Curse of the Moon 2 not only features throwback 8-bit action but stars a vengeful corgi in a mech suit.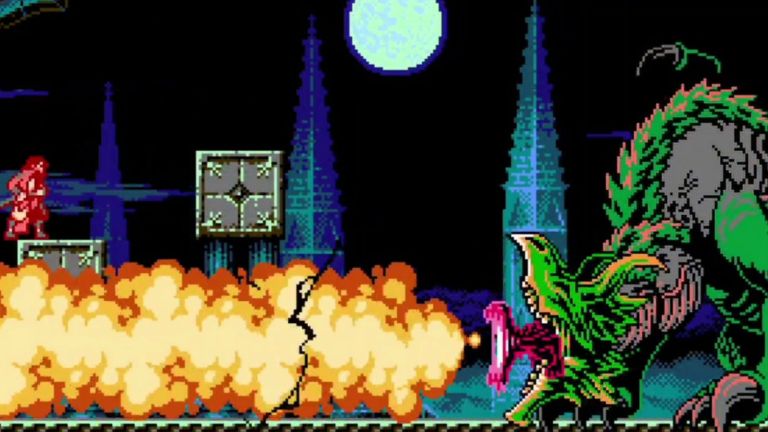 During a recent livestream, director Koji Igarashi has confirmed that Bloodstained: Curse of the Moon 2 is in development.
The original Bloodstained: Curse of the Moon was released as a kind of fundraising bonus for the successful Bloodstained: Ritual of the Night Kickstarter campaign. While Ritual of the Night was focused on attempting to capture the gameplay style of Castlevania: Symphony of the Night (and its many spiritual spin-offs), Curse of the Moon was designed to resemble the classic 8-bit Castlevania games (most notable Castelvania 3).
Despite its status as a spin-off, Curse of the Moon received nearly universal critical acclaim from those who fell in love with its brand of retro gameplay that hasn't necessarily been revisited as often as the Symphony of the Night school of game design (which helped refine the Metroidvania genre).
Based on the game's debut trailer, Bloodstained: Curse of the Moon 2 appears to share the retro gameplay concepts which inspired its predecessor. That is to say that it will feature 2D side-scrolling action blended with platforming and the ability to utilize multiple characters who each benefit from unique abilities.
Speaking of characters, it's already been revealed that Curse of the Moon 2 will focus on a new character named Zangetsu who is described as a "swordsman from the Far East who bears a powerful dislike against demonkind and the alchemists who summon them." His primary attack utilizes a sword with quick attack speed and short range. He also has access to special abilities such as a ball and chain, a magic bomb, and the ability to enhance his attack power through demonic energy.
Joining Zangetsu will be a spear-wielder named Dominique, a soldier named Robert who uses a musket, and Haichi. We've got to spend a little time focusing on Hachi as he is a "Welsh Corgi who follows Zangetsu in order to repay a debt." He also pilots a steampunk-style mech suit which he uses to seek vengeance against the alchemist who experimented on him. That's just amazing.
Be sure to watch the debut trailer for Bloodstained: Curse of the Moon 2 for a better idea of what this sequel is all about:
While we love pretty much everything we've seen of this game thus far, the one thing we haven't seen yet is a release date. What we can tell you is that Bloodstained: Curse of the Moon 2 will be available for PlayStation 4, Xbox One, PC via Steam, and Nintendo Switch.