News
Back 4 Blood Open Beta Start Time: When Can You Jump into Early Access?
Wondering when you the Back 4 Blood open beta early access launches and how much storage you'll need to download it? We have the answers!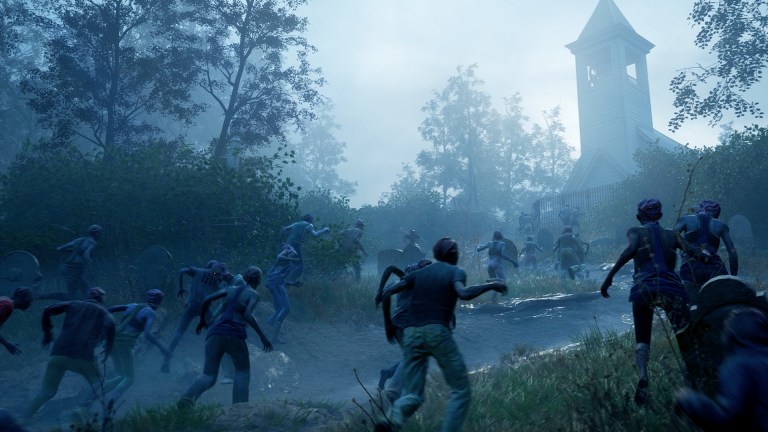 Turtle Rock Studios returns to the genre that first put the developer on the map in 2008 when Left 4 Dead took the gaming world by storm. Thirteen years later, the studio is back with a spiritual successor, the aptly named Back 4 Blood, a modern take on the multiplayer survival shooter genre with a few new tricks up its sleeve but also plenty of nostalgia.
At the center of the game are Walker, Holly, Hoffman, Evangelo, Karlee, Doc, Jim, and Mom, a group of veteran zombie killers known as "the Cleaners" who will do anything to survive a parasite outbreak that has turned most of humanity into the flesh-hungry "Ridden." Fans of the Left 4 Dead franchise will find a familiar horde of enemies as well as both four-player co-op PvE campaigns and 4v4 multiplayer modes.
While a preview of the co-op gameplay was on top during the game's closed alpha earlier this year, an Open Beta launching this week will be the first time players will be able to try out Back 4 Blood's multiplayer mode Swarm, "where two squads of four face off in a best-of-three series of rounds swapping between playing as the Cleaners and the Ridden, as well as additional campaign content," according to WB Games.
Players who pre-ordered the game will get Early Access to the Open Beta on Aug. 5-9 on Xbox Series X|S, Xbox One, PlayStation 5, PlayStation 4, and PC. If you've not pre-ordered, you can also register for a chance to get an early access beta key here. Everyone else will be able to jump in on Aug. 12-16.
As far as what content you'll be able to try out during the beta period, here's a rundown:
Two maps for the "Swarm" PvP mode
Two co-op maps to fight off Ridden with your friends
Play as Mom for the first time, as well as other Cleaners: Evangelo, Holly, Walker and Hoffman
Play as six different Ridden variants in "Swarm," including the Bruiser, Retch, Hocker, Exploder, Crusher and Stinger
Various weapons to check out, cards to build decks and Ridden to slay
Explore the Fort Hope communal hub
Cross-play and cross-gen support
If you're wondering what time the beta will launch in your time zone on Aug. 5, here's a quick rundown for the US and the UK:
NYC: 3 PM ET
Los Angeles: 12 PM ET
London: 8 PM BST
Stockholm: 9 PM CEST
If you're in another region, simply refer to this handy graphic: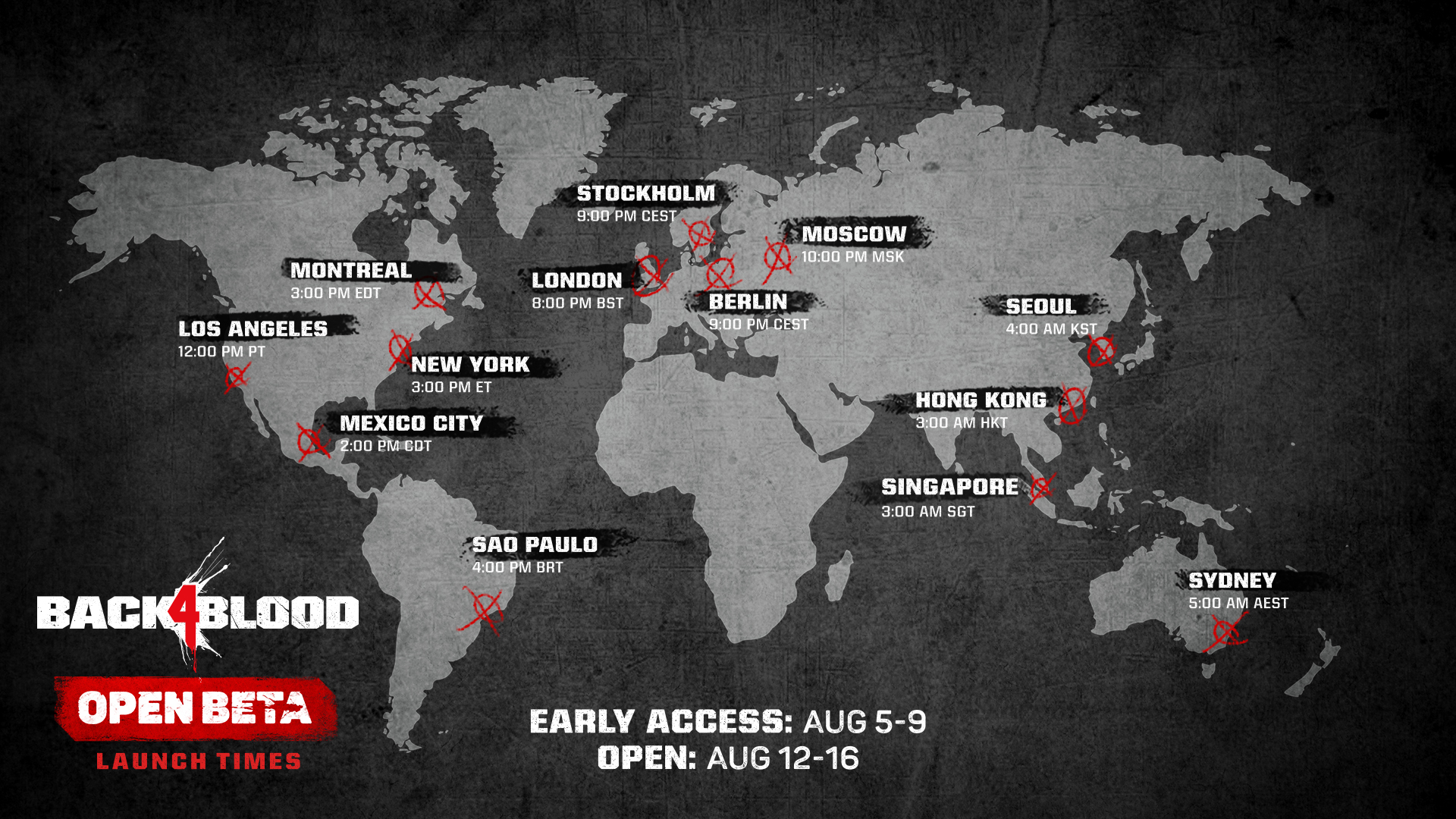 Regarding download file size, you'll need 25GB of storage on your PC or console for the beta. A few other recommended PC specs:
CPU Intel Core i5-8400 or AMD Ryzen 7 1800X
GPU GeForce GTX 970 or Radeon RX 590
RAM 12GB
OS WINDOWS 10 64-bit
DX DIRECTX 11
Stay tuned for our thoughts on the beta later this month as well as our special Back 4 Blood Open Beta live stream on Twitch on Thursday, Aug. 5 at 2:30 pm ET!