News
Yusuf/Cat Stevens Unearths Lost Music Video for Upcoming Mona Bone Jakon Reissue
For the 50th anniversary of Cat Stevens' Mona Bone Jakon album, Yusuf/Cat Stevens shares lost "Lady D'Arbanville" music video.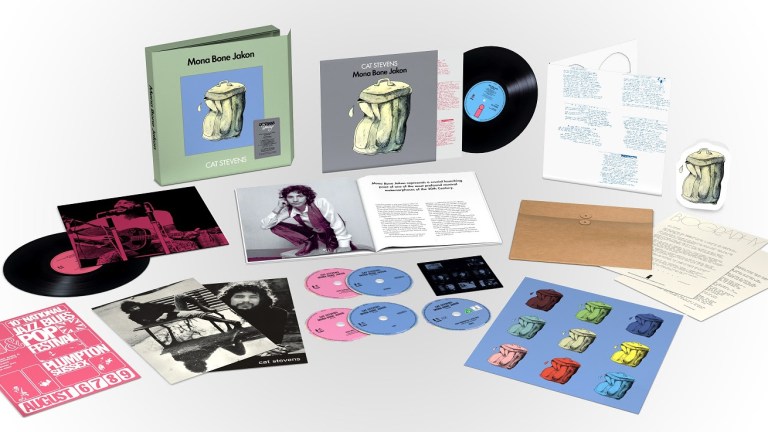 Classic rock staple singer-songwriter Yusuf/Cat Stevens is commemorating the 50th anniversary of his two 1970 albums, Mona Bone Jakon and Tea for the Tillerman, with super deluxe box sets. One of the bonuses included is an unearthed music video for his song "Lady D'Arbanville." Produced for the Mona Bone Jakon release, the music video is one of the earliest ever made.
The black and white video features the inspiration for the title character, Patti D'Arbanville, an actress and model best known for her work with artist Andy Warhol. She also appeared in Real Genius, Time After Time, and played Cathy Smith in the John Belushi biopic Wired. She was Stevens' girlfriend at the time, and also the inspiration for his song "Wild World." "Lady D'Arbanville," which imagines her sleeping, is a metaphor for her being dead. The short film was shot in an English, Gothic-era mansion.
You can watch the video here:
Tea for the Tillerman established Stevens as an international superstar and is widely regarded as one of the greatest albums of all time, but it was the second under his new deal with Island Records/A&M. The April 1970 release of Mona Bone Jakon was one of the most profound artistic metamorphoses of the 20th Century. On par with the David Bowie's creation of Ziggy Stardust and Steven's own reincarnation as Yusuf Islam after his conversion to Islam. Carnaby Street pop-star Cat Stevens, the clean-shaven singer of radio-friendly U.K. hits like "I Love My Dog" and "Matthew & Son," came back from a near-fatal battle with TB as a serious musician, albeit one with a sense of humor.
"'Mona Bone Jakon' is another name for my penis," Stevens told French magazine Pop Musique in a 1972 interview. "It's the name I give it. It's not some sort of secret vocabulary, it's just something I made up." The album was written while Stevens was convalescing after his bout with TB. During that time he studied classical music, metaphysical literature and meditative self-reflection. The result was a deeply personal unfolding of a spiritual awakening.
Mona Bone Jakon and Tea for the Tillerman found Yusuf/Cat Stevens taking charge of his music, and transcending the sounds of its era. They were the first record he made with producer Paul Samwell-Smith, formerly of Yardbirds. Besides the deeply romantic songs "Lady D'Arbanville" and "Trouble," the album includes the spiritual "I Think I See The Light," and the cheeky "Pop Star."
This 50th anniversary set is completed with a live 12″ etched vinyl EP of the rare audience recording of "Live At Plumpton Jazz & Blues Festival" from August, 1970, and with a Blu-ray disc featuring the original promo video of "Lady D'Arbanville." It will also include eight live TV performances, and a selection of memorabilia including the Island Records press kit, two Island press photos, a replica 1970 Plumpton Jazz and Blues flyer, a Cat Stevens tour sticker and "dustbin" greetings card and pop art print in a card envelope.
You can see what's in the box here:
The classic Tea for the Tillerman is known for timeless songs like "Where Do The Children Play?," "Father and Son," "Wild World," and "On The Road To Find Out." The Super Deluxe Edition box set features the previously unreleased "Can This Be Love?," which was written by Cat along with "Father and Son" for a proposed musical project "Revolussia" in 1969. It also includes 25 live performances, 5 previously unreleased tracks recorded Live At The Troubadour, 4 previously unreleased live performances from the December 8, 1970 show at Fillmore East, and 6 previously unreleased live from British, French and German TV performances over 1970/71.
The 50th anniversary Super Deluxe Collector's Edition box set of Mona Bone Jakon includes 24 previously unreleased songs. Tea for the Tillerman's features another 21 unreleased tracks. Both will be released on Dec. 4 via A&M/UMe.