News
What is WWE Doing With Keith Lee?
After attacking Braun Strowman in a post-match angle on WWE Raw, is Keith Lee a heel or an edgier babyface?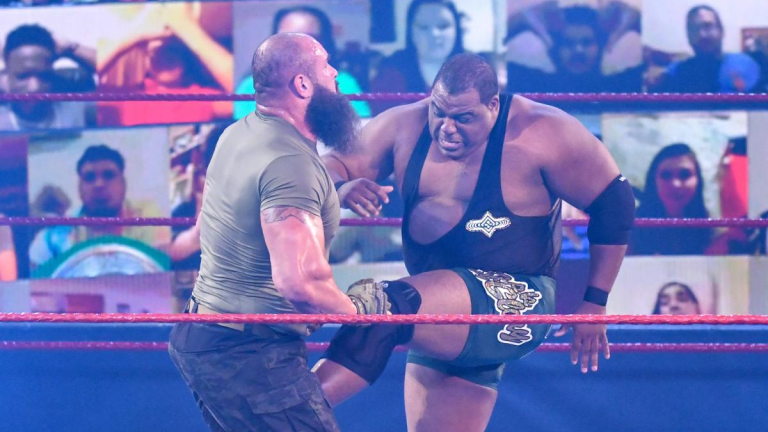 It's hard to tell what WWE is trying to do with Keith Lee. On Monday's episode of Monday Night Raw, Lee was pinned by Braun Strowman. That wasn't the story, though. During the match, the momentum swung in Strowman's favor after he gave Lee a low blow. It was difficult to discern whether or not the illegal move was done on purpose, and the broadcast team didn't do a very good job of explaining whether or not they thought it was done on purpose.
Lee, in the storyline, clearly thought it was. After the match, he got to his feet and kicked Strowman in the groin, standing over him and yelling that he wasn't going to be pushed around, and that Strowman had messed with the wrong guy.
There could be two purposes to a move like that, and quite frankly, both of the roads work.
First, this could be a move to make Lee's character a little edgier. Lee has the look of a monster, weighing almost 350 pounds and showcasing power moves in the ring that's really only matched by Strowman. He was debuted with fanfare earlier this week on the main roster, but has struggled a bit to gain traction near the top of the card. Why? Well, he's always been a little too lovable. Instead of a monster, he has a tendency to come across as a big teddy bear. That has its own way of working — think of a babyface Big Show — but Lee has more upside in him than being WWE's lovable giant.
He needs some sandpaper on his character. He needs to feel more gritty and, pardon the pun, but a little more RAW.
Keith Lee with a little more attitude could be a top babyface.
But, the kick could have also signaled the start of a heel turn for Lee. Strowman has lost some of his shine as a top guy in the WWE, but in Vince McMahon's eyes, he's a big babyface just below the level of Drew McIntyre. Lee, obviously on purpose, kicking Strowman after the match could be WWE's attempt to turn him heel.
But, if that were the case, I would have expected the announce team to be more straightforward in condemning Lee for the attack, noting that Strowman's low blow was accidental and Lee's antics after the match were unwarranted. They didn't do that.
With WWE, not much is left up to the imagination. More likely than not, this was an attempt to give Lee more edge as a babyface. We know what Vince McMahon thinks of his audience, and leaving ambiguity there for the fans to decide whether or not Lee was warranted is not something he's very keen on doing. If McMahon wanted Lee to come out of that angle as a heel, the announce team would have been solidly condemning the attack.
But the fact that there was some nuance to that angle is refreshing. Even if it's a happy accident due to WWE not paying attention to detail. The fact that this leaves some mystery could be a hook for viewers, who enjoyed the angle, to tune in next week.