News
The Rolling Stones Postpone No Filter Tour Over Coronavirus Outbreak
COVID-19 will keep Rolling Stones fans out of stadiums around the world for the foreseeable future.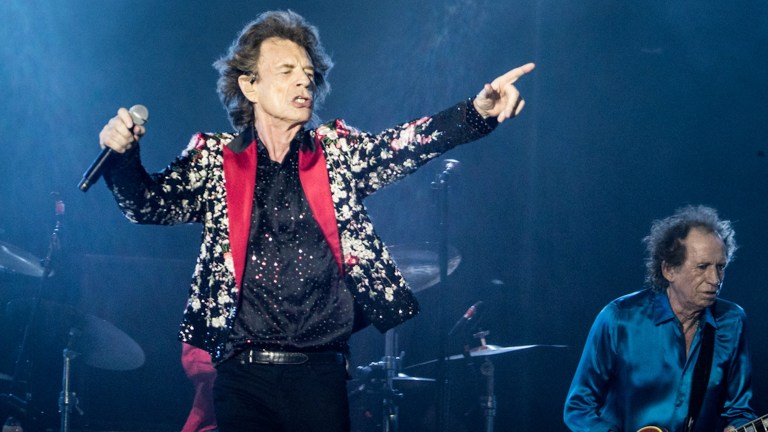 The Rolling Stones closed Their Satanic Majesties Request with the song "On with the Show," but decided that a No Filter Tour during a health crisis is a mistake, regardless of Keith Richards' constitution.
The legendary band postponed their 2020 No Filter Tour of North America due to the coronavirus pandemic. No new dates have been announced as of press time but ticketholders are urged to "hold onto their original tickets and await further information."
"We're hugely disappointed to have to postpone the tour," Richards, Mick Jagger, Charlie Watts and Ron Wood announced via a shared statement on Twitter. "We are sorry to all the fans who were looking forward to it as much as we were, but the health and safety of everyone has to take priority. We will all get through this together — and we'll see you very soon."
The No Filter tour kicked off on Sept. 9, 2017, in Hamburg, Germany. The 2019 North American leg of the tour was postponed after Jagger had heart surgery. The No Filter Tour was rescheduled for summer 2019. Two dates had to be rescheduled a second time: Tropical Storm Barry postponed their show in New Orleans, and they had to reschedule their Miami show because of Hurricane Dorian.
Pearl Jam was the first major rock band to postpone a tour due over the Coronavirus. Van Morrison got around the crowd ban recommended by the French Minister of Solidarities and Health by performing his March 9 Paris' L'Olympia show twice for half the audience each time. Yes docked their annual Cruise to the Edge show and tour. Billy Joel dropped some Madison Square Garden concerts from his schedule. David Lee Roth postponed the last six shows of his Las Vegas residency. The entire European leg of Santana's Miraculous World Tour was held back.
Queen, featuring Adam Lambert, postponed a date in Paris. Former Skid Row singer Sebastian Bach postponed the second leg of his tour. Elton John postponed the North American leg of his Goodbye Yellow Brick Road farewell tour. Alice Cooper postponed his spring 2020 North American tour. Kansas put a hold on their March tour dates. Styx are putting off their 2020 tour. Lynyrd Skynyrd rescheduled dates on their farewell tour.
The coronavirus pandemic also sidelined the first full-reunion Rage Against the Machine shows since 2011, as well as live shows from The Who, Kiss, Bob Weir and his Wolf Bros, Green Day, Foreigner, Whitesnake, Sons of Apollo, Bryan Adams, Alanis Morissette, Jonas Brothers, Weezer, and Fall Out Boy.
Death Cab for Cutie's Ben Gibbard isolated his vocals in livestream performances.
Festivals like Coachella Valley Music and Arts Festival were pushed back. The South by Southwest Conference and Festivals, which included appearances by Ozzy Osbourne and Trent Reznor, and Knoxville, Tenn.'s The Big Ears Festival were canceled. Concert promoters Live Nation and AEG put a stop to all their tours through the end of March. The Rock and Roll Hall of Fame postponed their 2020 induction ceremony.
The Rolling Stones have not released an album of new material since A Bigger Bang from 2005. They have been recording sporadically while touring.
The Rolling Stones website lists these postponed shows:
May 8: San Diego, UDCCU Stadium
May 12: Vancouver, BC Place
May 16: Minneapolis, Minn., U.S. Bank Stadium
May 20: Nashville, Nissan Stadium
May 24: Austin, Circuit of The Americas
May 29: Dallas, Cotton Bowl Stadium
June 6: Buffalo, N.Y., New Era Field
June 19: Detroit, Ford Field
June 14: Louisville, Ky., Cardinal Stadium
June 19: Cleveland, FirstEnergy Stadium
June 23: Pittsburgh, Penn., Heinz Field
June 27: St. Louis, The Dome at America's Center
July 1: Charlotte, N.C., Bank of America Stadium
July 5: Tampa, Fla., Raymond James Stadium
July 9: Atlanta, Mercedes-Benz Stadium
Variety posted these rescheduled dates for the Tour Of North America & Canada 2019
June 21: Chicago, IL, Soldier Field
June 25: Chicago, IL, Soldier Field
June 29: Ontario, Canada, Burl's Creek
July 3: Washington, DC, FedExField
July 7: Foxboro, MA, Gillette Stadium
July 14: New Orleans, Mercedes-Benz Superdome
July 19: Jacksonville, FL TIAA Bank Field
July 23: Philadelphia Lincoln Financial Field
July 27: Houston NRG Stadium
August 1: East Rutherford, NJ, MetLife Stadium
August 5: East Rutherford, NJ , MetLife Stadium
August 10: Denver, CO, Broncos Stadium at Mile High
August 14: Seattle, WA, CenturyLink Field
August 18: Santa Clara, CA, Levi's Stadium
August 22: Pasadena, CA, The Rose Bowl
August 26: Glendale, AZ, State Farm Stadium
August 31: Miami, Hard Rock Stadium