Features
The Music of SXSW From Your Couch
Looking for new music? We're spotlighting some of our favorite SXSW 2020 artists despite the festival cancellation.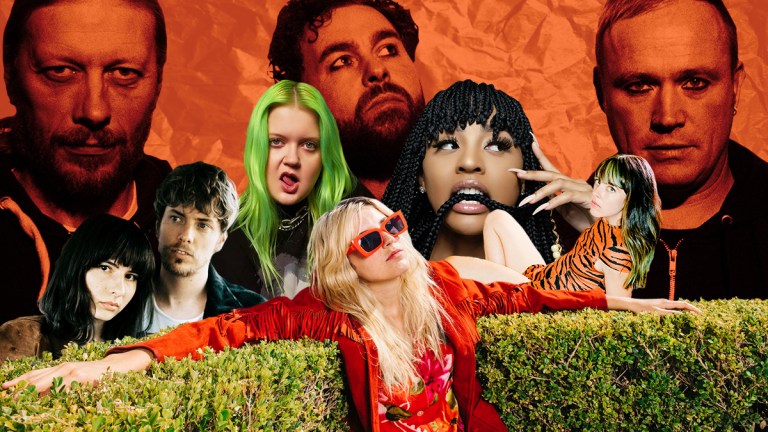 For the first time since its inception in 1987, South by Southwest was cancelled. Due to fears over the outbreak of coronavirus, the city of Austin, Texas made the difficult decision to call off the music, film, interactive media, TV, and comedy festival. Not only is it a huge disappointment to fans who were excited to immerse themselves in everything SXSW had to offer over the course of its planned 10 days, but it's a devastating blow to those in the service and hospitality industries that work so hard every year to accommodate visitors and rely on the business that SXSW provides.
The smartest, safest thing that folks can do at this time is stay in their homes and practice social distancing, but that doesn't mean that the spirit of SXSW has to be put on hold until next year. We put together a playlist of some of our favorite artists that were set to perform at the festival to help give you a SXSW experience from your couch. From local acts to international sensations, hip-hop groups to lo-fi troubadours, our SXSW playlist has all of the acts we wish we could be seeing this week in Austin.
Click here to find this full playlist on Spotify.
Frances Quinlan – "Your Reply"
Frances Quinlan, frontwoman of Philadelphia indie rock heroes Hop Along, returns to her roots as a solo artist and dials things back with bountiful results on her new LP Likewise. "Your Reply" is a Joni Mitchell-esque folk tune that features sunny acoustic guitar strumming before breaking into a barroom piano bounce and lyrics that veer from literary analysis to interpersonal dynamics.
INFRAR3D – "Bag Baby (I Need a Bag)"
Hometown hip-hop group INFRAR3D blend laid back, soulful R&B grooves with a classic Southern rap vibe, offering a little something for every fan of the genre. On "Bag Baby (I Need a Bag)" they thrive with an old-school beat and funky bassline, trading verses smoother than a Texas paloma.

Field Medic – "used 2 be a romantic"
Lo-fi bedroom folk singer-songwriter Kevin Patrick, known by the moniker Field Medic, puts his songwriting front and center, with sparse tracks featuring little more than an acoustic guitar. On "used 2 be a romantic," the standout track from his first proper full-length release for Run For Cover Records, Patrick turns the mundanity and anxiety of life as a touring musician into a catchy singalong.
Nadia Nakai – "Kreatures"
South African rapper and songwriter Nadia Nakai mixes boss energy and intimidating bars with vulnerability to create hard tracks that feel confident, revealing, and empowering. On "Kreatures" she invites singer Sio and South African rapper Kwesta to join her on a chilled out beat, reflecting on her journey and making her case as hip-hop's queen femcee.
Disq – "Daily Routine"
Saddle Creek Records' latest darlings, Disq, sound like they were made in a lab combining all of the best parts of '90s indie with the discography of Alex Chilton. On their multi-suite power-pop stomper "Daily Routine," the crunchy five-piece bemoan the monotony of their tech-addled, soul-sucked existence with tongue-in-cheek lyrics and punchy guitars.
Madame Gandhi – "See Me Thru"
Electronic musician, singer, percussionist, and activist Madame Gandhi mixes twinkling keys and kinetic live drums on her wavy R&B love song "See Me Thru." The track finds the brainy, genre-hopping renaissance woman reveling in the self-discovery that can be found in a loving, consistent relationship.
beabadoobee – "I Wish I Was Stephen Malkmus"
"Sitting at home, crying to Pavement/I wish I was Stephen Malkmus," sings 19-year-old London musician Bea Kristi, who performs as beabadoobee, on her fuzzed-out slacker pop single "I Wish I Was Stephen Malkmus." Beabadoobee is bound for indie stardom with her DIY sensibility, deceptively simple lyrics, and monster hooks. Forget Gen X guitar gods, all hail our new reigning bedroom-pop queen!
Caroline Rose – "Feel the Way I Want"
Caroline Rose has had an interesting trajectory. Starting as an alt-country artist, she reinvented herself as a no holds barred dynamo on 2018's excellent LONER. On her latest record, SUPERSTAR, she's transformed yet again, taking the shape of a weirdo pop sensation. "Feel the Way I Want" finds the connective tissue between Prince and MGMT's "Electric Feel" for a blissed-out celebration of self-acceptance.
Lee Bains III & The Glory Fires – "Whitewash (Live)"
Lee Bains III & The Glory Fires are a throwback to the great Southern rock bands of the past, but with punk rock politics and a righteously indignant edge. Live at The Nick will give you a taste of what to expect from their blistering live shows, and "Whitewash" is a perfect distillation of the band's ethos: celebrating their Southern heritage and railing against racial disparity and marginalization.
Margaret Glaspy – "Killing What Keeps Us Alive"
Margaret Glaspy impressed music fans with her snaking guitar skills and sharp lyrics on her 2016 debut Emotions and Math. Lead single "Killing What Keeps Us Alive," from her follow-up Devotion finds Glaspy shifting her approach with digital instrumentation, warm, inviting synths and more earnest songwriting. It's a new mode for Glaspy, but she executes it well.
Christian Lee Huston – "Northsiders"
Los Angeles-based folk artist Christian Lee Huston earned a fan in breakout indie artist Phoebe Bridgers, which led to Huston co-writing songs for Bridgers' side projects boygenius and Better Oblivion Community Center. Bridgers returned the favor, producing his new album Beginners. On the gentle acoustic track "Northsiders," Huston's contemplative, vivid lyrics ping-pong from humorously specific to universally poignant.
Worriers – "Terrible Boyfriend"
The Brooklyn, NY indie punk band Worriers traffic in life-affirming anthems and heart-wrenching, confessional epics. Singer/songwriter Lauren Denitzio describes "Terrible Boyfriend" as "my sad song about realizing I don't really do well at all in traditional romantic relationships." The song is reflective and subdued before a soaring guitar line pushes the thoughtful lament to the rafters.
Jason Hawk Harris – "Cussing at the Light"
Houston-raised and Los Angeles-based Jason Hawk Harris describes his brand of country music as "meta-apocalyptic country / Americana grief-grass." A former punk kid who found his way into Americana and honky tonk through Lefty Frizzell and Elvis Presley, Harris' music oozes acerbic wit and intelligence while remaining in the outlaw country tradition. "Cussing at the Light" is a classic heartbroken, two-step drinking song with warm piano licks and a killer pedal steel guitar solo.
Moaning – "Fall in Love"
Sub Pop's Moaning blend cold, metronomic rhythms with swirling, clubby synths and deeply human fears about opening yourself up to love on "Fall in Love," one of the lead singles from their upcoming record Uneasy Laughter. Danceable, yet darkly tinged, Moaning's latest tracks sound like a 2020 update of Depeche Mode, but maybe without all of the leather.
Euro Spotlight
From London to Finland, these European artists planned to make the long trip to Austin for SXSW (some still did or plan on it, just in unofficial showcases). Below is a sampling of our would-have-been festival must-sees from abroad. – Chris Longo
Alma – "Good Vibes"
If hit tracks like "Good Vibes" and "Chasing Highs" are any indication, the Finnish standout has dancefloor-energizing pop hooks that could lead to global stardom.
Baseball Gregg – "Sad Sandra"
Bologna, Italy native Luca Lovisetto and Stockton, Calif. native Samuel Regan comprise this bi-continental pop duo, which boasts sunny, keyboard-laden tracks like "Sad Sandra."
Donna Blue – "Sunset Blvd"
Self-described "lovers and collaborators," the Dutch couple behind Donna Blue lay down a smooth sonic landscape with dreamy harmonies and old school Hollywood romanticism on "Sunset Blvd." Also, don't skip the sultry, Western-inspired jam "Desert Lake."
Flawes – "Look No Further"
The indie-pop trio hailing from London have an infectious and uplifting opener to their debut album in "Look No Further."
The Foreign Resort – "She is Lost"
With "She is Lost," this post-punk outfit from Copenhagen unleash a stadium-ready new wave anthem that conjures memories of early Cure records.