News
New Deep Purple Album Whoosh! Coming in June
Hush, hush, Whoosh! is coming. Deep Purple reunites with Bob Ezrin for their 21st studio album.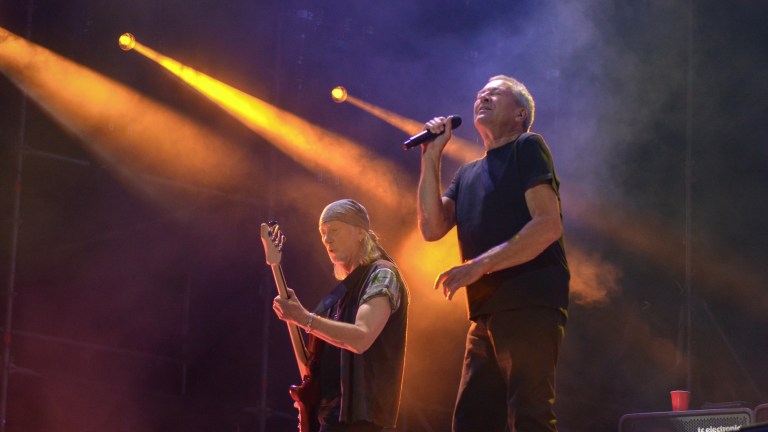 Deep Purple is one of the most influential rock bands of all time. Along with Led Zeppelin and Black Sabbath, they completed the "unholy trinity" of 1970s British hard rock sound. The group will release their 21st studio album Whoosh! on June 12. The album reunites the band with legendary producer Bob Ezrin, who worked with the iconic band's last two albums.
Whoosh! comes four years after Deep Purple's induction into the Rock and Roll Hall of Fame. Ian Gillan, Roger Glover, Ian Paice, Steve Morse, and Don Airey "putting the Deep back in Purple." They wrote and recorded Whoosh! in Nashville on an invitation from Ezrin, renowned for producing definitive albums for Pink Floyd, Alice Cooper, and Tim Curry. The first album they collaborated on was So What?! (2013), which hit Number 1 in five European countries, as hit the Top 10 in over 15 countries worldwide. The second, inFinite (2017), broke chart records the band accumulated over their entire history.
Deep Purple debuted in 1968 with the album Shades Of Deep Purple. The band consisted of guitarist Ritchie Blackmore, keyboardist Jon Lord, drummer Ian Paice, bassist Nick Simper, and vocalist Rod Evans. Ian Gillan took over as front man and Roger Glover replaced Simper on bass for the band's 1970 album Concerto for Group and Orchestra, which they recorded with the Royal Philharmonic Orchestra.
Everyone knows the guitar riff to the song "Smoke on the Water," from the Machine Head album. But many don't know it was written about the club the Casino in Montreux, Switzerland, which burned down during a live Frank Zappa show. The song hit the U.S. Top Five in mid-1972.
Their 1973 album Who Do We Think We Are produced the hit "Woman from Tokyo." David Coverdale took over vocals and Glenn Hughes played bass and sang for the band starting with 1974's Burn. This led to a series of personnel changes and culminated in a genre change from hard prog rock to heavy metal.
The band survived the deaths of guitarist Tommy Bolin and Jon Lord. The current lineup has Gillan's voice at the forefront, Glover on bass, drummer Paice, Steve Morse on guitars and Don Airey on keyboards. Deep Purple have been on what they call the "Long Goodbye tour" since 2017.
Whoosh! will be available as a Standard CD, as a Digital Album, and a Vinyl 2LP+DVD edition (earMUSIC). A Limited Edition CD+DVD Mediabook will include the 1 hour feature "Roger Glover and Bob Ezrin in conversation." It will also have, for the first time, a video of the band's full live performance at Hellfest 2017.
Whoosh! Track list:
1.) Throw My Bones
2.) Drop The Weapon
3.) We're All The Same In The Dark
4.) Nothing At All
5.) No Need To Shout
6.) Step By Step
7.) What The What
8.) The Long Way Around
9.) The Power Of The Moon
10.) Remission Possible
11.) Man Alive
12.) And The Address
13.) Dancing In My Sleep