News
Beastie Boys Story Trailer Promises a Living, Loving Tribute
The Beastie Boys went from being famous in a 14 block radius to opening for Madonna.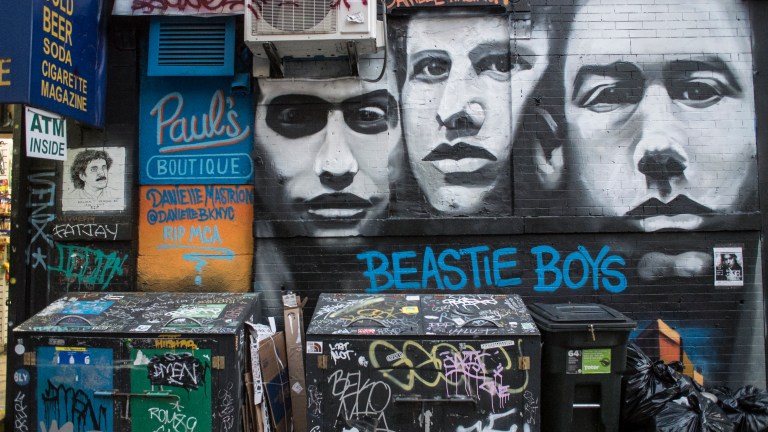 The Beastie Boys are real life examples of why you fight for your right to party. They came together on the Lower East Side and conquered Brooklyn, Bronx, Queens and Staten, from the Battery to the top of Manhattan before they caught on worldwide.
Their story gets the documentary treatment with Beastie Boys Story, which premieres globally on Apple TV+ on April 24 with the IMAX Experience hitting theaters on April 2.
You can watch the trailer here:
In the live documentary experience, Beastie Boys Michael "Mike D" Diamond and Adam "Ad-Rock" Horovitz will tell "intimate, personal story of their band and 40 years of friendship," according to their press release. The documentary was written and directed by their "longtime friend and collaborator, and loud chewer," filmmaker Spike Jonze, who also produced alongside Grammy winner Jason Baum and Amanda Adelson. The Beastie Boys Story's premiere is set to correspond with the 26th anniversary of Ill Communication, the Beastie Boys' No. 1 charting 1994 album. Jonze directed the music video for the album's hit single, "Sabotage."
The movie follows up on Diamond and Horovitz's 2018 memoir and tribute to Adam "MCA" Yauch, who died of cancer in 2012, Beastie Boys Book, which they followed up with live shows. As the trailer points out the experience goes "back, way back into time" to the early '80s when everyone "in our scene wanted to be in a band." And one of the first image you see is the band's original drummer, Kate Schellenbach, who also hit the set for Luscious Jackson and, for a short time, the Lunachicks.
Beginning in 1978 as hardcore punk band the Young Aborigines, the Beastie Boys scored a local hit when they went experimental hip hop, the alternative to mainstream rap. When they transitioned to hip hop they hired Rick Ruben as their DJ. He went on to produce them for Russell Simmons' Def Jam records and they exploded on tours. In the trailer, they admit they "morphed from making fun of party bros to actually becoming those dudes." But who could blame them? They were opening on Madonna's famed The Virgin Tour, and went on the road with acts like Run-DMC, LL Cool J, Public Image Ltd. and Fishbone.
The trailer says it doesn't end there, as the burnt-out band chilled out for few years before coming back more illin' than ever. The documentary experience promises to be a loving reminder that besides being a band, the Beastie Boys were best friends.
Beastie Boys Story: The IMAX Experience opens exclusively on April 2. Beastie Boys Story premieres globally on Apple TV+ on April 24