Features
The Lost Ava Cherry Album That Helped David Bowie Reinvent Himself for Young Americans
Ava Cherry discusses David Bowie, the producer, and how a scrapped project provided scraps of future classics.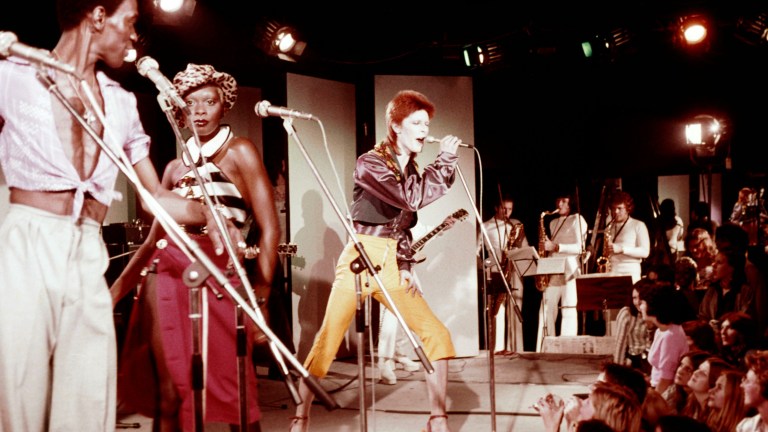 The David Bowie World Fan Convention brought the artists who worked with David Bowie to the audience who grew alongside his mythical output. Prior to the festivities, singer, fashion model, and actor Ava Cherry discussed the profound influences she brought to the singer-songwriter. Cherry was also quite open about how Bowie attempted to return the gestures, if not always the clothes he borrowed.
After Ziggy Stardust and the Spiders from Mars finished their mission, and just prior to recording Diamond Dogs, Bowie put together a trio he hoped would take off on their own orbits: Ava and the Astronettes. Front and center was his girlfriend, Ava Cherry.
After hearing Cherry harmonize with the top soul voices at an afterparty for Stevie Wonder's Carnegie Hall concert, Bowie recruited Ava to go on the road to end the Ziggy Stardust tour in Japan. "David said 'You're a singer?'" Cherry tells Den of Geek. "I said, I'm just starting to become professional." He said, 'Maybe you're interested in going to Japan with me? Your look and everything is right.' I went and that was that."
Cherry was left behind, however. Despite quitting her job and giving up her Manhattan apartment, that leg of the tour was canceled. But whether or not Ava was the inspiration for the song "Rebel Rebel," she earned the title, tracking Bowie through Europe while amassing a formidable modeling portfolio before catching up with him in France.
Along with Cherry, the Astronettes consisted of Jason Guess, a soul food chef with an ear for harmonies, and Geoff MacCormack (aka Warren Peace), who sang backup for Bowie during the final U.K. leg of the 1973 Ziggy Stardust tour, including the Hammersmith Odeon retirement show. He also contributed backing vocals to Aladdin Sane (1973) and co-wrote "Rock 'n' Roll with Me" on Diamond Dogs (1974). Peace continued working with Bowie through Station to Station in 1976.
Bowie initially formed The Astronettes as a backing vocal trio for his appearance on Midnight Special, which aired in the U.S. on Nov. 16, 1973 on NBC. The episode was themed "The 1980 Floor Show," and designed to launch Bowie in America. The special installment of the popular rock music TV series was filmed at London's Marquee Club from Oct. 18 to 20, 1973.
The backing band featured Mick Ronson and Mark Carr-Pritchard on guitars, bassist Trevor Bolder, drummer Aynsley Dunbar, and Mike Garson on piano. Also appearing on the special were Marianne Faithfull, who duets with Bowie on the Sonny and Cher hit "I Got You, Babe;" The Troggs; and Carmen, which included future Jethro Tull bassist John Glascock. While the special edition of the show received only a lackluster response, Bowie saw potential in the soul vocal trio which gave him such tuneful support.
All tracks for the Astronettes project were recorded in London over three days from Dec. 3, 1973 to Jan. 15, 1974. Bowie recorded the demos to show Cherry's potential to his manager Tony DeFries. As a producer, Bowie could control quality while encouraging experimentation. He went into the project knowing the direction he wanted the music to go.
"He's a great producer of what he wanted you to do," Cherry tells us. "He wanted me to do everything he told me. As I look back on it, I wish I had done some of the music in a different way. Some of it, not all."
As Bowie tried on different masks for different periods, he encouraged Cherry to explore stage personas. Black Barbarella "was about James Bond," Ava Cherry tells Den of Geek. "It was Barbarella. It was about the costumes that I wore when I was with Bowie. They look very future-esque."
Cherry most assuredly brands herself as the "Black Barbarella" persona in "I Am a Laser." She marks her territory with a "golden shower" and a self-assured performance which could have paved the way for a character to take on the road.
"When he worked on it, he would sometimes sing the background part," Cherry explains. "I just think he was just trying to see what direction I should really be going in. I think that was really more the point."
Bowie ultimately rewrote "I Am a Laser" as "Scream Like a Baby" for his 1980 album Scary Monsters (And Super Creeps). "When I did those records, they were demos," Cherry says. Most of the songs have scratch vocals on them, which are placeholders until final vocals have been worked out. The arrangements were still rudimentary. The songs were mere sketches. "I Am Divine" is an early conception of "Somebody Up There Likes Me," which would appear on Young Americans.
While the title "People From Bad Homes" would find its way into the lyrics of "Fashion," the song itself was scrapped. The timbale-infused Santana-inspired "Things to Do" also never made it to any future Bowie releases in any form.
Ava and the Astronettes was intended to be a soul project, but the musical attack included proto-new-wave sonics. The sessions only included four Bowie original songs, but the cover songs are just as revealing, showing where Bowie's musical head was at during a critical time of reinvention. Frank Zappa and The Mothers' song "How Could I Be Such A Fool" is reverently faithful, while the cover of Bruce Springsteen's "Spirits in the Night" has fun with the possibilities. Bowie would do his own cover of The Beach Boys' "God Only Knows" for his 1984 album Tonight.
Bowie sidelined the Astronettes album to begin serious work on Diamond Dogs, recruiting the trio as backing singers, and other upper-level decisions. "They had to stop because of David's business woes," Cherry says. He ultimately scrapped all Astronettes album plans over troubling revelations and strained relations with management.
"David was very trusting of Tony DeFries and MainMan at the time," Cherry tells us. "People were saying that some of the management staff were spending his money, flying all over Europe, staying in expensive hotels, and drinking champagne. I told him I heard that. He said, 'I don't think that's happening.' Then, like six months later, it happened. I don't remember all the details, but it just made his life miserable. That moment, everything changed for us. It was one of the first down times that I saw him."
Bowie released the double album David Live at The Tower Philadelphia to buy him time while separating himself from MainMan management. The live concert album yielded the single "Knock On Wood."
The tapes for the Astronettes' album got lost in the tangle of lawsuits between Bowie, Defries, and MainMan. The tracks eventually were released without the approval of either Cherry or Bowie by Griffin Music as a semi-official bootleg called People From Bad Homes in 1995. Cherry was incensed when the unfinished sessions were released to the public since the master reels were not even final demos. "They weren't close to being released," Cherry tells us.
Ava continued working for Bowie as part of the trio of backing vocalists on Young Americans along with Robin Clark, and Luther Vandross. She would go on to back Vandross during his most fertile decade. She also did sessions and live work with Chaka Khan, Robert Palmer, Paul Young, and Steve Marriott.
Cherry's first solo album was produced by the legendary Curtis Mayfield. Her latest single, "So Delicious," dropped on March 15. Cherry can also be seen in director Tony DeGuide's upcoming VampireS, co-starring as the vampire Queen Citrine with Richard Grieco and Eric Roberts.
The David Bowie World Fan Convention is an annual event powered by Sound City.