SXSW Music 2022: Our Must-See Artists
Excited to immerse yourself in SXSW's live music scene, but not sure where to start? Allow us to guide you in the right direction with our picks for the best artists at SXSW Music 2022.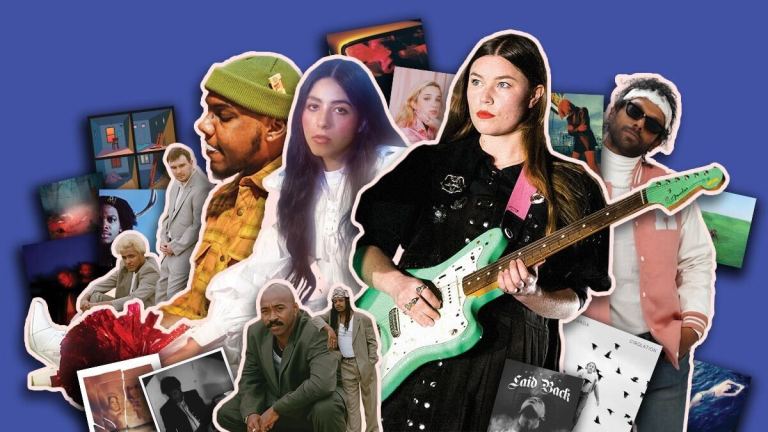 Since its inception in 1987, SXSW has grown to include film, interactive media, TV, comedy, and even political experiences. But the festival has always mainly been about the music, man. Music lovers and industry professionals flock to Austin each year to witness performances from up-and-coming acts and established, even legendary, artists. After two years away, the hunger for live music is more ravenous than ever.
SXSW's music lineup isn't limited by genre, region, or popularity. Over 2,000 performers from 60+ countries are represented at the festival, spread out through Austin everywhere from intimate spaces to massive stages. Navigating the festival and its plethora of options can be a little intimidating, so we put together a guide of some can't-miss artists to help steer you in the right direction. From local favorites to international sensations, hip-hop groups to lo-fi troubadours, here are just a handful of acts you should make an effort to see in Austin.
Check out our full SXSW Music 2022 Spotify playlist here!
The Heavy Hitters
While SXSW doesn't have headliners in a traditional sense, there are always a few buzzed-about artists just on the precipice of full-blown stardom ready to take Austin and SXSW crowds by storm. These are the acts you'll be hearing about for the next few years, so you'll want to catch them before you're seen as a trend-hopper. Also, they're almost certain to deliver memorable performances. These are the heavy hitters we wouldn't dream of missing this year.
Maxo Kream
Houston's Maxo Kream is the best young storyteller in the hip-hop world, full-stop. With an ear for lush, soul-sampling beats, the husky-voiced emcee weaves tales about his family's struggles and his adjustment to success with harrowing lyrics. On the surface, Kream effortlessly serves up tough tracks that sound monstrous coming out of your speakers, but those interested in the finer details will hear a writerly craftsman getting granular about trauma and overcoming it. There are good odds that Maxo Kream is your favorite rapper's favorite rapper, and he just might become your favorite too.
Stream This: "MAMA'S PURSE"
Geese
Once a decade, it seems like we're introduced to the new saviors of New York indie rock, and until a better band comes along, Geese have claimed that mantle for the 2020s. Fresh out of high school, the boys in Geese have all of the swagger of The Strokes but with a more unpredictable bent that pushes their sound into proggier, experimental spaces a la bands like Black Midi and Squid. Their debut record, Projector, is a wild ride filled with catchy refrains, but also chaotic moments that sound like the whole endeavor could fall off the rails at any moment. Honestly, what more can you ask for in a rock band?
Stream This: "Disco"
Wet Leg
Wet Leg have only officially released four songs, and they're still one of the most talked-about groups playing SXSW this year. A breath of fresh air amongst the high-minded, booming U.K. post-punk and indie scene, Isle of Wight's Wet Leg combine tongue-in-cheek lyrics with hooky guitar lines that have garnered them comparisons to every cool alternative band with a sense of humor from the last 30 years. It's hard to pin down a group that hasn't even released their debut record (out April 8th), but the initial impression they give is like if Wes Anderson was the creative director for The Breeders. This is a lot of preamble to say that Wet Leg make genuinely fun, interesting rock music and you'd be a fool not to hop on their hype train before it leaves the station.
Stream This: "Wet Dream"
Heart On Their Sleeve
With acts like Olivia Rodrigio and Machine Gun Kelly bringing guitar-based pop music back to the charts and the announcement of the When We Were Young musical festival setting social media on fire, there seems to be an appetite for punk and emo-leaning pop music among teenagers and nostalgic millennials. If you're looking to cathartically scratch that angsty itch at SXSW, here are some acts to check out.
Pom Pom Squad
Mia Berren leads this Brooklyn-based bubblegrunge outfit that mixes the theatrics of emo with the anthemic charge of the best early 2000s indie bands. If you were one of the millions rocking Olivia Rodrigio's "Good 4 U" this summer, then Pom Pom Squad is a logical next step, offering something a bit more grown-up and sensual; if Rodrigo's for the popular girls, Pom Pom Squad is for the ones getting drunk underneath the bleachers. Pom Pom Squad's recent output also channels the bombast and cinematic qualities of '60s girl groups, adding an out-of-reach ethereal element to the band's soaring hooks.
Stream this: "Head Cheerleader"
ME REX
Experimental and emotionally purgative, ME REX are rightfully named after a sharp-toothed prehistoric creature, because their music will absolutely tear you up. The brainchild of South London singer-songwriter Myles McCabe, ME REX packs a musical punch with wordy, searching lyrics that sail to the rafters in an almost religious tone. Thematically their music seems centered on the constantly shifting nature of the human experience, and on their latest release /Megabear/, they lean into the theme with a 52-track album full of bite-sized songs meant to be consumed in random order. It's a hell of a gimmick, and even more impressive, it works like gangbusters. Finding out how well it translates to a live setting seems too enticing to pass up.
Stream This: Megabear
Enumclaw
One key factor that makes alternative rock so compelling is the accessibility; unlike classic rock virtuosos and studio wizards, the popular bands of the alternative rock world made picking up a guitar and bearing your heart seem like something that anyone could achieve. Pacific Northwest band Enumclaw embody that feeling better than any band at SXSW. Frontman Aramis Johnson had never played guitar and had no prior singing experience before forming the band, yet Enumclaw stand out with their mixture of reverby, prototypical Seattlian guitar lines and sticky pop hooks. The band cites both Oasis and Drake as big influences, and if that's any indication, then these guys have world-conquering ambitions.
Stream This: "Free Drop Billy"
****
Bigger in Texas
While the festival is brilliant at spotlighting acts from all over the world, there's something exciting about watching Texas natives tear it up in their own backyard. With over 250 live music venues in the city, Austin is the Live Music Capital of the World, and that directly impacts the identity of the acts that call Austin and its surrounding areas home. Check out our favorite homegrown acts featured in this year's lineup.
Katy Kirby
Singer-songwriter Katy Kirby offers up perfectly laconic songs that are deceptively simple, yet addictively clever. She traffics in folk-leaning, laidback rock that feels right at home in the Lone Star state and she's got a knack for stripping her songs down to their most essential elements, then building them back up into beautiful, unexpected places. As a Texas native who was homeschooled and raised in the church, Kirby's songs yearn for connection but contain details and introspection that only come from isolation. She can jump from witty and cool to vulnerable and yearning in the span of a guitar strum.
Stream This: "Juniper"
J Soulja
A lyricist's lyricist who delivers verses dripping with ambition and finesse, Austin rapper J Soulja is an SXSW regular who feels in line with past Texas rap greats while carving out his own space that feels authentic and soulful. His latest LP, /More Than Nothin'/, is his most polished work to date and finds the emcee gliding effortlessly over smooth and mellow, yet memorable, beats. J Soulja's best tracks typically find the rapper spitting about preserving through his own struggles to reach hometown hero status. But don't expect J Soulja to be an Austin secret forever — he's poised for bigger and better things.
Stream This: "NOBODY"
Sir Woman
Kelsey Wilson has found success with her folk-pop outfit Wild Child and Americana supergroup Glorietta, but with her latest project, Sir Woman, Wilson is tapping into her love of Soul and R&B to showcase something that emanates good vibes. With a throwback sound, Sir Woman offers something comfortably familiar in the best way, with feel-good music that anyone can boogie to. Backed by impeccably precise musicians, Wilson can spread out and get funky in equal measure. Something tells us that their live set will tear the house down.
Stream This: "Highroad"
****
Internationally Known
While it's fun to celebrate the local acts, SXSW is also a wonderful platform for international artists to gain exposure in the States. The festival is excellent at curating an experience that highlights undiscovered talent alongside worldwide superstars. If you're looking for artists outside of the Anglo-American purview, we've got you covered.
Duma
Emerging like a bat out of hell from Nairobi's flourishing underground metal scene, Duma combine bone-crunching physicality and aggression with a gleeful lack of regard for genre conventions or styles. Their music is raw, industrial, frenetic, and boundary-pushing; needless to say, it's definitely not everyone's cup of tea. But for those unafraid of these menacing metalheads, you'll find something truly brutal and unique, a fresh combination of subgenres that leads to something terrifyingly different.
Stream This: "Cannis"
CIFIKA
Dubbed "the Korean Bjork" by some, CIFIKA is a contemporary Korean artist blending the sounds of K-Pop, R&B, and indie music with her electronic-leaning pop songcraft. CIFIKA's ambient vocal experimentations were used in the Men's Fall-Winter 2021 Louis Vuitton campaign and she was invited to create and soundtrack an installation piece for ISM Berlin's acclaimed Hexadome project alongside artists like Thom Yorke and Brian Eno, proving that CIFIKA can excite club-goers and the high art world in equal measure. Both an accomplished musical artist as well as a visual artist, we're sure CIFIKA's Austin set will continue to tread new ground.
Stream This: "Déjà Vu"
JBABE
India's Josh Fernandez, aka JBABE, is a multi-instrumentalist, producer, composer, guitarist, and vocalist who mixes lo-fi indie pop with R&B to create music that's heady and irresistibly groovy. JBABE exists within the template created by artists like Frank Ocean and Blood Orange and provides the same sort of after-hours vibes. Catchy synth-based jams anchored by Fernandez's hushed come-ons build until they explode into blissed-out, fuzzy guitar solos. JBABE will be the perfect soundtrack to a late night on 6th Street.
Stream This: "Summersetbaby"
****
Further Listening
These artists hail from the Live Music Capital of the World:
Angélica Rahe – "Templo"
Otis Wilkins – "Charlene"
alexalone – "Electric Sickness"
Quin NFN – "Laid Back"
Bourgeois Mystics – "Eureka! Cigarettes"
Magna Carda – "The Root"
Jane Leo – "Tell Me (I'm On Your Mind)"
The Western Express – "Last Apology"
Susannah Joffe – "Backseat"
Skooks – "Rum!"
Motenko – "Silhouette"
Jackie Venson – "Rollin' On"
Deeper Cuts
Was that not enough to fill up your festival schedule? We have more recs for you below!
Petey – "Haircut"
Steve Gunn – "Dust Filled Room"
The Kernal – "U Do U"
Donna Blue – "Desert Lake"
No Swoon – "Besides"
Barrie – "Darjeeling"
Sunflower Bean – "Who Put You Up to This?"
Jenny Owen Youngs – "Merry Go Round"
Walt Disco – "Cut Your Hair"
Constant Follower – "Set Aside Some Time"
Self Esteem – "I Do This All The Time"
Ceramic Animal – "Sweet Unknown"
Lunar Vacation – "Shurg"
2nd Grade – "Favorite Song"
We Were Promised Jetpacks – "Blood, Sweat, Tears"
Shamir – "Reproductive"
MANE – "Hi-Lo"
Horsegirl – "Billy"
Ezra Furman – "Going to Brighton"
Aaron Lee Tasjan – "Little Movies"
Pillow Queens – "Liffey"
Squid – "G.S.K."