Features
Steve Ahn's Destiny: Challenging The Animation Industry
Steve Ahn walked away from a job any animator would kill for to create a short he hopes will be something new for the animation industry.
Steve Ahn has wanted to work in animation since junior high. Going against the wishes of his parents he followed his passion and after college he started landing jobs on series such as Ben 10, Teenage Mutant Ninja Turtles, Generator Rex, and Legend of Korra.
But Ahn's biggest accomplishment was landing a primo directing job on the new incarnation of Voltron, a series he loved when he was a kid. He directed many episodes of the fan favorite series and is working for one of the biggest companies in the animation business, DreamWorks.
For anyone looking to work in animation it's a dream job.
He quit.
Flooded with offers he turned them all down. He actually stopped counting after fifteen.
Ahn turned them all down so he could spend over a year working on a four minute self funded animated short, Blossom Detective Holmes: Selfie With A Stranger.
Why leave such an amazing job to go make a short that isn't backed by any studio that he had to fund himself? He knows how cheesy this sounds but,
"This is my destiny."
When you talk to Steve Ahn it's like you're speaking to a real life anime character. No, he doesn't have crazy hair or pilot a giant robot. He just genuinely believes in the kinds of morals and lessons that wouldn't seem out of place at the climax of an anime tournament arc.
Growing up in Korea, Ahn loved watching animated shows and dreamed of creating his own. However, he never dreamed of working for companies like Disney, Pixar or even DreamWorks.
"I think that was why it was easy for me to leave. It wasn't about reputation or fame. It was about creating and craftsmanship."
For years Ahn honed his skills on Voltron: Legendary Defender. It was there he slowly discovered the kinds of stories he wanted to tell.
"Making things go into a deeper personal level of a character's emotion and directing dramatic moments. Those are the areas that I really, really enjoy. In order to create more dramatic stories I started to learn that suspense and thriller are the genres that I kind of wanted to try with the skills I learned."
Unfortunately the American animation industry isn't usually interested in those kinds of stories. According to Ahn, much of animation is done for the mainstream family market, which prioritizes Marvel style action series or sitcoms.
He understands why but "I kind of wanted to challenge myself to create something different than the mainstream, which is a crime mystery. They don't really have fancy action or robots but if you have the right directing skill you can hit the right moment of great storytelling."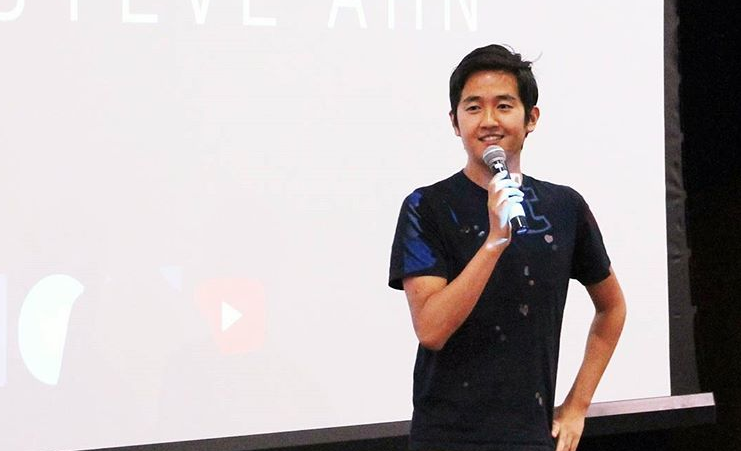 (Ahn speaks to a group of art atudents at San Jose State University. Image courtesy of Steve Ahn's Instagram.)
Ahn slowly developed several pitches, including Blossom Detective Holmes, for several years. He tried to pitch several times to networks but along with endless notes the vibe he got was they didn't want anything approaching mature content. Since crime mysteries often involve murder and blood, he knew he'd have to make it himself.
Once Ahn felt like he had built up enough experience and connections with friends (along with savings) he knew it was time to move on from Voltron. It was sad leaving all his friends behind but having creative freedom was worth it.
He was able to throw himself into working on his project almost full time, only teaching a few art classes on the side to support his family. It was scary at first but the story of Blossom Detective Holmes was burning inside him.
Inspired by Ahn's trips to the London Olympics, Sweden, Visby, Stockholm, and his love of Sherlock Holmes and the original French stories of Arsène Lupin, Blossom Detective Holmes follows the detectives Skylar Holmes and Jamie as they solve cases.
"I really like Sherlock Holmes so what if I created a very similar vibe?" Ahn says. "I also kind of wanted to create a character that's well known to fans already. It's a kind of prequel of Sherlock Holmes. (Skylar and Jamie) are connected to Sherlock Holmes and Watson."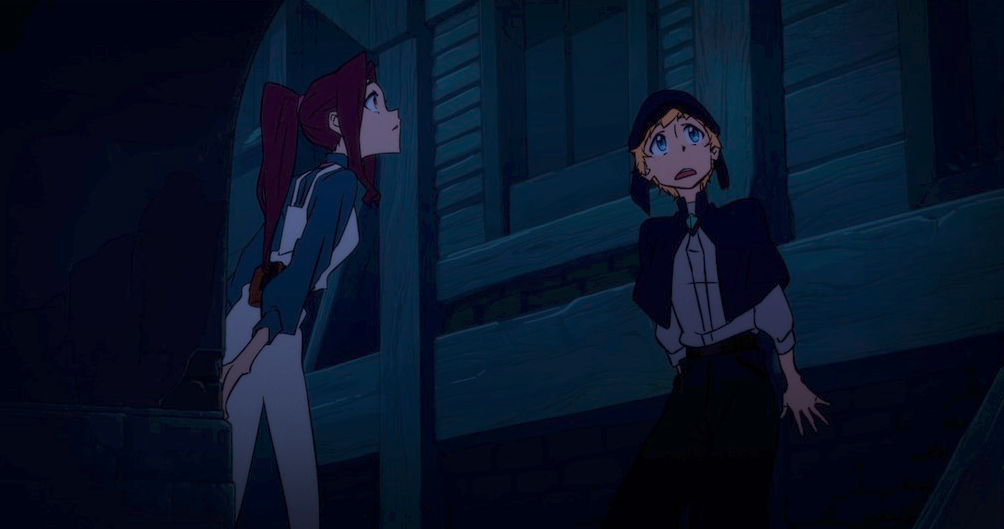 (Jamie (L) and Skylar (R) are on the case in the first installment of Selfie With A Strange Intruder.)
Skylar is the titular character and she has a hound-like sense of smell, which allows her to recall memories and uncover objects, people, or locations that have the same scent.
Her weakness however is the smell of blood. Traumatized as a child by the loss of someone close to her, if Skylar smells blood something terrible will happen to her. This is why, unlike Sherlock's pipe, she keeps a flower in her mouth. It protects her nose from the smell of blood.
However when a crime scene is filled with blood she might need the help of her best friend and detective partner Jamie, who carries a camera. Unlike Holmes, who chases after the invisible evidence of scent, the meticulous Jamie chases after visible evidence.
Jamie has a camera that gives her the power to transport anyone who takes a selfie with it to wherever Jamie pictures, although in the heat of the moment she often thinks of odd places to teleport.
The story of the initial short concerns Skylar and Jamie chasing a murder suspect throughout Stockholm but things get even more complicated when another murder occurs! Could this criminal be tied to Skylar's trauma?
Skylar and Jamie are heavily inspired by Ahn's two daughters.
"My first one is one is definitely very tomboyish," Ahn says. "Skylar is a fun loving, tomboyish character. My second daughter is very feminine. Jamie likes to wear dresses and make-up."
The short is only the first part of a full project that chronicles the full Selfie with a Strange Intruder case. In Ahn's mind, he has a whole series of adventures planned for these characters that could be covered over seasons of adventures.
"I'm not really into creating a show where the story really doesn't continue, like a sitcom" Ahn says. "I think your life is a long journey and characters have a long history. Long format is great for that."
Ahn also promises that while the subject matter is intense, there will be a lot of comedy as well. The characters will be beacons of light in a dark world.
"I think it will be pretty similar to Korra and Voltron," Ahn says. "Its just there will be things like blood and guns. Things the major studios don't allow."
Before Ahn could create a whole series though, he needed to find a way to just get a four-minute short done. It takes years to get one 22 minute episode done by a major studio, so Ahn was faced with the herculean task of finishing just this one short with limited resources.
While he did enlist a small team of ten people to help him (which he paid out of pocket at their full rate) Ahn did much of the work himself. He wrote, storyboarded, directed, animated, and composited every frame of his short over three months.
Blossom Detective Holmes was eventually completed in November of 2017 and shown in a limited screening online. We gave it a five star review, praising the short's story and direction and highlighting the potential places the series could go.
Now the plan is to finish the rest of the pilot with help from Kickstarter.
"I want to work with people who are a strong force in TV," Ahn says. "Former team Voltron or team Korra people. Good people from well-known industry studios. (Any funds) will be completely used for those artists because I don't want them to work overtime or take advantage of them."
Any funds Ahn can't raise, he'll just work on those parts himself even if it takes much longer.
Ahn is putting his heart and soul out into the word. A project he quit his job for and has invested countless hours he could have been using to make a lot of money. Other artists might worry they've made the wrong decision at some point but Ahn says he's fearless.
"This is what I want to do," he says. "Every day is joyful. Every day I feel I'm going in the right direction. I know there are people who want to see this kind of show. No jokes like in a sitcom where you forget what happens."
More than anything Ahn wants this story and its characters to affect people. Especially his daughters. His message to them through his work perfectly illustrates why he felt he had to leave a dream job behind.
"Be courageous but it's not about being rebellious and being mean to the world. Being courageous can mean you accept forgiveness. There are many ways to be courageous. Every human being has a story. Everyone has pain and trauma. I just want to say… it's very cheesy but love is the answer."
One could even say that message is his destiny.
Shamus Kelley is a pop culture/television writer and official Power Rangers expert. He would watch ten seasons of Blossom Detective Holmes in a heartbeat. Follow him on Twitter!