Features
Star Wars LEGO: 11 awesome new sets
Thanks to The Last Jedi, Solo: A Star Wars Story and LEGO's team of geniuses, there's a shed load of new Star Wars LEGO on the market
To celebrate the launch of the brand-new Y-Wing Starfighter, the latest addition to LEGO's Ultimate Collector Series, we've put together this handy article, highlighting the best new Star Wars LEGO sets around. 
A quick note: if you click a few links on your way through this article, our site gets a bit of support. Up to you!
It's an exciting time to be a Star Wars fan right now: less than six months ago, Star Wars: The Last Jedi smashed our expectations and sparked fervent debates among fans; and now, we're on the cusp of seeing Solo: A Star Wars Story fly into cinemas like the Millennium Falcon at top speed. That's not to mention the fact that Iron Man's Jon Favreau and the showrunners of Game Of Thrones are independently developing live-action Star Wars TV shows, and that Dave Filoni has just announced Star Wars: Resistance as the next animated series from Lucasfilm.
As ever, new Star Wars stories mean new Star Wars toys. LEGO has really upped its game over the last few years to keep up with all the geeky blockbusters vying for our attention, and so it comes as no surprise that this brick-based behemoth has piles of awesome products primed to tempt our bank cards in this busy year of Star Wars content. And since today is Star Wars Day (May the 4th be with you, chums), now is the perfect time to peruse them….
Kessel Run Millennium Falcon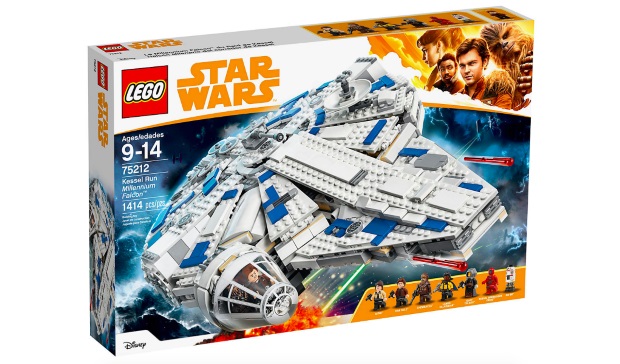 If last year's Collector's Edition Millennium Falcon wasn't quite within your price range (it was the largest LEGO set ever produced, with a hefty £649 price tag to match), here's an alternative version of the fastest hunk of junk in the galaxy, which retains the ship's undeniable cool-factor at a far less impoverishing cost.
The Kessel Run Millennium Falcon is a tie-in product for Solo: A Star Wars Story, the upcoming prequel film that will feature a cleaner, newer and more colourful version of the Falcon than we've ever seen before. Excitingly, the name of this product strongly supports the rumour that Solo will show us, at long last, what Han's line from the first film – "this is the ship that made the Kessel Run in less than twelve parsecs" – actually meant.
Weighing in at 1,414 pieces and boasting six Minifigures, this eye-catching set would make a fine edition to your collection. It also has lots of special features (a cockpit with detachable canopy, two spring-loaded shooters, a sensor dish, a ramp, rotating top and bottom laser turrets with gunner seats, plus a detachable escape craft) and some incredible attention to detail (a cargo area with couch and Dejarik hologame table, a bar, a bunk, a missile storage compartment, and a buildable hyperdrive with repair tools).
The Kessel Run Millennium Falcon is available for £149.99 at the LEGO Store. On May 4th, you also get a free mini BB-8 kit with any Star Wars purchase over £65.
Y-Wing: Ultimate Collector Series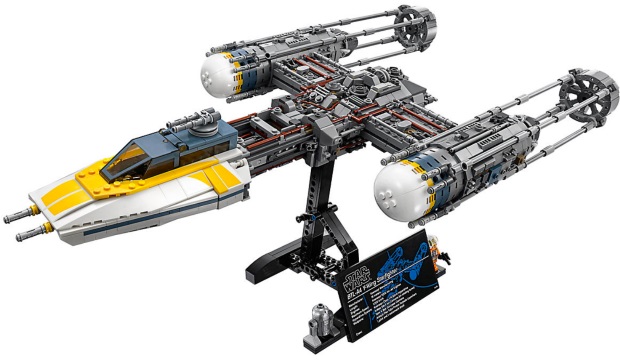 Fans have been yearning for a new Y-Wing set for quite some time, and now here it is: the glorious Ultimate Collector Series version of the Y-Wing, which is being launched as a brand new product as part of today's Star Wars Day celebrations. As we've come to expect from the Ultimate Collector Series, this kit is immensely detailed and utterly gorgeous – it's one of most intricate and display-worthy Star Wars kits in recent memory.
Special details on this set include an opening Minifigure cockpit for the Gold Leader Minifigure (included) and a slot for the R2-BHD droid figure (also included). It has wheel-activated rotating ion cannons on the top, too, and retractable landing skids on the bottom. It also comes with a titling display stand and an informational plaque, providing you with everything you need to show off this iconic one-man fighter in pride of place (might we recommend a shelf or mantle piece?).
The Ultimate Collector Series Y-Wing consists of 1,967 pieces, and it's available for £169.99 via the LEGO Store, while stocks last.
Yoda's Hut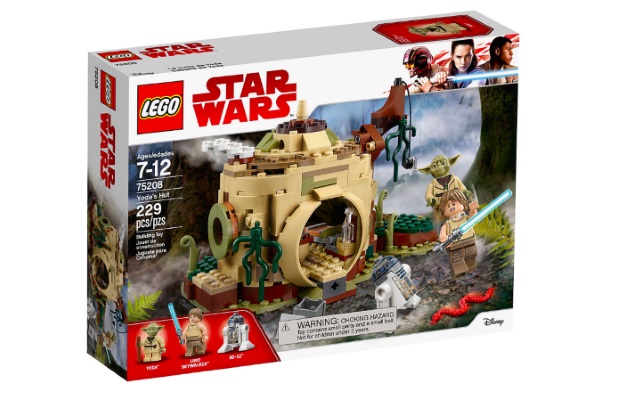 Judge this set not by its size. This LEGO reconstruction of Yoda's hut from The Empire Strikes Back and Return Of The Jedi's Dagobah scenes may only have a tiny total of 229 pieces, but it's still a lovely little kit. As well as the core structure of the hut and the triple whammy of characters (Luke, Yoda and R2-D2 all come included), there are again some fun details here that make the kit extraordinary.
This writer's favourite detail is the little backpack you can put on Luke to allow him to give Yoda piggybacks. The foldout training sections and detachable Force jump function (which you can stick on the front or the back of the set) are also pretty cool. With all of these intricate details built into quite a small set, Yoda's Hut is an ideal first set for a young fan. Or a fun couple of hours for an experienced builder!
Yoda's Hut could be yours for £25.99 through the LEGO Shop. Why not use your imagination to re-enact THAT scene from The Last Jedi?
Han Solo's Landspeeder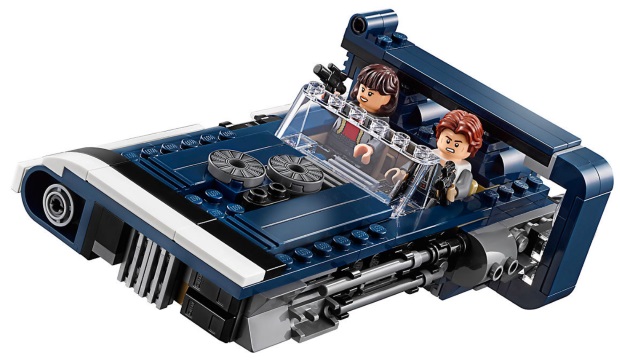 In one of the trailers for Solo: A Star Wars Story, Alden Ehrenreich's Han declares himself to be "a driver and a flyer". We've seen Han fly plenty of times, later in the timeline and looking like Harrison Ford, but we haven't really witnessed his on-land motoring skills (unless you count crashing the Millennium Falcon onto land). It should be fun to see him whizzing around at street level in Solo, in his snazzy blue speeder.
LEGO is prepared for the eventuality that we will see these speeder sequences in Solo and immediately want to recreate them at home: this 345 piece kit is available now, and it comes with Minifigures of Han and Qi'ra (Emilia Clarke's character). It also has a cockpit to fit both of them, a bonnet that opens, a removable engine, a rear storage compartment, some hidden wheels and spring-loaded shooters. There is also a 'Corellian Hound', which may or may not be a thing from the film that we don't know about yet.
Han Solo's Landspeeder can be bought from the LEGO Shop for £25.99.
Darth Maul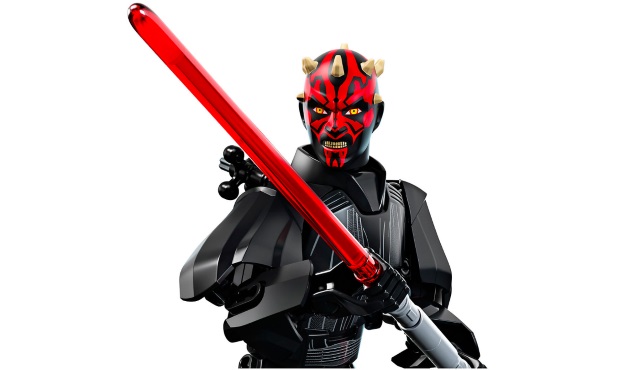 Buildable and posable figures like this always look very fetching on display, and finally LEGO have made one for Darth Maul. This villain was one the most visually arresting new characters designed for the prequel trilogy, although he was criminally underused within those films. Nonetheless, Ray Park's stunts and Peter Serafinowicz's voice combined with that great design to make Darth Maul a firm fan favourite facet of The Phantom Menace. It's no surprise that Maul lived on in the animated realm, and fan's hearts, long after the prequel films ended.
And now, you can build your own Maul and proudly display him wherever the heck you like. 104 pieces slot together to create this eye-catching Darth Maul figurine that you pose in several ways. He also has an arm-swinging battle function, which you can use to recreate some of Maul's iconic lightsaber moments from Episode I, The Clone Wars and Rebels.
The Darth Maul figure could be yours for £25.99 through the LEGO Shop.
Resistance Bomber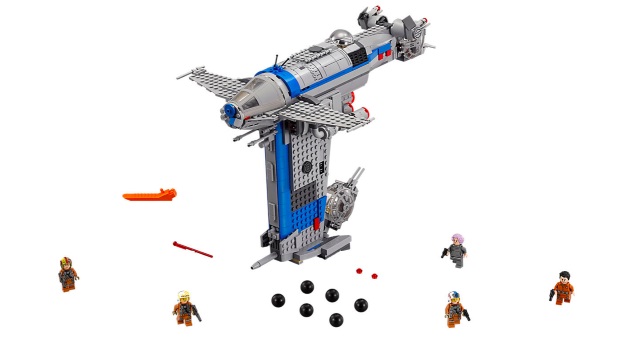 While a lot of the spaceship designs in the Disney-led sequel trilogy have been remixes of classic crafts, a few fresh concepts have appeared as well: The Last Jedi, for example, added the 'Resistance Bomber' to the good guys' fleet of attack ships. A selection of these bombers were deployed in a memorable scene at the start of the film, in which many rebels sacrificed their lives to take down The First Order's big scary Dreadnaught ship.
And although the gravity-defying bomb-dropping function of these ships has been called into question in certain corners of the internet, it's hard to deny the coolness of the Resistance Bomber's design. As a tie-in product for the film, LEGO's team of geniuses had a field day bringing this new ship to life. LEGO have thrown in five Minigures as well as loads of cool features (including a button-activated bomb release function, some spring-loaded shooters, two opening rear gun turrets with space for a Minifigure, some elevating rear guns, a two-Minifigure front cockpit with detachable canopy, and a removable top section for easy access).
Also, despite the ship's unconventional shape, LEGO's designers somehow managed to make the Resistance Bomber perfectly balanced to stand on any surface.
The Resistance Bomber kit, which consists of 780 pieces, could be yours for £99.99 through the LEGO Shop.
Snowspeeder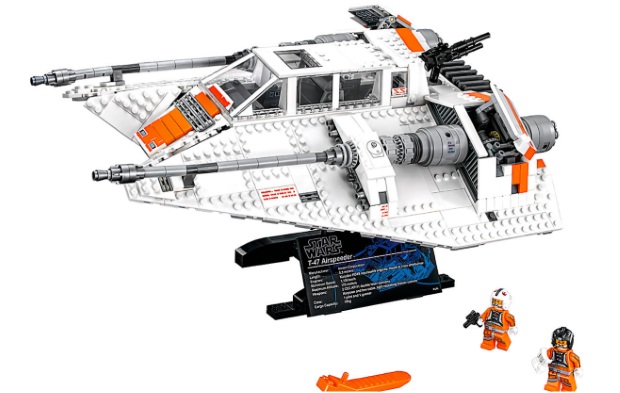 This highly detailed rendering of the T-47 Snowspeeder, which you'll remember from the iconic Hoth battle of The Empire Strikes Back, was LEGO's big new launch this time last year for Star Wars Day 2017. It looks so gorgeous that LEGO even included a display stand, knowing full well that fans that have purchased the Snowspeeder will want to show it off.
In terms of cool features, as well as intricate detailing and eye-catching design, this one comes with opening airbrakes, a rotating rear gun and an opening cockpit with space for two Minifigures. The kit includes a Rebel Snowspeeder Pilot Minifigure and a Rebel Snowspeeder Gunner Minifigure, but as ever, you can swap in any character you like from your collection to create your own adventures. If you happen to have a LEGO AT-AT already, this would make the perfect companion for it.
The T-47 Snowspeeder set consists of 1,703 pieces, and it is available through the LEGO Shop for £169.99.
Slave I
Second only to the Millennium Falcon, in this writer's opinion, Boba Fett's Slave I is one of the coolest spaceship designs from the entire Star Wars saga. It may not have seen much action in the original trilogy, but like its bounty hunter pilot, it was stylish enough to capture imaginations and become a strong fan favourite. Even the prequel trilogy's cringe-inducing Boba backstory couldn't diminish his ship's immense cool factor.
The latest LEGO version of the Slave I is slightly older than some of the others on this list, but it's just so impressive that we couldn't resist including it. The kit weighs in at just under 2,000 pieces, includes four Minifigures (plus a Han-in-carbonite) and has lots of snazzy features: there's a rotating cockpit and wings for flight and landing mode, as well as dual shooters and hidden blasters. 
Slave I would normally cost you £179.99 through the LEGO Shop. Prices on all sorts of Star Wars products are reduced this week, though, thanks to LEGO's Star Wars Day offers.
Moloch's Landspeeder
Moloch is an alien character from Solo: A Star Wars Story that we don't really know anything about yet. His face looks like he might be wearing a mask, and the existence of this landspeeder set makes us think that he might be involved in a pursuit scene with Han Solo at some point in the movie.
The Moloch's Landspeeder set is relatively small at 464 pieces, but it still has some rad features: there's an open Minifigure cockpit, a storage section at the rear, some hidden wheels that give it a hovering effect, and a 6-stud rapid shooter canon thingy. Minifigures of Moloch and a character named Rebolt are included, along with two of those Corellian Hounds. We look forward to finding out what the space mutts have to do with anything!
Moloch's Landspeeder is priced at £44.99 on the LEGO Shop.
First Order Heavy Assault Walker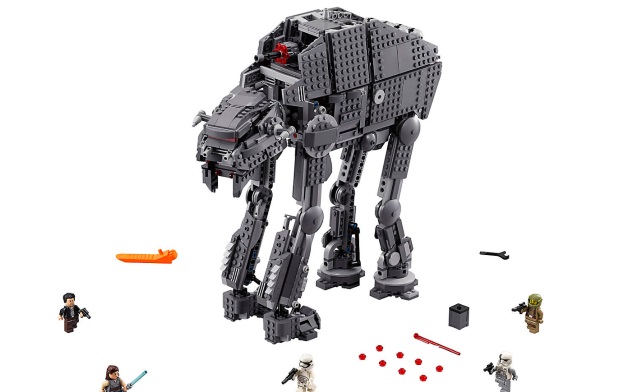 One of the most impressive sets to mark the release of The Last Jedi, this First Order Heavy Assault Walker clocks in at 1,376 pieces. If you bought a few of them and a Luke Skywalker figure, you could re-enact that memorable moment when Mark Hamill's iconic Jedi stood up to Kylo Ren's entire convoy of walkers, kicking off the standoff/duel/twist segment in the film's third act.
This isn't the first LEGO walker and it's doubtful to be the last, but this kit does have plenty going for it: the legs and head are posable; the cockpit opens and can fit Minifigures; there is a storage compartment and detachable canisters; and there are lots of useable weapons including spring-loaded shooters and a rapid-fire stud cannon. You also get five Minifigures: Poe, Rey, a Resistance Trooper, a First Order Walker Driver and a First Order Stormtrooper.
The First Order Heavy Assault Walker could be yours for £129.99 through the LEGO Shop.
BrickHeadz: Han Solo and Chewbacca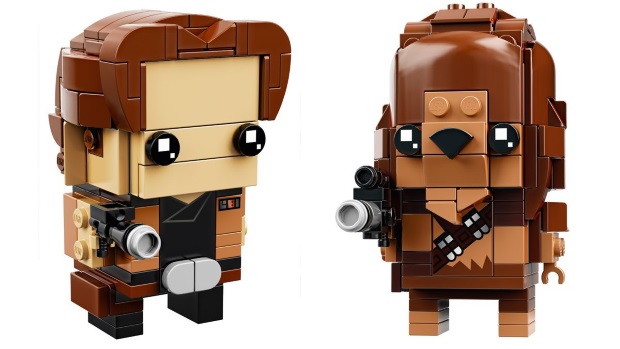 And finally, if your shelves can't quite handle the weight of a spaceship or a walker right now, LEGO still has an option for you. The BrickHeadz range of buildable characters seems to be LEGO's answer to Funko Pop Vinyl figures, allowing you to put together a cute little version of an iconic figure from pop culture. In honour of Solo: A Star Wars Story, Alden Ehrenreich's Han Solo and Joonas Suotamo's Chewbacca have been given the BrickHeadz treatment.
The Han kit is made up of 141 pieces and the Chewie one has 149 pieces, although apparently they are the same height (they're 7cm tall, fact fans). Individually or as a pair, they would look super cute on display in your home, office or anywhere else you like to display things.
The Han Solo BrickHeadz figure and the Chewbacca BrickHeadz figure are each ordinarily priced at £9.99 at the LEGO Shop.