News
Official Dick Tracy Watch Coming
Have you always wanted a Dick Tracy two-way wrist radio? Of course you have. Now is your chance.
I'm not one to get my hopes up, but little by little, bullet by bullet, it appears that we might just be entering a new era of Dick Tracy fandom. The character, one of the most important in all of comics history, has languished in relative obscurity since a 1990 movie starring Warren Beatty and an all-star cast rendered unrecognizable by cartoonish makeup. Rights issues have prevented not only that movie from getting a sequel, but new interpretations of the character on the big screen, on TV, and even in comic books (his newspaper strip has continued uninterrupted since 1931).
But recent years have seen some encouraging trends. IDW has been hard at work reprinting the entire Dick Tracy comic strip in handsome hardcover volumes. In just the last few months we've had the announcement of not one, but TWO brand new original Dick Tracy stories for the comics. It might not seem like much, but it's a start. So all that's left is a new wave of Dick Tracy merchandise. And if you're gonna do it, you may as well start with the most iconic item of them all, the classic 2-Way Wrist Radio that Tracy made famous, years before the words "smart" and "watch" were ever put together.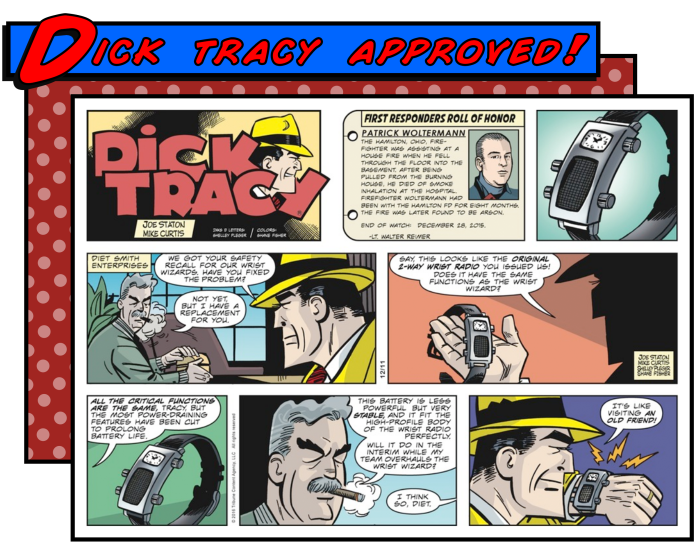 Dick Tracy is, of course, the most famous detective in comics (sorry Batman), with a rogues' gallery that wouldn't be out of place in Gotham City. While Tracy himself first hit the streets in 1931, it wasn't until 1946 that one of the most recognizable pieces of the character's history made its debut: Tracy's 2-Way Wrist Radio. While the idea of a lightweight, wrist-mounted walkie-talkie might seem quaint by 2018 standards, it was a remarkable innovation for a relatively grounded detective comic, and soon became as inseperable from the character as his yellow fedora and iconic jawline.
While there have been plenty of toys and Dick Tracy watch knockoffs through the years, Ivory & Horn are creating a high end, fully functional version of the classic Dick Tracy watch, officially licensed and approved by Tribune Media.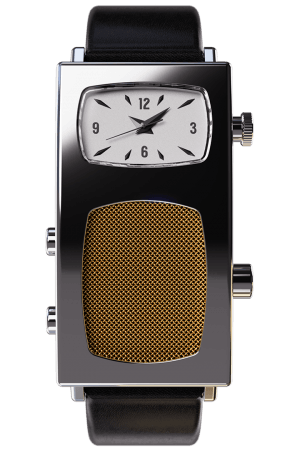 This isn't a smartwatch, though. It's a timepiece with a vintage look, one that's quite faithful to the comic strip look, and that uses Bluetooth to make calls. It's not a fitness tracker, a web browser, a camera…it's a watch with a cool retro vibe that you can use to make calls. We particularly appreciate the vintage speaker cloth look.
Check out a look at the watch in action…
They're currently raising funds to manufacture the 2018 model, and you can help support it (and find out how you can get one for yourself) by checking out the IndieGoGo page. Den of Geek readers who click that link will get a special discount if they choose to order one.