News
Link Tank: You Could Win a Rick and Morty Swag Package
You can enter to win a package full of Rick and Morty goodies and more in Link Tank!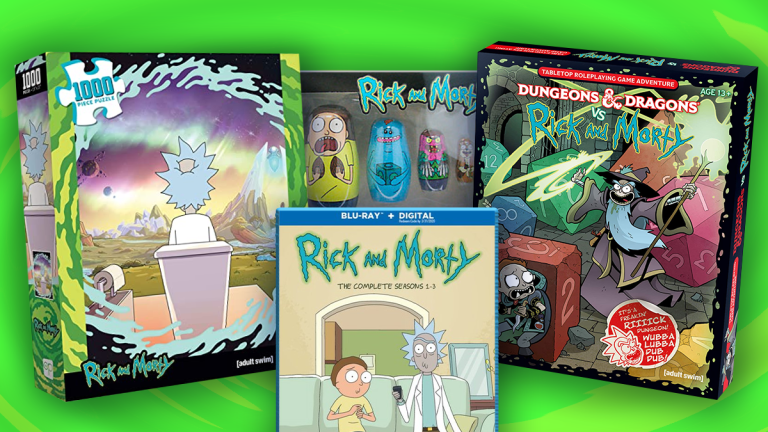 You could win a Rick and Morty swag package!
Rearing to see the season finale of Rick and Morty Season 5? We've got the perfect giveaway to hold you over until then! Win Seasons 1-3 on Blu-ray & Digital, alongside an awesome prize pack, full of Rick and Morty Collectible Nesting Dolls (SOLD OUT everywhere), 1000-piece puzzle of Rick's Serenity Toilet (yes, that episode), Dungeons & Dragons: Rick and Morty Edition, and more!
RICK AND MORTY Giveaway! Win Seasons 1-3 on Blu-ray + MORE COLLECTIBLE SWAG
Or, enter via our official entry form right here:
RICK AND MORTY Giveaway! Win Seasons 1-3 on Blu-ray + MORE COLLECTIBLE SWAG
Thandiwe Newton wasn't happy about her character's fate in Solo: A Star Wars Story.
"She even made pop-culture history playing Val in 2018's Solo: A Star Wars Story, though this last experience was not an entirely positive one, and Newton doesn't hold back as to the reasons why. 'You don't kill off the first Black woman to ever have a real role in a Star Wars movie,' she says. 'Like, are you joking?'"
You can now play as April O'Neil in Teenage Mutant Ninja Turtles: Shredder's Revenge.
"Gamescom 2021 is going on right now (virtually, for obvious reasons) and kicked things off with an Opening Night Live Show hosted by Geoff Keighley. As to be expected, the two-hour live stream revealed a lot of game announcements, but the one that stuck with me like cheese on a pizza box involves Teenage Mutant Ninja Turtles: Shredders Revenge."
The Flash season 8 will kick off with their most ambitious crossover episode yet.
"The Flash is about to become one of the longest-running DC/CW shows around now, as Supergirl prepares to bid farewell with its final sixth season. But when The Flash returns, it's doing so in speedster style to kick off a major event that ties together DC shows past and present."
Of course, there's Shang-Chi and the Legend of the Ten Rings, but there are more movies you have to look forward to this September.
"September usually marks the end of the summer movie season and the beginning of awards season. This year, the month begins with a blockbuster—the second of four Marvel movies headed to theaters by the end of 2021—as well as popcorn-friendly fares like a new Cinderella and a James Wan horror movie."
Fan uproar about the new social distancing requirements in the game leads to Niantic changing Pokémon Go once again.
"Pokémon Go developers Niantic recently decided to dial back the social distancing requirements in the game for players in the USA and New Zealand, and it did not go down well with fans. While Niantic's reasoning was that, 'Hey, in these two countries the pandemic is mostly over, right?' fans were quite correct to point out that the pandemic is most certainly not over, and that forcing players to congregate more closely around Gyms and Pokéstops was a reckless thing to do."