Sponsored
Link Tank: Stream Sherlock, Red Dwarf X, and Extras For Free on Crackle
Amazing British television streaming on Crackle, Brendan Fraser comments on Batgirl, the best books with bisexual protagonists, and more in Link Tank!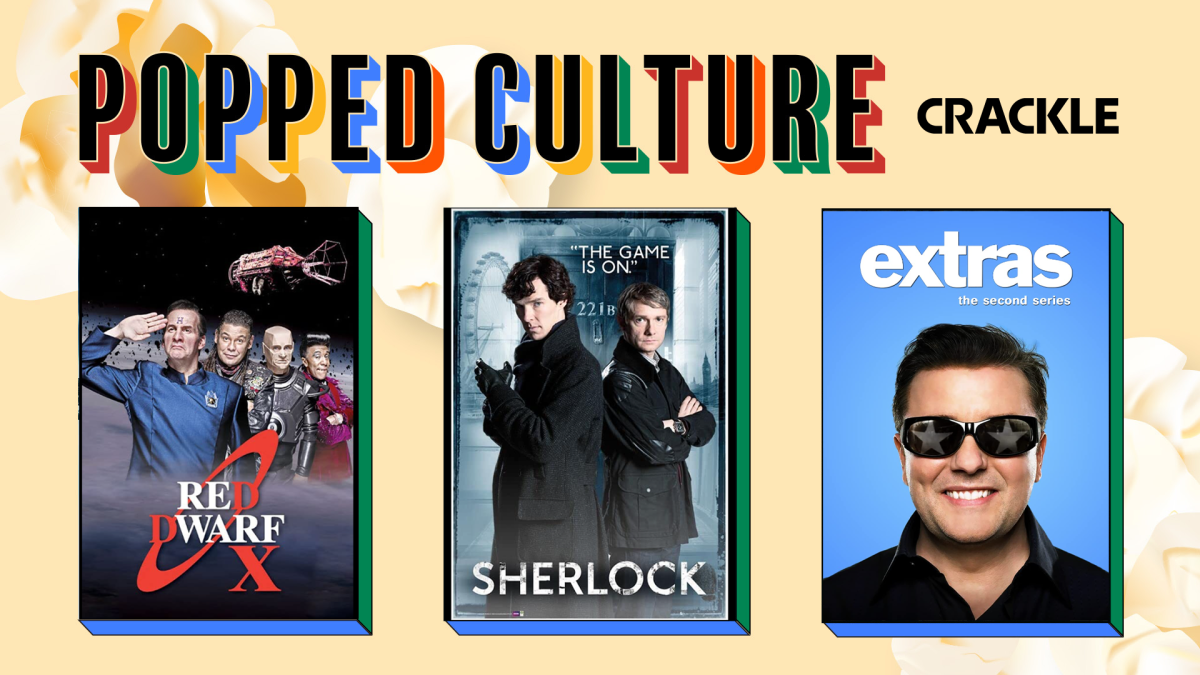 Check out our new video interview series, Popped Culture, in partnership with the free streaming service Crackle! We dive into the titles on the Den of Geek playlist on the service, including Red Dwarf X, Extras, Sherlock, Peep Show, The Fades, Shameless (UK) and more!
"Crackle is bringing some of the best in British television straight to your TV for binging pleasure! Are you a big fan of British television or looking to dip your toes into the shows of the nation? Well, then you're in luck because Crackle is giving your the opportunity to stream three legendary shows, such as Red Dwarf X, Extras, and the beloved Sherlock."
Watch the full video in our player below and find these titles and more on the Den of Geek playlist on Crackle
The Whale and Batgirl star Brendan Fraser opens up about the cancellation of the latter film.
"Many, myself included, are still bitter about the cancellation of the HBO Max Batgirl film. Among the many things we were robbed of getting to see was Brendan Fraser as the villain Firefly. During the press tour for his upcoming film The Whale, the Canadian-American actor talked about the sudden cancellation."
It's hammer time for one particular person in the Star Wars galaxy.
"Andor is a show about the messy side of the galaxy far, far away and the even messier people who inhabit it. Angry people, unpleasant people, liars and killers looking for any way to focus their frustrations at a universe in the grip of totalitarianism. But it's also about the bell guy."
Oscar season is about to heat up, and here are the films that could potentially contend for an Academy Award next year.
"The 95th Academy Awards are upon us! Just kidding. But now that film festivals at Venice, Telluride and Toronto have wrapped up, we do find ourselves in the opening leg of the Oscar race. That means Hollywood's annual back-patting and glad-handing season has arrived in earnest, so unlike the last time The A.V. Club made some Oscar predictions, we're now able to make some properly educated guesses."
Did Dwayne Johnson just change the latest trailer for Black Adam?
"Just about a month away from the official theatrical release of Black Adam, titular star Dwayne Johnson has released a new trailer titled 'Legacy' to create additional buzz for the DC Universe film. A lot is currently riding on the movie, as it has been described as the project that will put the live-action DC Universe back on top."
Looking for something spectacular to read? Perhaps consider reading one of these fantastic titles with bisexual protagonists.
"Sexuality in science fiction and fantasy can sometimes be difficult to discern. Romance in this genre tends to be more of a subplot than the main point, and unless a character explicitly states their preference, readers often make assumptions based on the love interest. But recognizing bisexual characters is important, as bisexuality is often misrepresented in media and misunderstood in real life. Here are 10 science fiction and fantasy books with bisexual protagonists."