News
Link Tank: Sherlock is Headed to Streaming on Crackle
The iconic detective has a new home, Archive 81 is over, James Gunn promises more Peacemaker cameos, and more in Link Tank!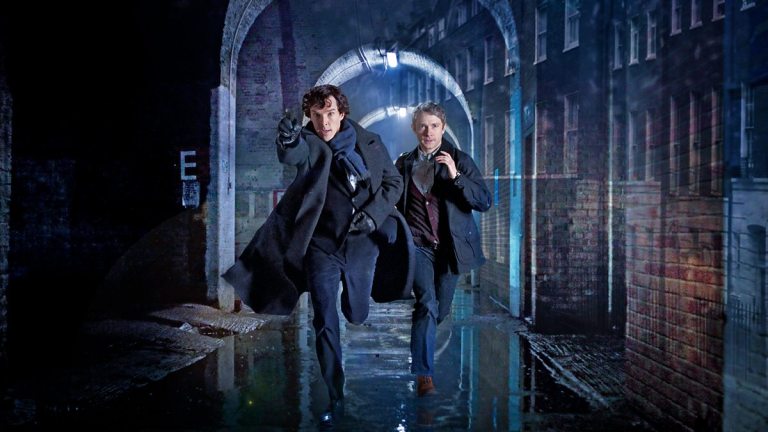 Crackle is now the exclusive streamer of the beloved series Sherlock starring Benedict Cumberbatch and Martin Freeman.
"Chicken Soup for the Soul Entertainment, Inc. (Nasdaq: CSSE), one of the largest operators of streaming advertising-supported video-on-demand (AVOD) networks, today announced an agreement with BBC Studios to license the exclusive rights to the mystery crime series Sherlock, starring Benedict Cumberbatch (Doctor Strange, The Power of the Dog) and Martin Freeman (The Hobbit: An Unexpected Journey, The Office). The series will be available exclusively on the Crackle Plus streaming services starting April 1."
From Matthew McConaughey using his iconic catch-phrase to Leo finally snagging an Oscar, here are the greatest speeches in Oscar's history.
"When it comes to the Oscars, seeing how filmmakers react to receiving acknowledgment from their peers during their acceptance speeches is usually the highlight of the show. James Cameron's 'I'm king of the world!' proclamation for Titanic (1997) stands out; so does Patty Duke's two-word response ('Thank you') for The Miracle Worker (1962)."
Everyone loved the surprise cameos at the end of Peacemaker season 1, and the show's creator James Gunn says we'll see even more stars from the DCEU make an appearance in season 2.
"After successfully wrapping up the first season of Peacemaker, director James Gunn has revealed that he has a lot of 'unused' footage. He alludes that it might mean that he would be including more DCEU characters down the line. In a recent interview with TotalFilm, Gunn spoke about how he brought most of the Justice League together on screen for a cameo for the series. In conversation, he recalls a humorous exchange between Ezra Miller's Flash and Jason Momoa's Aquaman, 'I have tons of stuff I didn't use. Ezra went on – and I'm not kidding – for 16 minutes about Aquaman having sex with fish. It was really funny.' Gunn noted that many fans thought the surprise cameos made it a strong and memorable ending to the season."
A week of spectacular reveals for LEGO Star Wars fans rolls on with another iconic scene getting a brick-built recreation; this time, it's the Death Star Trash Compactor.
"75339 Death Star Trash Compactor has today been officially revealed, along with additional images of those that emerged during the last couple of days."
It has become an ongoing tradition for Hollywood filmmakers and actors to weigh in with their opinion of the MCU, and the latest to do so is none other than Nicolas Cage.
"It's been a new tradition: Some interviewer asks an iconic director about Marvel, they complain about the Marvel Cinematic Universe, outrage ensues online. We've seen it happen to Martin Scorsese, Francis Ford Coppola, Jane Campion, and more. The reality is just that we should simply stop asking these questions! Something that Nic Cage agrees with me on."
Archive 81 has been canceled by Netflix, making it the latest series to have the plug pulled too soon.
"Another week, another dead show at Netflix—your one-stop streaming shop for television programs you probably shouldn't get too attached to. This time, the Streaming Reaper has come for found-footage horror series Archive 81, which Deadline reports the streamer has declined to pick up for a second season."