News
Link Tank: We're Giving Away a RAD Movie x Etnies Swag Bundle
Celebrate BMX cult classic RAD with our latest giveaway, plus, we celebrate J.R.R. Tolkien's life, explore cryptocurrency, and hope for a Dune reboot and more in today's Link Tank!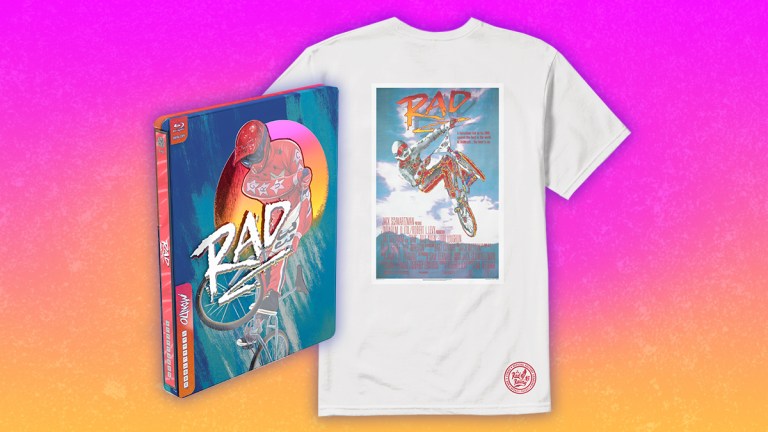 Cult classic BMX movie, RAD is experiencing a renaissance 35 years after it release. To celebrate, we're giving away a prize bundle of a limited-edition RAD x etnies t-shirt and a RAD Blu-ray.
Thirty five years ago, both the BMX film RAD and apparel brand etnies were brought into this world. In celebration of pop culture nostalgia, and their respective anniversaries, the two have joined forces to help us host a new giveaway! The grand prize winner will take home a limited-edition RAD-themed etnies shirt, along with a Blu-ray of the film. Two runner-up winners will receive one copy of the Blu-ray film. Did we mention that it's a SteelBook Blu-ray? The folks at Mill Creek Entertainment put only the best into this release. Enter the giveaway using our official entry form below, and good luck!
Giveaway: RAD Movie Blu-ray + etnies Shirt Swag Bundle
J.R.R. Tolkien is one of the most celebrated writers in fantasy fiction history. Check out a quick biography about the author of The Lord of the Rings and other Middle-earth works.
"There aren't many 20th century authors whose popularity could match that of English fantasy icon J.R.R. Tolkien (1892-1973). The mind behind The Lord of the Rings and various other works set in Middle-earth has inspired generations of creators and helped establish the high-fantasy genre as one of the most powerful in the marketplace today."
Cryptocurrency has been a tax conundrum since its inception, but the IRS is beginning to tax it. Here's what you need to know so far…
"Cryptocurrency is digital currency, or a 'digital representation of value,' as the IRS puts it. You can't see it, hold it in your hand, or put it in your wallet. It's been in use for over a decade and has grown in popularity over the last few years. Instead of using a bank to create, transfer, and exchange funds, cryptocurrency employs a distributed, encrypted blockchain network to process transactions."
Zack Snyder's Justice League and HBO Max may pave the way for the Dune reboot to be a bigger success than if it had been purely a theater release.
"The biggest shock about Zack Snyder's Justice League wasn't that that it was actually kind of good, it was that over a million people watched the Snyder Cut in its first weekend — and some of them even finished the 4-hour epic. Without a doubt, the Snyder Cut benefited from its straight-to-streaming release on HBO Max."
Made For Love is a technology nightmare akin to Black Mirror, and a science fiction series well worth your time.
"Though HBO Max's new series Made For Love, an adaptation of Alissa Nutting's 2017 novel of the same name, is charged with the same foreboding dread about a technology-saturated near future that's present in Black Mirror, the show imagines a hero who has enough sense to understand how messed up the world she lives in is."
From WandaVision to Made For Love, here are the best new sci-fi and fantasy TV shows 2021 has to offer so far.
"These days, we're all looking for an escape from reality, at least for a couple hours a day, and what better way to do that than to binge-watch the best genre television series this year has to offer? It's only April, but we're already off to a great start, and with many productions starting back up again or finally kicking off after lengthy delays, there is even more great science fiction and fantasy TV coming in the next months to tide us all over while we wait until we're allowed outside again."