News
Sign up to the Den of Geek Print Magazine For Free!
Get our swanky new print magazine directly through your front door for nothing.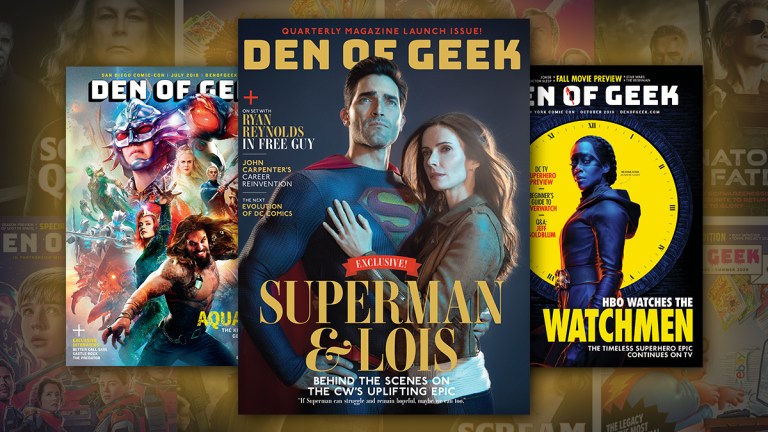 The first full color issue of Den of Geek's glossy new magazine launched this month. It's a gorgeous 68 page print magazine full of the latest features and interviews covering the very best of pop culture from movies and TV to comics, books, and games. Yep, it's an actual old school physical item that you can read in the bathtub, flick through at your leisure, use as a fan, or whatever else you please.
Jealous you missed it? Don't worry there's still time to get your paws on issue two which will be delivered directly to your front door in May.
Issue one featured an exclusive Superman & Lois cover, we spoke with stars Tyler Hoechlin and Elizabeth Tulloch as well as the creators of the show to get the scoop on what's going down at the Kent farm. We also visited the set of Free Guy and hung out with Ryan Reynolds and Jodie Comer, met the makers of Disney's gorgeous new animation Raya and the Last Dragon, spoke to the creators of DC comics latest launches and relaunches, and looked back at the mighty Flash Gordon with director Mike Hodges 40 years after its initial release. It's a corker.
Issue two will be no less packed with goodies as we delve into the most exciting events in the pop culture world.
There's still time to sign up. All you need to do is put your address into the below form. The magazine is quarterly, so you'll receive issues 3 and 4 too. The mag is free for anyone living in the United States. If you are outside America the magazine is still free but you'll have to pay a postage charge. We won't use your details for anything else or pass them to anyone, and we won't renew your subscription or save your payment details if you've paid for postage. If you want issues in 2022 (and we reckon you will) you'll need to sign up again.
Subscribe in the form below to receive issues 2, 3, and 4!
You can read the entire first issue online below, and if you're lucky you might still be able to get your hands on a physical copy too, via our network of partnering comic book stores. There's at least one in every state in America – here's the complete list of our partners.