News
Link Tank: No Tie With Top Gun: Maverick, Elvis is King of the Box Office
Elvis has another number 1 hit, Christian Bale is open to returning as Batman, Emma Roberts joins Madame Web, and more in Link Tank!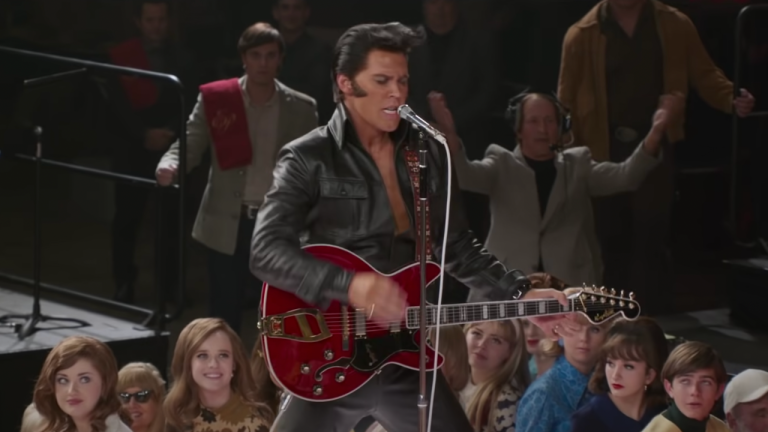 After initial estimates that appeared like a tie, Elvis took the crown as king of the box office Monday when the final numbers rolled in, barely edging out Top Gun: Maverick in its 5th week of release.
"MONDAY AM: According to data this morning, Warner Bros.' Elvis wins No. 1 this weekend with a $31.1M opening beating the fifth weekend of Paramount/Skydance's Top Gun: Maverick which did $29.6M. It's the third No. 1 opening for Warner Bros. YTD after The Batman's $134M and Fantastic Beasts: The Secrets of Dumbledore ($42.1M)."
Christian Bale said he's open to returning as Batman again, but only if Christopher Nolan is behind the camera.
"During the press tour for Thor: Love and Thunder, Christian Bale sat down with Screen Rant to chat about the upcoming Marvel Studios release and if he would be open to playing Batman again. 'No one's ever mentioned it to me. No one's brought it up.' said Bale when he was asked if he's been approached to reprise his role of Bruce Wayne/Batman. "Occasionally people say to me, 'Oh, I hear you were approached and offered all this.' And I'm like, 'That's news to me. No one's ever said that.'"
Since Stranger Things 4 debuted a little over a month ago, Kate Bush's song "Running Up That Hill" has exploded onto the scene. Here's how the now-iconic moment from the season was born.
"A lot happens in the first half of Stranger Things 4, but the things most people are talking about take place in the fourth episode, 'Dear Billy.' That episode itself is jam-packed with huge moments and revelations but it's the ending sequence, which sees Max (Sadie Sink) escaping from Vecna's Mind Lair, that has easily gotten the most attention."
While the idea for a Madame Web movie still seems ridiculous, Sony continues to build an all-star cast for the film, this time adding Emma Roberts to the fold.
"Sony Pictures continues to take chances on its extended Spider-Man universe of characters with the Dakota Johnson-led Madame Web, adding yet another name—Emma Roberts, star of American Horror Story and Scream Queens—to its cast in yet another undefined role."
In a new audio commentary track from Doctor Strange in the Multiverse of Madness, Director Sam Raimi explained how John Krasinski's appearance as Reed Richards was merely to please the fans.
"About halfway through Sam Raimi's Doctor Strange In The Multiverse Of Madness, the eponymous wizard finds himself lost in the eponymous multiverse, with him and new buddy America Chavez finding themselves in an alternate reality where their Doctor Strange is dead and their preeminent superhero team is not the Avengers but the Illuminati—consisting of a bunch of fan-favorite cameos from beloved superheroes and actors, as well as Black Bolt of the Inhumans. One of those cameos in particular, John Krasinski as Reed Richards of the Fantastic Four, was a payoff to years of fan-casting, based largely on the fact that Krasinski looks a fair amount like the character and that it would be fun to imagine him as Mr. Fantastic and Emily Blunt as Sue Storm.
What's going on with the announced Star Wars series The Acolyte? Here are the details we know and how it might come into play in the Star Wars galaxy.
"The Acolyte has been mysterious since its inception. Two years ago, Lucasfilm announced a series created by Russian Doll co-creator Leslye Headland, calling it 'a female-led series' focused on part of the Star Wars timeline we know little about. There were some casting moves, but nothing solid. Finally, buried in a giant Vanity Fair article previewing all the upcoming Star Wars projects, from the imminent (Obi-Wan Kenobi) to the far-off (Rian Johnson's trilogy), there's some news about The Acolyte. And it could change Star Wars forever."