Features
How Batman '89 Fulfills Dark Knight Fan Dreams
Joe Quinones and Sam Hamm on the unfulfilled promises of Tim Burton's Batman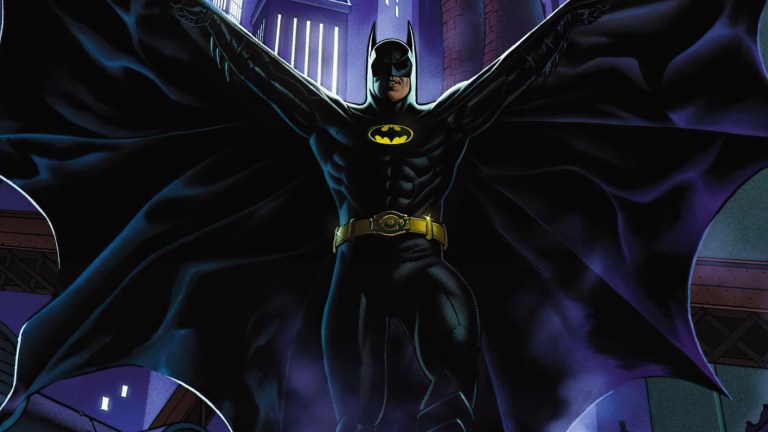 Fans of a certain age will never forget a few great cinematic "almosts" in Batman movie history. Billy Dee Williams played Harvey Dent in Tim Burton's first Batman movie, but we never got a chance to see his Harvey become the villainous Two-Face. Robin was supposed to appear in that film and then again in its sequel, but we never got to see how he would have looked on the big screen under Burton's direction. And perhaps most famously, Michael Keaton never returned for a third turn as the Dark Knight after 1991's Batman Returns.
But DC is giving fans the next best thing with Batman '89, a comic book that is the closest thing to Tim Burton's Batman III as we'll ever get. Taking place a couple of years after Batman Returns, the series depicts Harvey Dent's Two-Face origin and introduces a new Robin worthy of this specific corner of the DC cinematic world. Its authenticity is complete down to the smallest detail, thanks to a creative team of original Batman screenwriter Sam Hamm and artist Joe Quinones, who was the perfect age to catch the wave of Batmania that swept the world in 1989 and beyond.
"It's a bit of a celebration of all things Batman that I love," Quinones tells us.
Quinones had pitched a Batman '89 title several years before that never got off the ground. But when the time came, he was chosen for art, and it was his idea to recruit Hamm. For the writer, it was a chance to finish a story he had always hoped to tell.
"I tried to sell Warner Brothers on the idea of doing Two-Face in the second movie, but they weren't interested," Hamm says. "They wanted Catwoman and Penguin, so I never got a chance to write a version of Two-Face. The opportunity to do that and to just kind of drop back into this world was very appealing to me."
For Quinones, it was a chance to create a story he had wanted to see since he was a kid.
"I was really drawn to Billy Dee Williams as Harvey Dent and such a huge Tim Burton fan," Quinones says. "And then, as a nerdy little kid… I remember being really bummed out to not see the fulfillment of that promise of the casting of Billy as Harvey Dent and how interesting it would have been to see his fall from grace."
Hamm had twice attempted to tell Dick Grayson's origin in the movies, once in an early draft of the first movie and again in the first draft of what would eventually become Batman Returns. But after debating which Robin should be the one they adapt for the book, they went in another direction with a new character named Drake Winston.
"That way, we weren't constrained by the mythology that is already so coupled with Jason Todd, Tim Drake, or Dick Grayson," Quinones says. "We can kind of pick and choose little elements that we could fold into our own version of the character [without being] constrained by any of that."
Drake sports a costume that is at once recognizably Robin, and that would have fit perfectly on the big screen alongside Keaton's Dark Knight, but his backstory isn't rooted as deeply in personal tragedy or revenge as his predecessors. Instead, he's a resident of Gotham's Burnside neighborhood, where Batman isn't necessarily a welcome presence. The need for his existence exposes one of the key flaws in Batman's mission.
"Bruce Wayne is so isolated from the problems that Gotham City residents face on a day-to-day basis," Hamm says. "That was part of the genesis of Drake as Robin… this neighborhood that doesn't think of Batman as a hero… they don't necessarily know that he's there to help them [because] their friends and their brothers and their uncles are getting beat up by this guy dressed as a six-foot bat. Drake, in his vigilante persona, is a reaction to that. In his own way, he's a mirror of Batman and he's trying to protect specifically the people of this downtrodden community that is maybe ignored societally, and that Bruce needs to come to grips with the ways that he has neglected."
Listen to the full interview on DC Standom wherever you get your podcasts.