News
Link Tank: Funko Games Announces Line of Indiana Jones Board Games
Funko Games is on a new adventure, Stranger Things is getting more animated, LEGO is flying high, and more in Link Tank.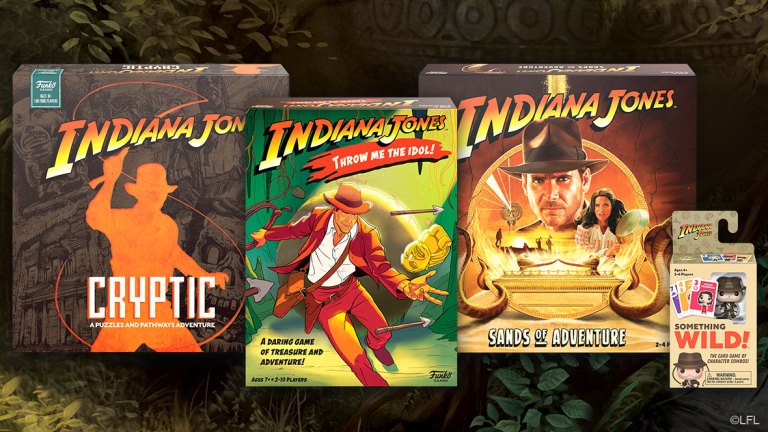 Funko Games announced a new collaboration with Lucasfilm, bringing Indiana Jones board games to life.
"Funko Games today unveiled four brand-new games inspired by the world of Indiana Jones, three of which hit shelves today, April 10. The award-winning tabletop gaming studio has developed in collaboration with Lucasfilm a creative and diverse set of titles bound to satisfy gamers and Indiana Jones fans of all ages and experience levels, ranging from intricate strategy adventures to outrageous party games."
A new series in the Stranger Things universe has been announced, but this one will be animated.
"Stranger Things is expanding its reach on television with the first official project outside the flagship show. Last summer, series creators Matt and Ross Duffer announced the launch of Upside Down Pictures to create more content for Netflix, including some Stranger spin-offs. That promise is inching closer to reality with the announcement of a new animated series set in the world of the beloved show."
We talked to Loungefly at SXSW about their exciting collector's items, including products featuring Marvel, Jurassic Park, and more!
Kate McKinnon's Barbie character poster teases a popular trend with the children's doll.
"The Barbie movie trailer has dropped, and with it, Warner Bros. and Mattel have unleashed a million billion Barbie variants on the world. We've got Issa Rae as President Barbie! Dua Lipa as Mermaid Barbie! Hari Nef as Doctor Barbie! So many Barbies!"
LEGO Star Wars fans will get to experience another Ultimate Collector's Series X-wing Starfighter in celebration of May 4th.
"The LEGO Group today announced the new Star Wars Ultimate Collector Series X-wing Starfighter building set. Based on the iconic T-65 X-wing Starfighter from the Star Wars saga, the new 1,949 piece LEGO Star Wars set is highly detailed and includes the Incom 4L4 fusial thrust engines and the Taim & Bak KX9 laser cannons."
The original Mario voice actor passes the torch to Chris Pratt ahead of The Super Mario Bros. Movie.
"The Super Mario Bros. Movie is out in theaters now, and for those of you who didn't care for what you heard of Chris Pratt's Mario voice in the trailers, well, it is pretty much like that throughout most of the movie. However, there is one scene at the beginning that serves as a bit of a meta moment about this, acknowledging Pratt's performance and the lack of Mario's distinct, exaggerated Italian accent."