News
Link Tank: Crackle Debuts Salvage Marines Trailer (Exclusive)
Crackle is debuting the Salvage Marines trailer, the star of Nope wants to do a Barney movie, LEGO revealed more Avatar sets, and more in Link Tank!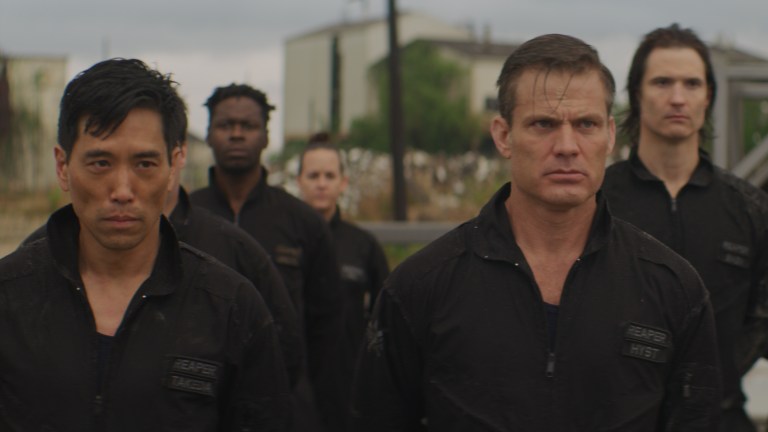 Original sci-fi series Salvage Marines to premiere on Popcornflix on July 28th. The six-part series starring Casper Van Dien is coming exclusively to Crackle Plus streaming networks.
"The series tells the story of a grim future of corporate tyranny and deep space combat, where Samuel Hyst (Van Dien) can barely make ends meet as a factory laborer, daring not to dream of a life beyond the polluted industrial planet of Baen 6. Everything changes when his young wife, Sura, reveals that she is pregnant, and Samuel is faced with the harsh reality that his child will be born into the same servitude that he was. Determined to create a better life for his growing family, Samuel and his best friend Ben Takeda (Shinkoda) sign up for the hazardous life of a salvage marine, the foot soldiers of a militarized deep space operation."
Nope star Daniel Kaluuya wants to make a Barney movie next.
"In news I was truly today years old for, Daniel Kaluuya (Get Out, Black Panther, Judas and the Black Messiah, Nope) has confirmed that his production company, 59%, is still working on a Barney movie. First of all, I ask as I reread that sentence, the what movie? Second of all, work has already been going on for said movie? According to an interview with Gerrick Kennedy of The Hollywood Reporter, the project is still in early development with the script being reworked. That… you know what? Sure, why not. Garfield has two live-action films with a new CG animated film in the works where Chris Pratt is the voice of the lasagna-loving cat, and somewhere in the cast is Samuel L. Jackson. So yeah. Barney. Let's go. Let Kaluuya do something lighthearted – after Nope, of course."
LEGO reveals more Avatar sets ahead of SDCC.
"At LEGO CON in June, fans were treated to an exclusive look at 75574 Toruk Makto & Tree of Souls, the first set from the brand-new LEGO Avatar product range celebrating the overall franchise to-date in advance of Avatar: The Way of Water premiering this December."
Christina Ricci is the latest actress who gets to voice Harley Quinn for a DC property.
"Fate has course corrected to give Christina Ricci the role of Harley Quinn, a casting that makes perfect sense for Spotify and DC Comics' upcoming podcast Harley Quinn & The Joker. The Addams Family and Yellowjackets icon will bring her sweetly creepy and chaotic energy to Harls in a new story that will refocus the narrative around her tumultuous relationship with the Joker, played by Made for Love lead (and made for this) Billy Magnussen."
Massive Star Wars fan Simon Pegg doesn't look fondly upon the fandom of the franchise he loves.
"Every fandom has its dark side, but some, it must be said, are worse than others. Simon Pegg may be the leading expert on the topic, having appeared in several major franchises, including Mission Impossible, Star Trek, Star Wars, and Doctor Who, among many other much-beloved properties."
The latest update to No Man's Sky is giving us major Star Trek vibes.
"Speculate no more! Hello Games revealed the next addition to the ever-expanding universe of No Man's Sky. It's called Endurance, and it's loaded with additions to space (space biome?) and brings the thrills of taking charge of a fleet of starships to your screen. While past updates have broadened the selection of ships in the game, this one will allow you to live in and explore your ships on a wider scale, taking in the galactic voxel-based vistas from windows and portholes as you chart your next voyage or take on the update's new expedition 'Polestar.' You can check out the trailer here."