News
Link Tank: Beast Wars: Transformers Turns 25 Ahead of its Big Screen Debut
Beast Wars: Transformers celebrates a big birthday before the franchise gets an upgrade next year, Timothee Chalamet is rocking the top hat as Willy Wonka, Fall Guys is taking inspiration from Squid Game, and more in Link Tank!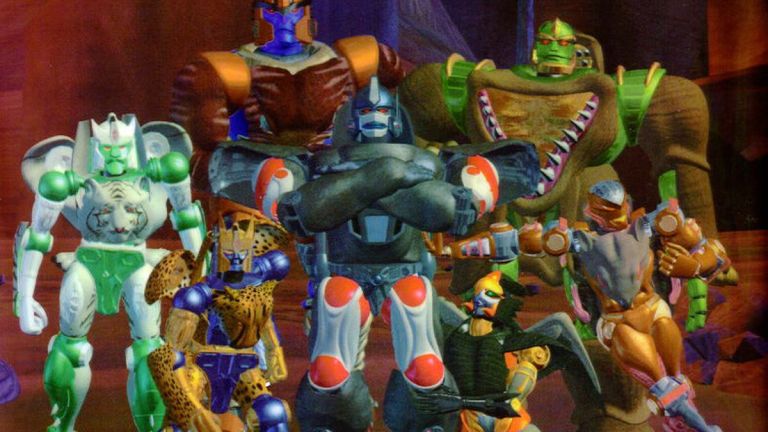 25 years later and the Beast Wars: Transformers CGI doesn't hold up, but it'll get another shot on the bring screen in 2022.
"With that, the computer-generated animated series Beast Wars: Transformers had begun. Premiering in late September 1996, the series was the first American venture for the Transformers franchise since the original cartoon concluded almost a decade earlier. With a new style of animation and the use of animal transformations as opposed to vehicles, Transformers fans initially met the show with skepticism. Still, before long, Beast Wars was embraced for its dynamic writing and vivid characters."
Set photos from the untitled 5th Indiana Jones movie are here, giving us our first glimpse at Harrison Ford wielding the whip once again, and Mads Mikkelson as the unknown villain.
"We've got set pictures of both Mads Mikkelsen and Harrison Ford hanging out, and honestly, that's enough to sustain me and my love of this series until we get a trailer of some kind. On set in Italy, both Mikkelsen and Ford are riding around and relaxing, with Ford in his iconic Indiana Jones look and … Mads Mikkelsen with white hair in a grey suit?"
We have our first look at Dune star Timothee Chalamet as Willy Wonka in the upcoming reboot, and he sure is rocking that top hat.
"When Timothée Chalamet was first cast as this generation's Willy Wonka in Paddington director Paul King's new candy origin movie Wonka, we had a lot of questions. Questions like: 'Why?' or 'What?' or 'Is the Timothée Chalamet Wonka just going to be a sensitive young man with long, dark hair wearing a top hat and a long coat?' Well, Chalamet has posted a photo of himself as Willy Wonka on social media, and… yeah, it's exactly that."
Ghostface from Scream is back and is reminding us why we all fell in love with the slasher franchise in the first place.
"While we sure wish we could see the new Scream movie this Halloween, it's not arriving until January, so we'll have to content ourselves with the existing quartet (yes, even Scream 4—it's much better than you remember it being!) and this delightfully terrifying new trailer for Matt Bettinelli-Olpen and Tyler Gillet's reboot-relaunch of the late, great Wes Craven's wonderfully self-aware slasher series."
Hit show Squid Game might've given the video game Fall Guys the boost it needed to resurrect a hidden mini-game.
"During a recent TechRadar interview, Fall Guys lead game designer Joe Walsh said the dev team at Mediatonic is currently toying with the idea of retrieving an unused minigame from the cutting-room floor. And it's all thanks to Netflix's latest original series, Squid Game."
LEGO announced that the details on their iconic Minifigures will be gender-neutral from now on.
"LEGO announced today that it will remove all gender bias from its toys, acknowledging that playing with those multi-colored blocks 'is still considered more relevant to boys than girls.; The company made the announcement alongside the release of a LEGO-commissioned study finding that 'girls today feel increasingly confident to engage in all types of play and creative activities.'"