Features
What Jeremy Kyle Documentary Death On Daytime Reminds Us About the Culture of Cruelty
The now-canceled reality TV show is part of a wider cultural picture, and it's not a pretty one.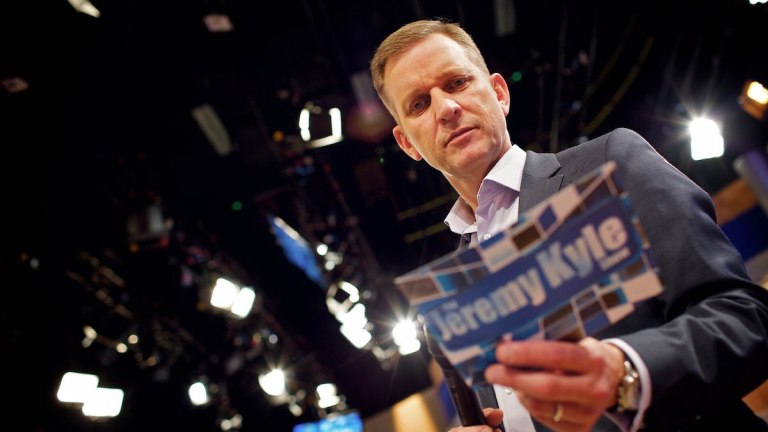 If you didn't already know it, Jeremy Kyle is a horrible man. If you weren't sure, there's a two part documentary on All4 called Jeremy Kyle Show: Death on Daytime that details this and makes it abundantly clear that the show he fronted for 14 years took a negative toll on many of the thousands of guests it ushered onto the stage only to bully, badger and beat them down. These were people that were almost always vulnerable and at the bottom end of the economic spectrum, and almost always had serious problems, often related to family, relationships, finance and drug and alcohol abuse. The show was canceled after one of his guests, Steve Dymond, took his own life days after filming an episode of the show.
The documentary gives an insight into the culture of bullying on the show which took place behind the camera too, with crew members (represented by actors to preserve anonymity) reporting the toxic environment and how unethically they were taught to behave with guests. It's a fascinating car crash watch, that at times veers a touch close to feeling like a Kyle ep in itself. If there's a positive take away from the doc it could be as a reminder of the culture of cruelty that was incredibly prevalent on TV in the 1990s and 2000s that allowed Kyle's show to exist in the first place, and ideally to help us never go back there.
As the doc points out, talk shows in this mold were mega in America, from Jerry Springer and Ricki Lake to The Jenny Jones Show, which itself was under the spotlight after one of the guests on her show murdered another guest, and former friend, as a result of the events of the show. There's an episode of Netflix doc Trial By Murder dedicated to this very story, which does a similar job of delving into these programmes and how they lie to, and rile up their guests to elicit the highest drama.
So Kyle wasn't an outlier in the "laugh at the vulnerable" stakes, but my god did he cash in on it. Kyle was the self appointed king of punching down, but pop culture as a whole at the time seemed to be ok with that. As alluded to in the doc, this was a time when Harry Enfield's Wayne and Waynette Slob and Little Britain's Vicky Pollard were characters openly mocking people on benefits. Meanness was rife elsewhere too. Beginning in 2000 and running until 2012, (so very much in Kyle's timeline) popular quiz show The Weakest Link made an absolute fetish out of getting its host Anne Robinson to insult the contestants in the nastiest possible ways – appearance, personality, occupation and of course, intelligence were fair game.
The X-Factor had a long stint where a portion of the audition shows were devoted to ridiculing people who don't have very strong singing voices or don't conform to social norms. "Ha ha! Look at this idiot who thinks they can sing!" laughed the on-average 14 million viewers who tuned in at the show's peak. And of course there were a number of contestants who claimed to be set up to fail.
Reality TV which makes instant celebrities of ordinary people overnight is a dangerous thing anyway before you have producers deliberately trying to ramp up the drama, create controversy and paint contestants as villains in front of millions of viewers. It was bleak.
Thank god for The Great British Bake Off, then, which has been with us since 2010 (spawning Junior Bake Off in 2011), a parochial, charming, incredibly feel-good show about cakes, which still has sufficient drama and tension to keep it compelling.
Sewing Bee in 2013 and Pottery Throwdown in 2015 borrowed the format, followed by glass blowing competition Blown Away in 2019. And then came utterly lovely variation School Of Chocolate in 2021. Could crafts have replaced cruelty on the cultural palate?
I like to believe we're an audience more savvy to 'reality' TV manipulation these days, that we couldn't go back to a world where headlines like, "Prove I'm the dad and I'll prove I haven't slept with my mum!" are satire not reality, and where no one, ever, anywhere, thinks taking a polygraph test on reality TV is a good idea.
If that Jeremy Kyle doc surprises no one, then good. Just make sure we all agree: never again.
Jeremy Kyle Show: Death on Daytime is available to stream on All4