Features
Interview: Nick Landau of Forbidden Planet
We chat with one of the founders of the multi-national SF bookstore chain...and he was Tharg, as well!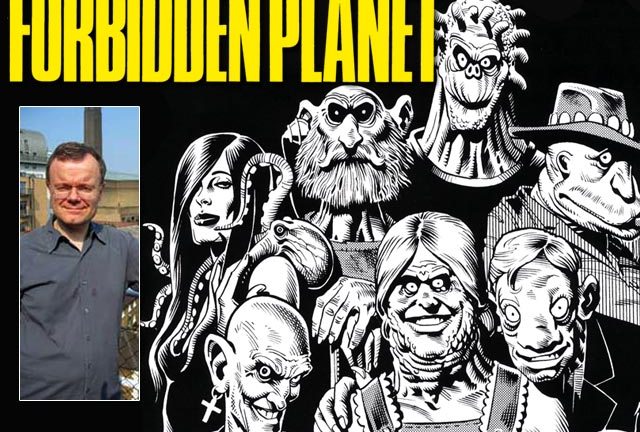 I've rhapsodised at this site about my consumer experience at the late 70s comics and paraphernalia store Dark They Were And Golden Eyed, which nestled in St. Ann's Court in Soho for two glorious years between 78-80, eventually bought up by its suppliers, including ex-2000AD sub-editor Nick Landau and his partner Vivien Cheung, who spun its humble predecessor – the Forbidden Planet bookstore- into a retail chain that now has branches as far distant as New York.
Forbidden Planet has been supplying Den Of Geek with quality interviews since 1983 [though there was a bit of a gap between the first – Stephen King – and the more recent ones; about 25 years!], and a great deal of its reputation remains in the stellar book signings it is able to arrange.
The store has just celebrated its 30th anniversary, so it's a suitable time for a quick chat with Nick about the 'origin-story'…
How did Forbidden Planet emerge from Dark They Were And Golden-Eyed?
I had a distribution business called Titan distributors, and Dark They Were was pretty much our largest customer, but not in great shape. So at the time the idea wasn't actually to open a retail store, it was to run a distribution business. But with our largest customer on the verge of going under, we thought we'd better protect our business and open a store, and that's how Forbidden Planet opened.
The original Dark They Were was rather a ramshackle affair, very counter-culture…
Absolutely, but I think by the time they got to St Ann's Court, which is the period you know them from, things were a little bit out of control. Success is not necessarily the best thing if you can't handle it.
The new Forbidden Planet in the early 80s was much slicker looking – were you ever aware of the possibility of alienating the 'counterculture' clientele?
Well, we were kind of at the margins ourselves, I'd actually been the chief sub editor of 2000 A.D. Tharg, in other words…
Thank you for the five pounds! [They couldn't pay it in galactic groats – M]
You're welcome! [laughs] There's a long respected history of Thargs, and I think I was the second Tharg; I was there 78 probably until 79. The 'Cursed Earth' era, if that means anything
It means a lot!
You saw that we opened with the 'People like us' graphic designed by Brian Bolland, who is a very good friend, and of course was working with me on 2000 A.D. So that's the history behind bringing in the graphics and a little bit more design. 2000 A.D. might have been a mass-market comic, but it still felt like counterculture in its own right, because it was still breaking down barriers at the time. We were very much part of that, and I think Forbidden Planet was the retail end of that.
The split early on into Forbidden Planet and Forbidden Planet 2 – did you have to think how much you might want to expand when the current trends that supported the shops could die out very quickly?
We're not into expansion for expansion's sake. The last store we opened was just before Christmas, which was the Southampton megastore. It's a very nice looking store; it's got very much the same sensibilities as the London store. There are three companies at play here – Forbidden Planet, Titan books, and Titan magazines, so we're not under pressure, as it were, to go out and open 500 more stores in the same way that a public corporation might be. The company is owned by myself and Vivien Cheung, my partner. So we're a private company, and just able to do what we want to do when we want to do it. Which means we are able to give it the attention quality which we feel is important.
What's the big trend this year?
Superheroes are very big. Batman has been enormous. Doctor Who still is very strong. Star Wars is still very strong. I would say those are probably the top three franchises at the moment. Star Wars is there forever and Doctor Who is pretty much there forever. It will be very interesting to see what the holdover on Batman will be, but at the moment we're selling a huge amount of particularly high-end Batman merchandise. I think one of the other things that happened over the years is that the quality of the merchandise has just risen phenomenally; the likenesses and the articulation has changed dramatically. I think there are a lot of collectors coming into the market that possibly wouldn't back when just the mega figures were available, back in the early days
Were you pleased to appear in Marvel comics a number of times, such as The Authority and a few others?
I had two partners in the early days calls Mick Lake and Mike Luckman. And yeah, we turned up in Wolverine written by Chris Claremont at the time. It was this intergalactic – I think you'll find it on the web [http://en.wikipedia.org/wiki/Landau,_Luckman,_and_Lake] – this intergalactic law firm that was the overall power in the universe called Landau, Luckman, and Lake. These guys are friends of ours and they thought it would be a bit of fun to include us also in New Mutants – one of our cars got trashed in front of the store, and the store was demolished a few times. That's great fun; thankfully it only happens on the printed page! [laughs]
And of course there's Shallow Grave…?
Shallow Grave , with the carrier bag – yes! That was during the interview sequence. That was great. I think maybe the Forbidden Planet carrier bag should have had a little credit at the end, as I think it properly had more screen time than some of the actors credited.
You've been looking at the geek market for over 30 years and you must have a good insight into the way things cycle – can you see what's coming up on the horizon in terms of market trends?
My partner and myself and our buying team are constantly on the lookout for new trends. We were in a number of areas fairly early on, like the urban vinyl, we got in early on that. So we do look at trends. We look at what we feel will work in the context of Forbidden Planet. Not everything is going to work. We buy accordingly. If it works, we'll expand our buying in that category. We're careful, but we feel that the sensibility of what we carry is something that is part of our DNA, so we can look at the range of stuff and go 'Yes, that is Forbidden Planet'. Forbidden Planet has quite a unique range of stock which you won't see in many other -or really any other – stores. I don't think anyone else really carries our range.
How have your customers changed over the years?
I think we get a larger female demographic. I think areas like Manga have certainly brought in a greater mix. I think also the fact that we've put a lot of effort into upgrading our stores. I guess what comic stores were like in the 70s and 80s was – and there's still a few of them around – basically shelves with cardboard boxes and a few comics in them. We've been through several evolutionary stages since then; we're basically saying that we are fans, and we hope that what we're buying is of interest to other fans out there. We're dealing with so many different fan bases, and what we have to do is to identify those fan bases, whether it's the Gerry Anderson fans or the Saw fans, the Batman or more general fans… we have a lot of smaller fan bases that we're also very respectful of, and we'll see what we can get in those particular areas as well
What are you a fan of yourself?
I started out as a science-fiction and comics fan, and that's why, when we opened the store, we were selling science-fiction and comics. I think over the years, because of the breadth of what we are doing, I haven't been able to specialise as much in science-fiction, but my partner Vivienne Chung has definitely done that extremely well; she is extremely knowledgeable. So I would just say comics and graphic novels are what I'm still very into, and a lot of the toys and merchandising and the DVDs. And probably most of the rest of the store! But unfortunately not to the level that I used to be able to be. I've been in the business 30 years now, and if anything I'm more excited and more enthusiastic about the product than I was even 30 years ago. It may sound strange, but I do get a buzz when I go into the London megastore.
Where do you see Forbidden Planet in 10 years time?
Well obviously, with the growth of the Internet, I think we're going to see a big expansion in that area. We've got the site forbiddenplanet.com., which has an enormous range – I think the stock is pretty much as much as we stock at the London megastore, if not a bit more these days. I can see that growing significantly. I think the specialist focus on the megastores is very exciting. In terms of where we'll be, I hope we'll be doing a lot more of the same. We don't have any big plans to change anything dramatically. We'll be doing more of what we're doing now – a lot more signings. Signings have always been a very big thing for us, and we've done over two thousand to date. So I think it's the interaction with the community that is going to be very important to us, whether that interaction is through the stores of the website; that's going to be where we're going.
Here's to another thirty years!