Features
How the #FreeBritney Movement Is Spearheading Millennial Activism
The New York Times Presents "Framing Britney Spears" documentary's real stars, the #FreeBritney Movement, are making real change.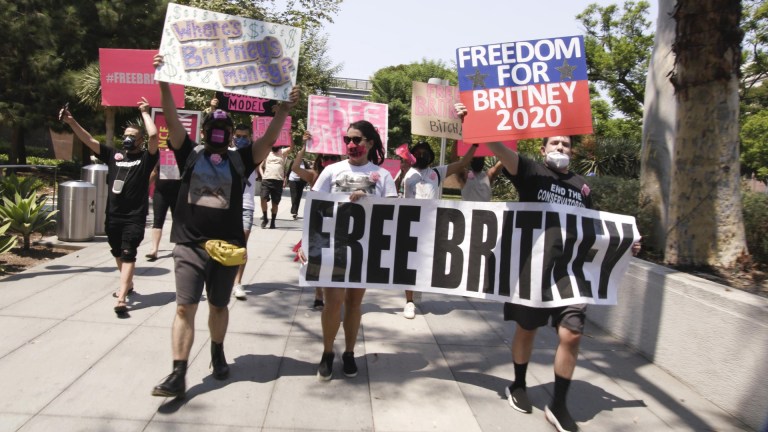 Over a week after the premiere of FX's The New Times Presents episode "Framing Britney Spears," the picture appears to be straightening out. On Thursday, Feb. 11, Los Angeles Judge Brenda Penny sided with Britney Spears' legal team, reducing Britney's father's powers as sole conservator. Judge Penny ordered James Spears and financial company Bessemer Trust to work together on her financial and business affairs. On Friday, Feb. 12, Justin Timberlake issued a public apology to Britney, as well as for the misogynistic "wardrobe malfunction" prank he pulled on Janet Jackson at the Super Bowl in 2004. While the Britney documentary was a major force in the timing of these developments, they might not be happening if it weren't for the efforts of Britney Spears' most avid fans.
"Framing Britney Spears" director Samantha Stark spoke with Den of Geek about how the movement became a force for change. The New York Times "had an investigation into her conservatorship in 2016, so we were one of the only people to be looking at it in that way," Stark says. "It was by the reporter who's in the film, Joe Coscarelli." Tess Barker and Barbara Gray, originators of the Free Britney movement, began the watch in 2008.
The #FreeBritney movement rose up spontaneously when a Spears fan site, BreatheHeavy.com, started a campaign to "Free Britney." Fans were confused and concerned about the constraints of her new conservatorship setup. Amidst all the conspiracy theories, rumors and gossip, it was hard to get real information. Sites like FreeBritney.net and podcasts like the fan-produced "Britney's Gram" tried to cut through the frustration.
"Part of the story is that they became these investigators," Stark tells Den of Geek. "It's fascinating. Some lawyers are involved with #FreeBritney, and they know how to find the publicly available court documents. They would take them and put them online and highlight them. And as soon as a new court document would come out, like if Sam Ingham, Britney's court-appointed attorney, would file something new, they would know immediately and post it online and dissect it."
Spears became an international sensation when … Baby One More Time dropped on Jan. 12, 1999. The album and the title song both debuted at the top of the charts. Britney would continue her success, becoming one of the best-selling artists of all time. But reports of drug and alcohol abuse and a rash of erratic behavior following her divorce from her husband, Kevin Federline, led to multiple psychiatric evaluations and, eventually, a court-ordered conservatorship. Also known as a guardianship, it is designed for people who are unable to take care of themselves.
Details of Spears's conservatorship have not been made public, nor has her mental condition or diagnosis. "We don't know if Britney has a mental health diagnosis," Stark says. "A lot of people like to speculate what kind of mental illness she might have, but we don't know if she even has one."
Britney's father, Jamie Spears, and her lawyer, Andrew Wallet, were named as co-conservators of her person and estate. In the decade that followed, Spears released three chart-topping major-label albums, performed and sat as judge on The X Factor, and made multiple TV appearances, all while maintaining a star-attraction residency in Las Vegas. Britney's fans saw this as contradictory.
The fan-run network continued to post whatever news and speculation they could find through their limited resources, but occasionally they got a scoop. In April, 2020, "Britney's Gram," which specialized in analyzing Spears' Instagram posts, got an anonymous voicemail message from someone claiming to be a paralegal involved in the conservatorship. "Framing Britney Spears" shows them doing due diligence, cross-checking as much information as they can get before running the audio.
While some of their information was questionable, the fan-journalists did their best to get their audience the answers. "Everything that they were finding out and bringing up we independently investigated and verified, absolutely," Stark says.
The fanbase accomplished a lot with little resources. "It's so much easier for us to do it because we have a full infrastructure set up for it," Stark says. "These people were spending so much time. The reason they started doing the investigating is because there wasn't any media covering it, and they really wanted that. They wanted people to look into this. And so, they started doing it themselves, and it got a lot of attention."
The movement caught the eyes of celebrities, the media, and key players in the family drama. Britney's mother Lynne Spears has been known to "like" comments with the #FreeBritney hashtag. Miley Cyrus shouted "Free Britney" during performances. Cher, Paris Hilton, Rose McGowan, Kacey Musgraves, Hayley Williams, Andy Cohen, Sarah Jessica Parker, Bette Midler, and Meghan McCain have all used the #FreeBritney hashtag.
But the #FreeBritney movement's vigilance appealed most to the fanbase, millennials who grew up on a steady diet of Spears' innovative dance pop and inclusive message. "There's this counterculture fandom that the #FreeBritney people are like the people who were bullied when they were younger," Stark says. "And it is kind of millennial. We want to be more open talking about mental health. We don't want bullying. We want diversity. I do think that it really speaks to that."
#FreeBritney activists don't just do their work online. They take the fight to the streets. They rallied at the Stanley Mosk Courthouse in Los Angeles, and hosted a Zoom gathering during the hearings for discussions. FreeBritney.net promoted a petition asking the White House to end her conservatorship. Signatures soared even before Hulu with FX's documentary, and exploded after. The injustices the #FreeBritney movement pointed out were not lost on judicial minds. Attorney Lisa MacCarley sent a letter to over 100 Los Angeles-based lawyers urging them to request the termination of Britney's conservatorship.
The fans found other ways to take direct action. They didn't only go after court documents. They followed the money, and made a concentrated effort to cut off the flow. #FreeBritney researchers urged fans to think before buying Britney's products because much of the profits went to her father.
The #FreeBritney movement is similar to other grassroots tech activism, like the hijacking of right-wing hashtags by K-pop stans, and the financial coup pulled by the GameStop players. "They're so adept at internet culture and social media culture," Stark says. "They are using social media in a sophisticated way to get people to pay attention to them, for sure."
Britney Spears' court saga may be far from over, and it might be a while before we get another in-depth analysis of the case like "Framing Britney Spears." In the meantime, while waiting for official news sources to vet the information, raw data is always flowing from the #FreeBritney movers.
The New York Times Presents "Framing Britney Spears" can be streamed on FX on Hulu.