News
The Beatles: Peter Jackson's Get Back is a More Harmonious Take on Let it Be
The Beatles' Let it Be sessions were legendarily arduous...but Peter Jackson's Get Back documentary may paint them in a new light.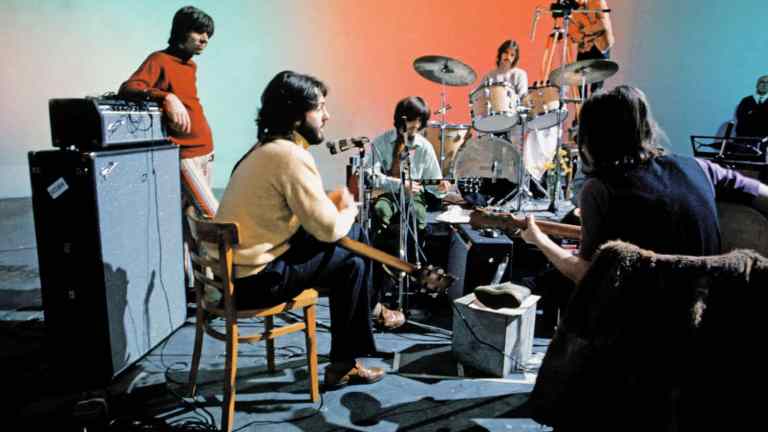 During their time together, and the years apart, The Beatles consistently wrapped up their holiday sessions with gifts for avid and casual listeners alike. The band even worked out timing with the Rolling Stones' releases so they didn't step on each others' shoes. This year, a year which really needs it, we're getting two year-end gifts. Paul McCartney dropped his true-solo album McCartney III, following in the tradition of the first two albums by playing every instrument.
But the group left it to Peter Jackson to bring an ornament: the sneak peek at his upcoming documentary, The Beatles: Get Back. It's as happy and silly as any of the annual Beatles' Christmas greetings the band released when they were together.
"Peter Jackson has released an exclusive sneak peek of his upcoming documentary "@TheBeatles: Get Back" for fans everywhere to enjoy," McCartney wrote as he hung out a five-minute clip on his Twitter.
The footage presents a very different image of the Beatles' Let It Be film, directed by Michael Lindsay-Hogg, and album session. The band was supposed to get back to the way they used to play, and the original film made it look like an arduous trek through a long cold lonely winter. It was somber, serious, and U.S. manager of Apple Records Ken Mansfield had to keep a steady stream of lit cigarettes for George Harrison to use to defrost his fingers during the rooftop sessions on London's Savile Row. Jackson's footage is unseasonably warm.
For the upcoming film, Jackson's team worked with the same digital restoration techniques they used for They Shall Not Grow Old, a World War I documentary told with masterfully restored footage. Not only is the captured celluloid brighter, we have happier Beatles.
In an early press conference, when asked if the band continued to rehearse while touring, John Lennon laughed and asked the room, "rehearse what," pointing out how the group's performances stand on thousands of hours of stage time. "Smiling, that's all we rehearse," he jokes, and one of the clips in the montage appears to capture exactly what that might look like: During a run-through of the song "Two of Us," Lennon and McCartney harmonize through frozen smiles. It looks like one of them dared the other to see who could sing longest without moving their lips.
The less-than-two-second snippet is hysterical, but not as funny as seeing Lennon bouncing around with his t-shirt wrapped around his knees. That looks like it could have come out of the film Help! or even conceivably fit into one of the Beatles cartoons.
"There were hours and hours of us just laughing and playing music, not at all like the version that came out," Ringo Starr, whose new EP, Zoom In, is scheduled for release in March 2021, said in a release via Rolling Stone. "There was a lot of joy and I think Peter will show that. I think this version will be a lot more peace and loving, like we really were."
The rest of the footage, mostly sync'd to a rehearsal take of the title song, "Get Back," is equally happy and flies in the face of how the sessions of the album have been portrayed. John and Paul dance. Ringo juggles and plays bass. George lets the band turn bad French press into a percolating backing track. Billy Preston grooves in the playback studio. Linda and Yoko chat grinningly. John and Ringo walk about arm in arm. There are wardrobe changes. The volume meter dips into the red. Everyone plays drums.
The short film opens with Jackson's introduction, and explanation that the film would have been in theaters by now if it weren't for the COVID Pandemic. The Lord of the Rings director assures us he's halfway done with the editing, which he cuts down from 56 hours of never-before-seen footage, and more than 150 hours of previously-unheard audio.
The Beatles: Get Back will include the entire rooftop session, the Beatles' last live performance, for the first time. Jackson is quick to say this isn't a trailer. "Those will be coming out next year," he assures us. The montage is just a sample of what he's turned up. "Because you've been so patient and the film's been delayed until 2021, we thought it was a good time to give you a little a sneaky preview of what we've been working on and the sort of vibe and energy the film will have," he says in the clip. "Hopefully it'll put a smile on your face in these rather bleak times that we're in."
Shot in early 1969, the cameras were supposed to catch a "fly on the wall" look at the musicians creating an album and preparing a show. The added footage of the weeks of rehearsals and recordings fills in many gaps. "It's like a time machine transports us back to 1969, and we get to sit in the studio watching these four friends make great music together," Jackson said in a statement via Rolling Stone.
The Beatles: Get Back release date is Aug. 27, 2021.