News
Exclusive: A Toy Store Near You Trailer Shows How to Play in the Age of COVID-19
Be calm, buy toys, advises The Nacelle Company's new series A Toy Store Near You.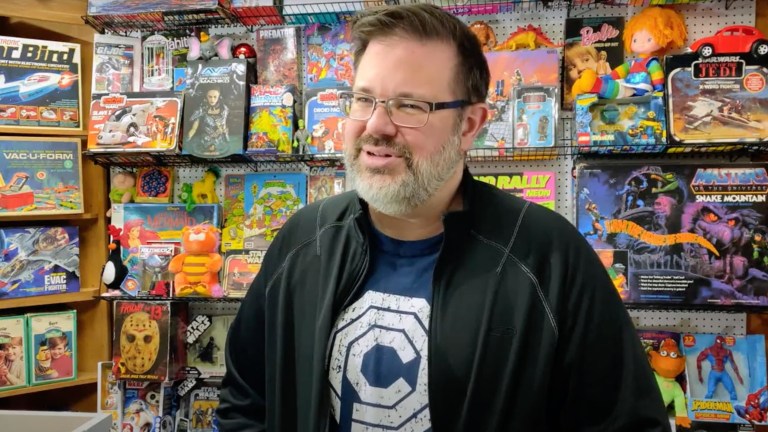 The COVID-19 epidemic has put a "screeching halt to business," we hear in the trailer for the Nacelle Company's A Toy Store Near You. The docuseries takes viewers inside independent toy stores across the country and the world. Filmed and released during the COVID 19 Pandemic, A Toy Store Near You will debut one or two episodes each week. The docuseries will feature more than 40 independent toy stores. It debuts May 29th through Amazon Prime, YouTube, Vimeo, and other content providers.
A Toy Store Near You's release pattern favors speed over designated seasons and will release new episodes as they are ready. The series comes from producer Brian Volk-Weiss and the team behind Netflix's The Toys That Made Us and The Movies That Made Us.
Independent toy stores, not only in America but around the world, are changing business practices to cope with the fallout of the coronavirus pandemic. The COVID-19 crisis has forced many of them to close up shop because they have been deemed "non-essential." Storefront retailers are taking it to the curb.
Per Nacelle, there are expected to be over 40 episodes, about 30-minutes each, that will tell the stores' history, the toys they carry, and the people who love toys so much they dedicated their livelihood to them. The footage was shot by the store owners themselves. The trailer shows one vendor who was always a collector but learned that selling the toys is an entirely different thing. Billy from Billy Galaxy Vintage Toys displays a Star Wars sign with C3PO and R2D2 advising about immunizations. How are these specialty stores surviving? Are they surviving? How long will they have to go on cutting their children's hair? It makes you want to grab something small and familiar for comfort. The trailer also shows the sellers playing with their favorite toys.
You can watch the trailer here:
The series is being promotionally sponsored by eBay, TriBeCa Film Festival, Death Wish Coffee, and Super 7, which produces a range of toys for adult collectors, like Thundercats, Masters of the Universe, and Princess of Power. Super7 operates brick and mortar stores in San Francisco and San Diego. The company was founded by Brian Flynn.
TOY STORES FEATURED IN THE FIRST SEASON INCLUDE:
1313 Mocking Bird LN | Lawrence, KS
Andy's Toys | St. Louis
Billy Galaxy Vintage Toys | Portland, Oregon
Black Cat Comics and Toys | Burbank, California
Bric-A-Brac Records and Collectibles | Chicago
Chicaca 2.0 | Taipei, Taiwan
Cherry Bomb Toys | Victoria, British Columbia, Canada (Behind-the-Scenes)
Dr. Tongue's I Had That Shoppe | Portland, Oregon
Empire Toys | Keller, Texas
Eternia Dreams | Taneytown, Maryland
The Fan Fortress | Tulsa, Oklahoma
Farpoint Toys and Collectibles | Mays Landing, New Jersey
House of Plastik | Cincinnati
I&S Vintage | Los Angeles
Imperial Castle Toy Shop | Pawling, New York
Jayden's Toys | Lewisville, Texas
Kelly's Toy Stop | Huntington Beach, California
Kokomo Toys and Collectibles | Kokomo, Indiana (Behind-the-Scenes)
Paul's Toy Room | Parlin, New Jersey
RetroTV Toys | Las Vegas
Robot Robot | Chiyoda City, Tokyo, Japan
Rogue Toys | Las Vegas
Smash Toys | Chicago
South Louisville Toy Mall | Louisville, Kentucky
Spiral Toys | Shibuya City, Tokyo, Japan
Super7 | San Francisco (pictured top via Instagram)
Super Happy Incredible Toys | Houston
The Batcave Comics and Toys | Santa Rosa, California
The Gnarly Toy Box | Lakewood, Colorado
The Toy Box | Glendale, Arizona
Time Capsule Toys | Girard, Ohio
Toy and Comic Heaven | Willow Grove, Pennsylvania
The Toyboys | Haarlem, Netherlands
The Toy Drop | Indianapolis
Toy de Jour | Chicago
Toy Fusion | Sacramento, California
Toy Stable | Tacoma, Washington
Toys From The Past | Lincoln, Nebraska
We Can Be Heroes | Chatsworth, California
The majority of the proceeds from the series will go to the featured stores, which are operating under modified pandemic circumstances.
A Toy Store Near You debuts through Amazon Prime, YouTube, and Vimeo on May 29.