News
Country Music Star and Actor Kenny Rogers Dies at 81
Kenny Rogers gambled on a solo career and parlayed it into acting gigs and a national fried chicken franchise.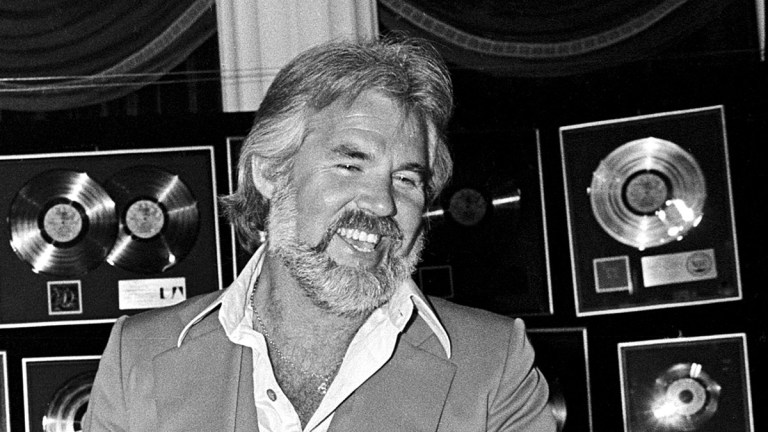 Kenny Rogers, whose music went beyond the country music genre he is known for, died at home in Sandy Springs, Ga., Friday night, according to the New York Times. He was 81.
"The Rogers family is sad to announce that Kenny Rogers passed away last night at 10:25PM at the age of 81," his family said in a statement to Twitter. "Rogers passed away peacefully at home from natural causes under the care of hospice and surrounded by his family."
Rogers was known for duets like his chart-topping pairing with Dolly Parton, "Islands in the Stream," and crossover hits like "Coward of the County," "Lucille," "Lady," and his signature song, "The Gambler." But the Country Music Hall of Famer went through all genres in his musical journey, from playing upright bass in a jazz band, through subtle Vietnam War commentary with his cover of Mel Tillis' song "Ruby" to psychedelic swing with his The First Edition song "Just Dropped In (To See What Condition My Condition Was In)."
Rogers was born in Houston on Aug. 21, 1938. He went to Wharton Elementary School, where he started his first band, rockabilly harmony group the Scholars. Recording for local label Carlton Records and national label Imperial Records, they cut a few singles like "The Beloved." While at the University of Houston he had a hit under the name Kenneth Rogers for the Kix Records label, doo-wop infused "That Crazy Feeling." He also played standup bass with the jazz group the Bobby Doyle Trio.
Rogers moved to Los Angeles in 1966, and joined the New Christy Minstrels, a folk-pop group formed in 1961 which featured solo players. The band included such members as the Byrds' Gene Clark, the Lovin' Spoonful's Jerry Yester, Kim Carnes, and Barry McGuire, who had a hit singing P.F. Sloan's apocalyptic protest song "Eve of Destruction."
Rogers formed The First edition with New Christy Minstrel's Mike Settle, Terry Williams and Thelma Camacho in 1967. They added the "Kenny Rogers and" to the band name in 1969. Their cover of Mickey Newbury's "Just Dropped In (To See What Condition My Condition Was In)" hit number 5 in 1968, and their version of "Ruby, Don't Take Your Love to Town" hit No. 6 in 1969. The group broke up in 1974.
Rogers' first solo hit was the country ballad "Lucille," which crossed over to the pop charts in 1977, and won a Grammy. He recorded the song he is most associated with, "The Gambler," written by Don Schlitz, in 1978. The song spawned a hit TV movie and several sequels featuring Rogers as professional gambler Brady Hawkes. In 2007 the England national rugby union team adopted it as their unofficial 2007 Rugby World Cup anthem. Rogers played "The Gambler" with Phish at the Bonnaroo Music and Arts Festival On June 10, 2012. The song was preserved by the Library of Congress' National Recording Registry in 2018.
1980 was a major year for Rogers. He sang "You and Me" with Lynda Carter on the Lynda Carter Special, ad teamed with former Christy Minstrel singer Carnes for the song "Don't Fall In Love With A Dreamer." That was also the year Lionel Richie wrote and produced Rogers' song "Lady," which hit number one. Rogers and Richie re-recorded the song as a duet on Richie's 2012 album Tuskegee. Richie also produced Rogers's 1981 album Share Your Love, which produced three top 20 pop chart hits: "I Don't Need You," "Through the Years," and "Share Your Love with Me."
He also had a hit with Sheena Easton when they paired up for a cover of Bob Seger's "We've Got Tonight." Barry Gibb of the Bee Gees produced Rogers 1983 album Eyes That See in the Dark, which included his duet with Dolly Parton "Islands in the Stream," which the producer wrote with his brothers, Robin and Maurice.
Rogers and country music legend Dottie West recorded a series of albums which produced the genre standards "Every Time Two Fools Collide," "Anyone Who Isn't Me Tonight," "What Are We Doin' in Love" "All I Ever Need Is You," and "Till I Can Make It On My Own. Their tours sold out stadiums and the duo's albums were nominated for two Grammys and won two CMA Awards. Rogers visited West hours before she died of injuries from a car accident in 1991 when she as 58.
Michele Lee played West in the 1995 CBS biopic Big Dreams and Broken Hearts: The Dottie West Story. Rogers starred as himself. As an actor, he also played a race car drive in the 1982 movie Six Pack, the made-for-TV movies Christmas in America, and Coward of the County, and narrated the A&E historical series The Real West. He played as himself in a 2014 GEICO commercial.
In 2000, at the age of 61, Rogers became the oldest artist to hit No. 1 on the country charts with the single "Buy Me a Rose." Hank Snow had held the title with his April 1974 hit "Hello Love," which he recorded when he was 59. Willie Nelson was 70 when he broke the record in 2003, with his duet with Toby Keith, "Beer for My Horses."
Rogers released the studio album Water & Bridges in March 2006 on the Capitol Nashville Records label. It included the single "I Can't Unlove You," which peaked at No. 17 on the country charts. The third single from the album, "Calling Me," which features the Eagles' Don Henley, was nominated for a Grammy Award in 2007. In 2013, Rogers recorded the album You Can't Make Old Friends, which included his first single in six years, a duet with Parton.
Rogers was also a clever businessman with a sense of humor. In 1974, he televised ads for his "Quick-Pickin' 'n Fun-Strummin'" home guitar course. Rogers transformed Los Angeles' ABC Dunhill building into a state-of-the-art recording studios in 1981. The song "We Are the World" was recorded. He put his name to C. K. Spurlock's Hendersonville, Tenn., Sprint car racing manufacturer Gambler Chassis Co. The Gambler was one of the fastest and widely used Sprintcars in the 1980s and 1990s.
Rogers co-founded the chicken and ribs chain Kenny Rogers Roasters with former Kentucky Fried Chicken CEO John Y. Brown Jr. in 1991. The chain was featured in the 1997 Seinfeld episode "The Chicken Roaster." Rogers couldn't pick his own chicken out in a taste test on Late Night with Conan O'Brien. In 2008, Rogers released his 50 Years compilation album exclusively at Cracker Barrel stores.
Rogers released the book Luck or Something Like it: A Memoir in October 2012, He also wrote the 2013 novel, What Are the Chances, with Mike Blakely.
Rogers put out 65 albums and sold more than 165 million records in his career. He won three Grammys and six CMA Awards. He was inducted into the Country Music Hall of Fame in 2013.
"You gotta know when to fold 'em." Rogers retired from touring in 2017 at age 79. Parton, Richie, Reba McEntire, and other major artists joined him at his retirement concert. He stopped performing in 2018 because of health issues.