News
Industrial Music Architect Genesis P-Orridge Dies at 70
Throbbing Gristle and Psychic TV's Genesis Breyer P-Orridge pioneered music and gender fluidity.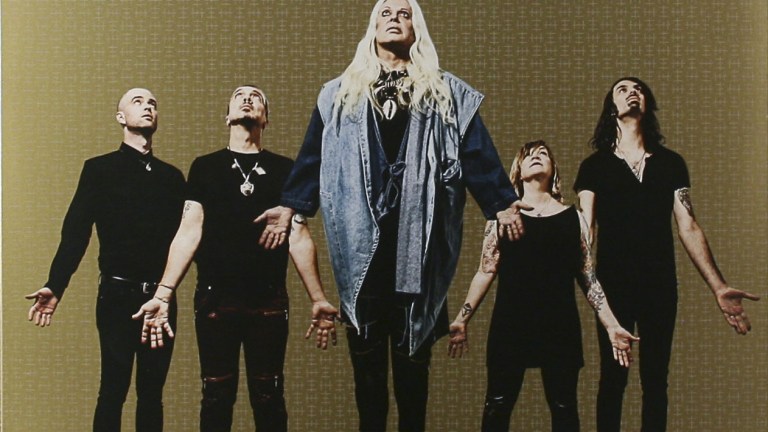 Throbbing Gristle and Psychic TV's Breyer P-Orridge, one of the architects of industrial music, died on Saturday. The songwriter, performer, occultist, and activist was 70.
"Dear friends, family and loving supporters, it is with very heavy hearts that we announce the passing of our beloved father, Genesis Breyer P-Orridge," Genesis's daughters, Genesse and Caresse P-Orridge announced in a statement on Instagram. "S/he had been battling leukemia for two and a half years and dropped her body early this morning, Saturday 14th March, 2020. S/he will be laid to rest with h/er other half, Jacqueline 'Lady Jaye' Breyer who left us in 2007, where they will be re-united."
Before non-binary was a known term, Genesis and Lady Jaye pushed the limits of gender in the "Pandrogeny Project," a body modification project to surgically merge into a single nongendered entity. The pair identified themselves under the name "Breyer P-Orridge." P-Orridge was a longtime critic of gender norms and preferred the gender-neutral pronoun of s/he. According to the report, the leader of the experimental British bands asked initiates in a cult-like fan club to send in their bodily fluids.
Neil Andrew Megson was born Feb. 22, 1950, in Victoria Park, Manchester, England. Megson began using the alter-ego Genesis P-Orridge shortly before s/he and Cosey Fanni Tutti formed the radical art outfit COUM Transmissions, which merged abrasive music with sexually-explicit live shows, in 1969.
P-Orridge formed Throbbing Gristle with Cosey Fanni Tutti, Peter "Sleazy" Christopherson and Chris Carter in 1975. P-Orridge and Tutti initially described Throbbing Gristle's sound as "DeathRock Music," but later touted it as "Industrial Music for Industrial People." "Prostitution," their 1976 exhibition at London's Institute of Contemporary Arts, caused a scandal in the art world and prompted Conservative MP Nicholas Fairbairn to label the band "the wreckers of civilization."
Throbbing Gristle's first single "United," backed with "Zyklon B Zombie," named for the lethal gas used in Nazi concentration camps, came out on their own Industrial Records label in 1978. Throbbing Gristle's third album 20 Jazz Funk Greats (1979), subversively titled because the music wasn't jazz-funk but Germanic electro-pop, hit number 6 on the British indie chart. They made nine studio albums between 1976 and 1981.
P-Orridge and Christopherson debuted the video art and musical performance group Psychic TV in 1982. The experimental band got into the Guinness World Records with a project of recording a live album on the 23rd of each month for 23 months. Starting in 1986, were able to put out 14 albums in 18 months, still enough to get the record for most albums released in one year. Psychic TV went on to release over 100 albums. The band's 1986 song about the death of the Rolling Stones' Brian Jones, "Godstar," hit 67 on the U.K. pop chart.
In the late 1980s, P-Orridge and Coil's John Balance created the occultist group Thee Temple ov Psychick Youth, which also included members of The Process Church of the Final Judgment and bands like Current. Considering themselves successors to the Ordo Templi Orientis, they worked as an artistic collective which explored Chaos magic, a practice pioneered by British occultist Austin Osman Spare.
In 1992, amidst the "Satanic panic," P-Orridge's house was raided by Scotland Yard after UK's Channel 4 accused the artist of child sex abuse. The report was based on an early-1980s artwork called "First Transmissions," which turned out to feature only adults. Channel 4 retracted its accusations. P-Orridge and future wife Lady Jaye moved to New York in 1993. P-Orridge collaborated with industrial groups like Pigface. S/he was injured in a 1995 fire at musician/producer Rick Rubin's house. The body modification project was paid for by a $1.5 million settlement.
P-Orridge worked with longstanding Process Church of member Timothy Wyllie to produce the book Love, Sex, Fear, Death: The Inside Story of The Process Church of the Final Judgment. The book was published by Feral House in 2009.
P-Orridge stopped making solo music with 2004's When I Was Young. Throbbing Gristle reformed in 2004 and played Coachella in 2009. They released three more studio albums before Christopherson's death in 2010. A reunited Psychic TV released their final album Alienist in 2016. The band supported the album with a world tour.
P-Orridge artwork was exhibited in New York City at the Rubin Museum of Art's "Try to Altar Everything" in the summer of 2016. The exhibition included installations inspired by the Hindu mythology the artist discovered in Kathmandu, where s/he operated a long-running soup kitchen.
P-Orridge was diagnosed with leukemia in 2017. Treatment was paid for by fans via crowdfunding. P-Orridge is survived by daughters Caresse and Genesse, whom s/he had with former wife Paula P-Orridge.