Features
7 Times Marvel Superheroes Appeared on Record Album Covers
The stories behind the strange collision of two iconic but (usually) separate worlds.
This article comes from Den of Geek UK.
Recently, Marvel honored the world of hip-hop by recreating some of the industry's most iconic album covers with their own superheroes substituted in. The variant covers appeared on Marvel's comics and proved so popular that the publisher even released a two-volume collection of just the album artwork.
But Marvel's characters have appeared on record covers before, and often for stranger reasons than you might expect. Here are a few famous (and not-so-famous) examples that you may or may not be aware of…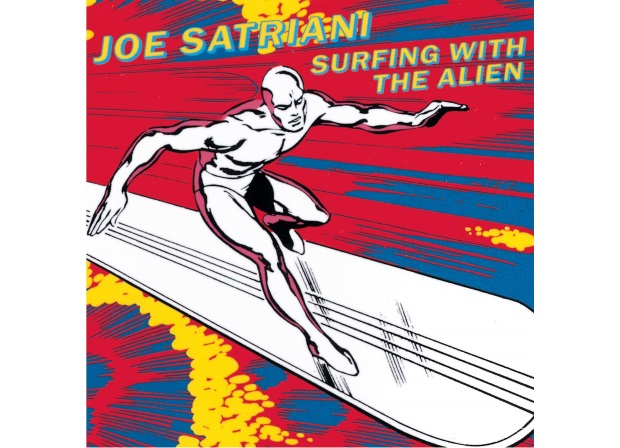 Joe Satriani, Surfing With The Alien
Joe Satriani's 1987 breakout album of instrumental psychedelic rock featured – until recently – the Silver Surfer on its cover. Taken from the pages of 1982's Silver Surfer #1, the artwork (by John Byrne) was suggested by Jim Kozlowski, production manager at Satriani's host label Relativity, after he heard the record's title.
Satriani was unfamiliar with the character, but Kozlowski made the deal happen. As Satriani tells it: "He walks down there with a copy of the album and he said, 'Now you don't have to worry about offensive lyrics or anything, this guy just plays really great rock & roll. Can we license the artwork?' They said yes – it was like $5000 for, like, 10 years." That's the sort of business acumen that saw Marvel bankrupt themselves a decade later.
further reading: Silver Surfer Movie in Development
Still, the deal happened. Unfortunately for Satriani, the terms were limited and with each renewal, Marvel raised the price (presumably as they grew to understand spreadsheets) until in 2017 they finally asked too much. "I can't really tell you what they wanted," says Satriani, "but it was beyond servitude." The cover was replaced by a somewhat less inspiring smear of yellow, red, and blue that only vaguely recalls the original. Shame.
Entombed, Wolverine Blues
When Swedish death metal band Entombed named their album Wolverine Blues, they were not thinking about a six-clawed Canadian killing machine clad in spandex. But that didn't stop their record label making the connection for them. Some versions of the story call it a genuine mistake while others feel it was a cynical attempt to cash in, and we may never be sure.
Regardless, this was 1993: the X-Men had dominated comic-book culture for a decade and their animated series was the hottest thing on TV. Entombed's label Earache – and their distributors at Colombia – were keen to play up the perceived connection.
further reading – The Best Episodes of X-Men: The Animated Series
Ultimately, a deal was signed with Marvel and the album was issued, in some territories, with Wolverine on the cover. In a rather cringeworthy move, the cover folded out into a poster which showed him shredding the record's original artwork with his claws.
Entombed may not have appreciated being linked to a superhero, but if the plan was to reach an audience outside the usual death metal scene it at least succeeded in that. Whether the tactic netted them many new fans is up for debate, but at the very least there are thousands of comic fans out there that remember the name. The album itself is still remembered and, marketing aside, it's considered a strong piece of the band's musical canon – though not quite the best there is at what it does.
MF DOOM, Operation Doomsday
UK-born, US-based rapper Daniel Dumile is best known by his stage persona MF DOOM, in which he performs while wearing a metal mask modelled after the Marvel Comics villain, Doctor Doom. Dumile first took to the stage under this persona in 1998 and released his debut solo album, Operation: Doomsday, in 1999. The cover is an original piece of art that shows Doctor Doom rapping.
While it's not clear whether the art was officially licensed or protected under parody law, MF DOOM may have encountered similar issues to Satriani when the time came to reissue his record. Licensing problems held up the re-release until 2010, when it returned to shelves with a new cover that was merely inspired by the original – this time it depicted MF DOOM grabbing the mic, presumably leaving his namesake free to terrorize the Fantastic Four without any requirement to rhyme.
Still, it seems like there was no bad blood between Marvel and MF DOOM – as part of their hip-hop cover series, they depicted Thor in the style of the cover of MF DOOM and Madlib's 2004 collaboration, Madvillainy.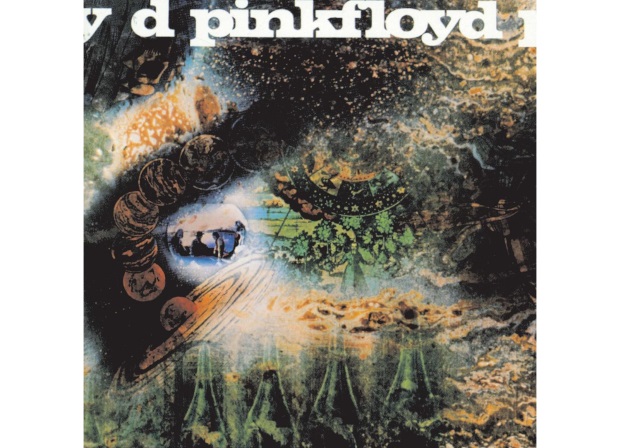 Pink Floyd, A Saucerful Of Secrets
Real hidden-in-plain-sight stuff, Pink Floyd's second studio album – 1968's A Saucerful Of Secrets – features Doctor Strange AND the Living Tribunal on its cover. Still, few would realize unless it was actively pointed out. The album's cover is a collage of psychedelic imagery featuring Marvel artwork taken from Marie Severin's work in Strange Tales #158. It features the good Doctor himself on the right hand side, as well as the Tribunal in the top left and a string of multiple Earths taken from the same.
This cover was actually the first designed by Hipgnosis – a London-based design collective that included Storm Thorgerson and Pink Floyd's eventual creative director, Aubrey Powell. It disbanded in 1983 after providing the cover for around 200 albums.
What's most surprising about this one is the time it came out. Strange himself had only debuted five years earlier (in Strange Tales #110, 1963) so if nothing else, it's evidence of quite how quickly Lee and Ditko's creation worked its way into the counterculture of the 1960s – even across the pond in London.
We went into considerable detail about the Pink Floyd and Doctor Strange connection right here. 
Wings, Magneto And The Titanium Man
The Beatles appeared in their fair share of Marvel comics, and Paul McCartney later returned the favor when he recorded the song Magneto And The Titanium Man for his subsequent project, Wings. Played live during the band's 1975/1976 world tour, the song was the B-side to Wings' 1975 single, Venus And Mars/Rock Show.
The late, great Stan Lee reportedly described the homage as "terrific," though the equally late and just-as-great Jack Kirby got a better deal, receiving backstage passes and front row tickets to the tour. In return, he gave the McCartneys an original drawing of them.
further reading – The Beatles: In Defense of "Revolution 9"
That said, Kirby didn't actually draw these characters (though he did co-create Magneto). The Magneto and Titanium Man images are by George Tuska (from X-Men #43 and Iron Man #22 respectively), while the Crimson Dynamo image is by Sal Buscema (Avengers #130).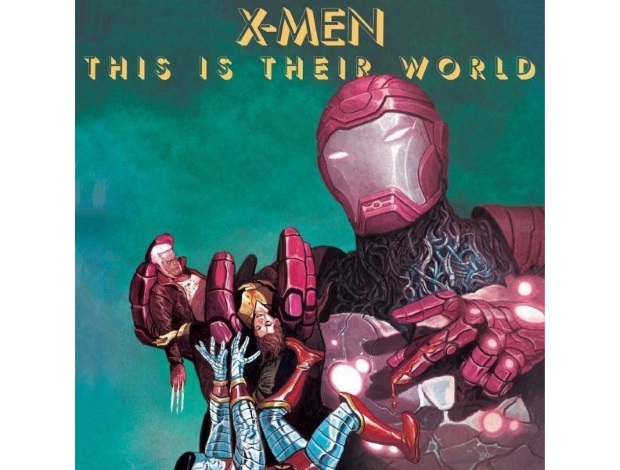 Queen, News Of The World
The original cover to Queen's 1977 album News Of The World has a big history of its own – it's already a rework of Frank Kelly Freas' cover to a 1953 issue of Astounding Science Fiction. But Marvel recently had artist Mike Del Mundo homage the cover on 2017's X-Men Gold #11, with a Sentinel replacing the giant robot and the X-Men replacing the members of Queen.
further reading – Queen and the Real Story of Bohemian Rhapsody
So how does it qualify for inclusion on this list? Well, in 2017 the London MCM Comic-Con celebrated the 40th anniversary of the album's release by issuing a version of the album on vinyl with the X-Men cover substituting for the original. Fewer than 250 copies were produced, all numbered, making this one of the rarest Queen releases of all time. Will it reach the prices of the legendary Bohemian Rhapsody Blue Vinyl? Time will tell, but maybe don't sell off your Bitcoins for it just yet.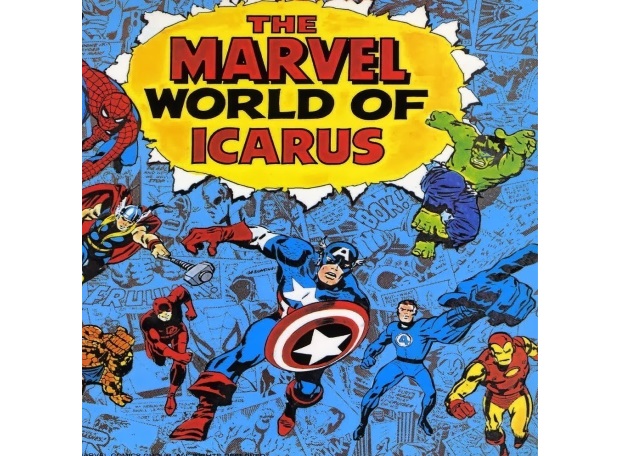 Icarus, The Marvel World Of Icarus
If the link between Marvel and prog rock hadn't already been well-established by this piece, here's one to cap it off: in 1972, UK outfit Icarus recorded an entire album themed around Marvel's superheroes. (And, er, Conan the Barbarian, a character Marvel was licensing at the time.) The cover features several of these characters against a backdrop of comic pages.
further reading: The Amazing Background Music of the 1967 Spider-Man Animated Series
However, despite initial co-operation from the company – Stan Lee even co-wrote on track 4, which is of course themed around the Fantastic Four – the story goes that Marvel had some legal objections with the record company, Pye, and the album was pulled from shelves quicker than you can say "verbal contract". Icarus disbanded soon after, quite probably as a result of having no album to sell, but there is a happy ending: it was re-released on CD in 2007 with some bonus tracks pulled from the band's other recorded output, meaning the music did get out there eventually.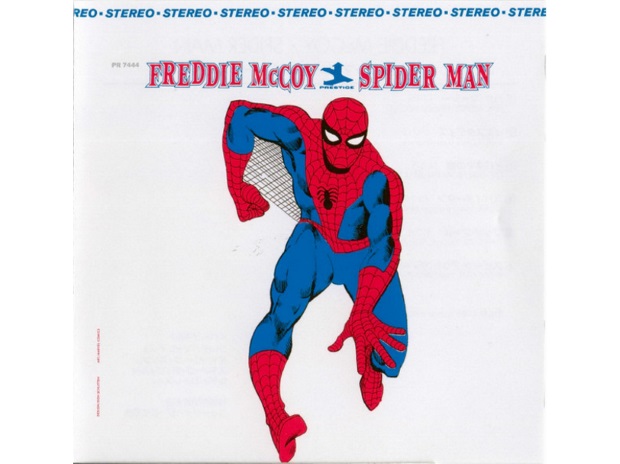 Bonus: Freddie McCoy, Spider Man
There's virtually no information out there to find about this album, but the soul jazz vibraphonist (your guess is as good as mine) Freddie McCoy titled his 1965 album Spider Man, with a cover adorned by the hero himself in full Steve Ditko splendor.
further reading – How Spider-Man: Homecoming Uses Music Perfectly
With McCoy having passed in 2009 after disappearing from the jazz scene almost 40 years earlier, we may never know how Spider-Man ended up on the cover of his album so soon after the character's creation – but it's a cool rarity nonetheless. If you know, tell us!
Thanks to Kirsten Howard for additional material.