Features
The Best Comics of 2020
It's tough to navigate the world of comics, so we're here to help. From DC and Marvel superheroes to manga, YA, and indie fare, these are the best comics of 2020 for your reading pleasure!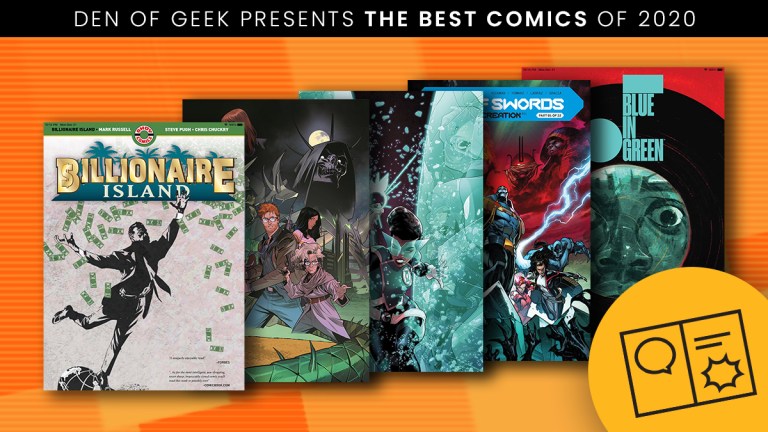 It has been a year, hasn't it?
The year started with such tenuous promise, and is ending the same way: slivers of hope among rivers of misery. But even with all the chaos, all the changes forced by the pandemic and that were coming anyway, we still got some incredible comics in 2020.
Let us be abundantly clear: every work of art made in the last year is a small miracle. Every comic creator who put irons in the fire in a year that certainly didn't lack fires deserves gratitude and commendation. Picking 20 comics doesn't do justice to the herculean work and dedication that everyone who works in comics demonstrated – from the creators, to the back office folks who kept the trains running on time and let us know they were coming, to the people who actually put the books in our hands, we should be immensely grateful to all of them.
To those creators we say: Thank you for giving us a few minutes on Wednesdays (or Tuesdays) to escape…all this.
With that said, there really were some excellent books, and we're very excited to talk about the best comics of 2020.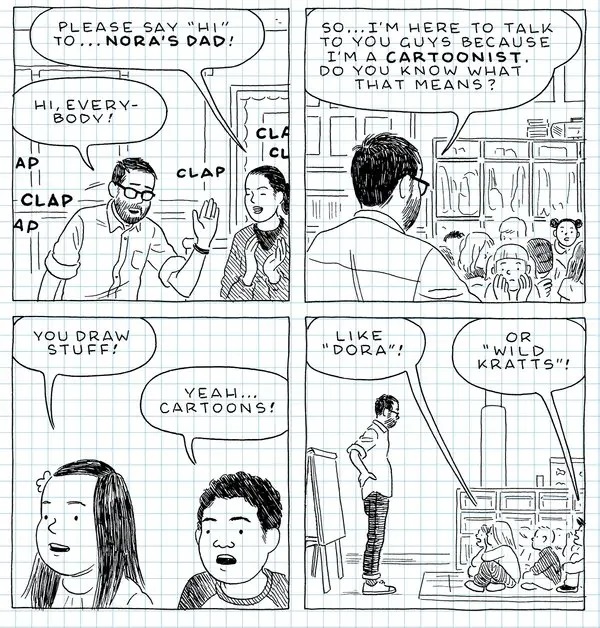 20. Loneliness of the Long Distance Cartoonist
Adrian Tomine (Writer/Artist)
Adrian Tomine is here to share his sadness with readers and inspire it in anyone who has ever tried to make art and present it to the world. In what might be his greatest work so far, the cartoonist collects his own diary comics about being an artist and trying to release a book.
The Loneliness of the Long Distance Cartoonist is painfully raw, uncomfortably authentic, and impressively hilarious. It takes guts to make yourself the butt of the joke and to do it so well, but there is such heart and humor here that it'll speak to any reader whether or not you've ever had the (mis)fortune to make your own comics or not.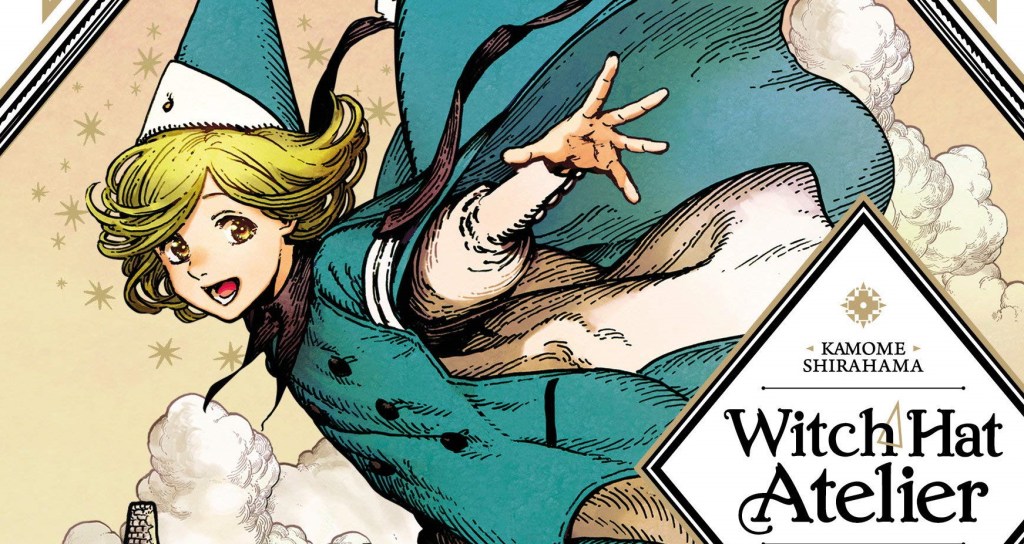 19. Witch Hat Atelier
Kamome Shirahama (Writer/Artist)
Speaking of wonderful manga, this series is one of the best books on shelves in any genre, format, or language. It's hard to overstate how inventive and imaginative Witch Hat Atelier is but for the sake of this list we'll try.
Kamome Shirahama paints a wonderful world where magic is real but only a select few can use it. Coco is our heroine and when she accidentally learns the secret behind using magic she's inducted into a witch's coven and is thrown into a vibrant world of sorcery, spells, and uneasy friendship with her fellow students.
18. Daredevil
Chip Zdarsky (Writer); Marco Checchetto, Mike Hawthorne, Francesco Mobili, Jorge Fornes (Artists); Marcio Menyz, Mattia Iacono, Nolan Woodard (Colorists); Clayton Cowles (Letterer)
Chip Zdarsky's Matt Murdock is terrific. His Wilson Fisk is Hall of Fame.
Fisk is attempting to go legit after discovering as Mayor of New York City that there is a much larger pond he could be swimming in. But the big fish in that pond (the Stromwyns – think Marvel's Koch Brothers) don't much get along with someone as insignificant as Fisk. What they do to him, and what Fisk does back, is incredible.
The art on this run has been the real deal. Jorge Fornes and Marco Checchetto have handled the bulk of the pencils this year, and their dramatically divergent styles do a great job of showing the two sides of Murdock's world – Fornes excels at the quiet investigatory work that Daredevil does, while Checchetto blows the doors off of some monster action set pieces. No lie, Stilt Man has never looked this good. This run is shaping up to be one of the best Daredevil stories of all time, a very high bar to clear.
17. The Department of Truth
James Tynion IV (Writer), Martin Simmonds (Artist)
What happens in a world where all conspiracy theories are actually true? Or that reality actually warps to accommodate new "truths" as they come into being? Such is the premise of The Department of Truth, which delivers on all the unsettling promise of its premise. The fact that it tells its story in a way that aesthetically calls to mind Alan Moore and Bill Sienkiewicz's 1988 collaboration Shadowplay: The Secret Team, which told some unsavory details about how the CIA conducted some real world foreign policy only adds to the eerie feel.
With more and more people getting internet brain poisoning thanks to wilder and wilder conspiracy theories somehow becoming mainstream every day, The Department of Truth feels like one of the more timely comics of 2020. We only wish it could be a little less timely in some ways, though.
16. The Green Lantern Season Two
Grant Morrison (Writer), Liam Sharp (Artist), Steve Oliff (Colorist), Steve Wands (Letterer)
Grant Morrison and Liam Sharp have been quietly making one of the best superhero comics in decades over at DC, and although we can't quite believe we're saying this, it's about Hal Jordan. The most boring Green Lantern of all has come to life in this trippy, experimental, and beautiful series which transcends space and time, showcasing the best of what Morrrison and Sharp do.
If you think that superhero comics are all the same, The Green Lantern will change your mind (and likely expand it) as Hal adventures through Sharp's sprawling and stunning cosmos.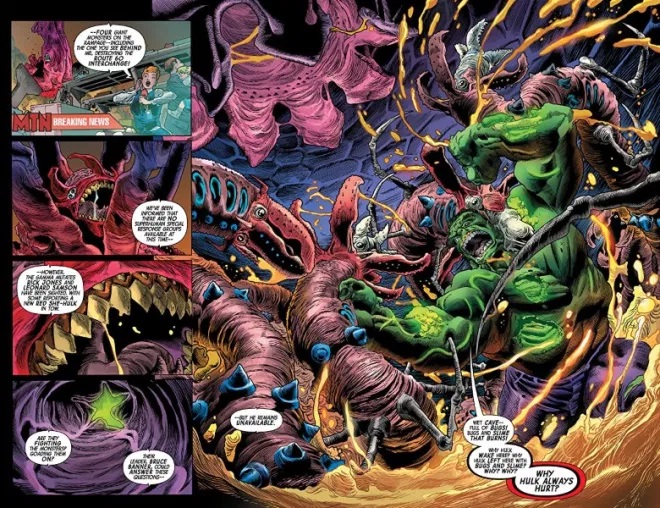 15. Immortal Hulk
Al Ewing (Writer); Joe Bennett, Mike Hawthorne, Butch Guice, Nick Pitarra, Javier Rodriguez (Pencilers); Ruy Jose, Belardino Brabo, Mark Morales, Tom Palmer, Marc Deering (Inkers); Paul Mounts, Matt Milla (Colorists); Cory Petit (Letterer)
Over at Marvel, Al Ewing and Joe Bennett have been equally delighting and horrifying readers with this reinvention of Bruce Banner and the hulking hero he becomes. This is about as close to a horror comic as a mainline superhero title can get as the team delve into the multiple manifestations of Hulk and the man behind them.
Just like The Green Lantern, The Immortal Hulk both reconsiders and revisits the lore that has made the character so iconic, and also features an impressive collection of Hulk-centric characters from throughout history.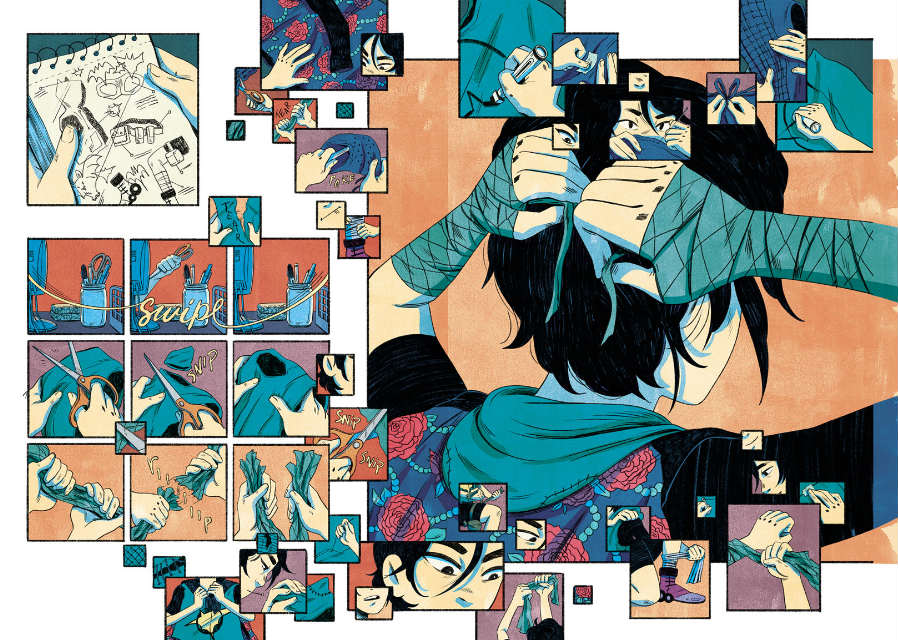 14. Shadow of the Batgirl
Sarah Kuhn (Writer), Nicole Goux (Artist)
DC Comics has been doing a great job bringing new visions of some of their best loved characters to the spotlight and Cass Cain got that treatment this year in this gorgeous graphic novel. Taking the one-time Batgirl and teaming her up with Barbara Gordon's Oracle was a genius move, but the real magic here comes from the sweet natured take on the hero that Sarah Kuhn and Nicole Goux offer up.
Shadow of the Batgirl is a superhero comic with real heart and a look that feels far more like an indie comic than anything coming out of the big two. Just lovely!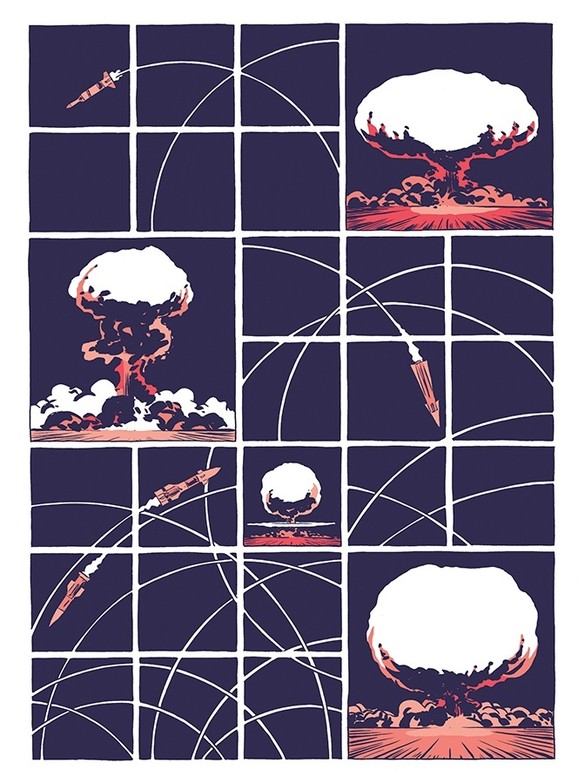 13. Hedra
Jesse Lonergan (Writer/Artist)
Hedra is unlike anything we've ever seen before, and probably the same goes for you. It's a completely silent comic, but it's a massively dense, intricate storytelling experience. It's light and cartoony, but it's got panels that would look at home in an old Wally Wood comic. It's got so many panels, and yet it's full of moments that will take your breath away.
Lonergan manages the pace and flow of the storytelling so well that you have to experience it yourself to fully appreciate it. Hedra is a beautiful, smart, fascinating comic.
12. John Constantine: Hellblazer
Si Spurrier (Writer); Aaron Campbell, Matias Bergara (Artists); Jordie Bellaire (Colorist); Adita Bidakyar (Letterer)
Si Spurrier doesn't seem like the type who gets mad often, but his John Constantine was fucking pissed, and goddamn if it wasn't the best Hellblazer comic in decades. This too-brief run of comics starring everyone's favorite dirtbag street mage was as much about England being a dumpster fire as it was about Constantine being a dumpster fire, and that low-key seethe gave this book an edge that many of Constantine's more recent exploits have been missing.
Campbell and Bergara are gifted at depicting grimy fantasy, and Bellaire continues to be one of the greatest colorists who ever lived. In a sane, just world, a second volume of John Constantine: Hellblazer is being planned as we speak. Let's hope.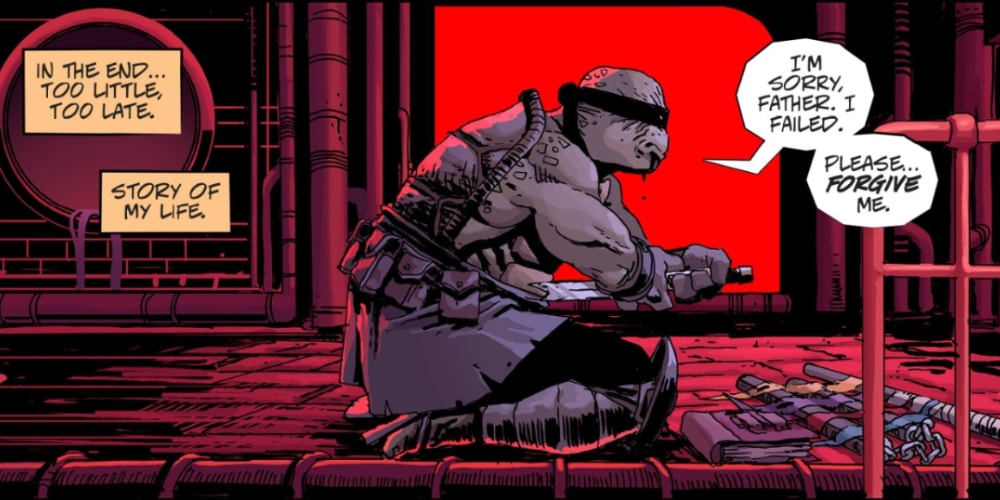 11. Teenage Mutant Ninja Turtles: The Last Ronin
Kevin Eastman, Peter Laird (Writers); Esau & Isaac Escorza (Artists); Luis Antonio Delgado (Colorist), Shaun Lee (Letterer)
When we saw a Teenage Mutant Ninja Turtles comic called The Last Ronin, we had no idea they meant Frank Miller Ronin. The art on this comic is astounding.
The story is almost irrelevant, in part because it's only just getting going (only one oversized issue has been released at the time of this writing). But it's excellent set up – the last living Ninja Turtle assaults a city controlled by the Foot Clan to try and end their long battle once and for all. It's set in the future, and heavily influenced by the cyberpunk ninja aesthetic so common to the genre, but filtered through a strong Miller lens that makes it a joy to discover.
10. Captain America: The End
Erik Larsen (Writer/Artist), Dono Sánchez-Almara (Colorist), Joe Caramagna (Letterer)
The superhero comic one shot is an underrated – even lost – art form these days. Annuals are often fill-in stories, and unless Marvel or DC are putting out an oversized issue to herald a line wide relaunch or a similar event, it's rare that you get a nice thick single issue telling a self contained story of any real "importance." Fortunately, there's Captain America: The End.
Marvel's The End line is exactly what it sounds like: an excuse for creators to tell not-really-in-continuity "final" stories for the biggest Marvel heroes. And while Captain America: The End ostensibly presents itself as the "final" Captain America story, it's way more fun than that. Erik Larsen uses this opportunity to pay tribute to Cap's greatest creative periods: specifically Jack Kirby's two-fisted, acrobatic stint on the character in the 1960s, and his socially conscious and psychedelic late '70s return to the book.
Wall to wall action, with Kirby-esque idea factory energy and dynamism at the forefront, Captain America: The End is one of the most purely fun superhero issues in years. But don't mistake this for an exercise in nostalgia, as Larsen blends timely (and timeless) messages that help sum up what made Captain America great in the first place, and why we'll never truly see the "last" Cap story.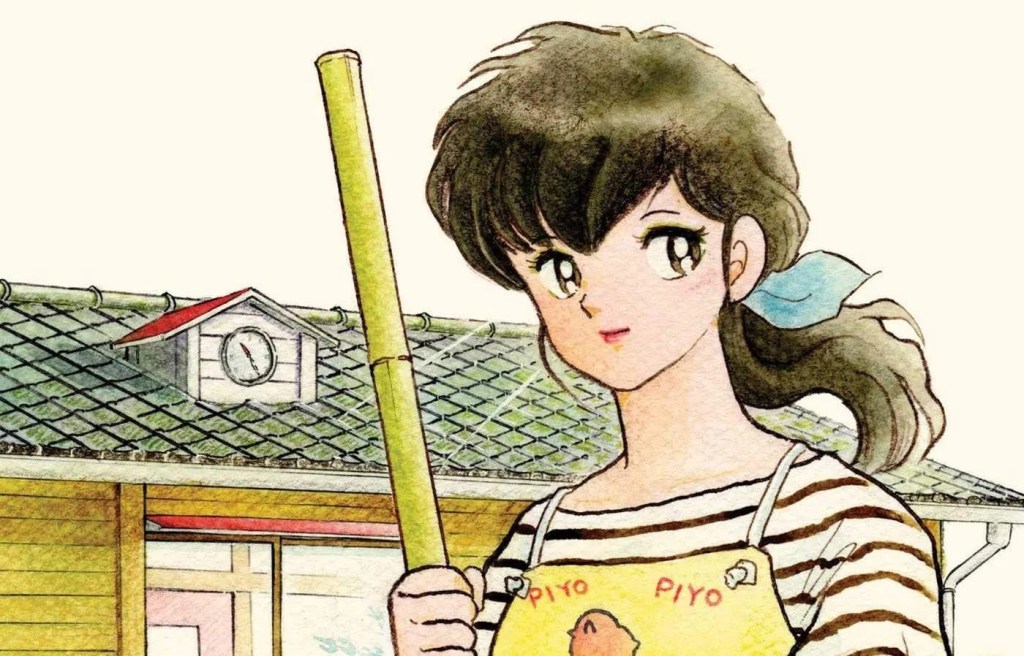 9. Maison Ikkoku
Rumiko Takahashi (Writer/Artist)
We can't make enough noise about how great Viz has been doing recently at making some of the harder to find manga classics available to bigger audiences. This lovely reprint of Rumiko Takahashi's joyful slice of life comic technically came out decades ago, but most Western comics fans likely only came to it via this new printing.
Maison Ikkoku follows the misadventures of a young apartment building manager and the tenants that she has to keep in check. In turns sweet, silly, and saucy, this is truly a masterwork of manga that you must read.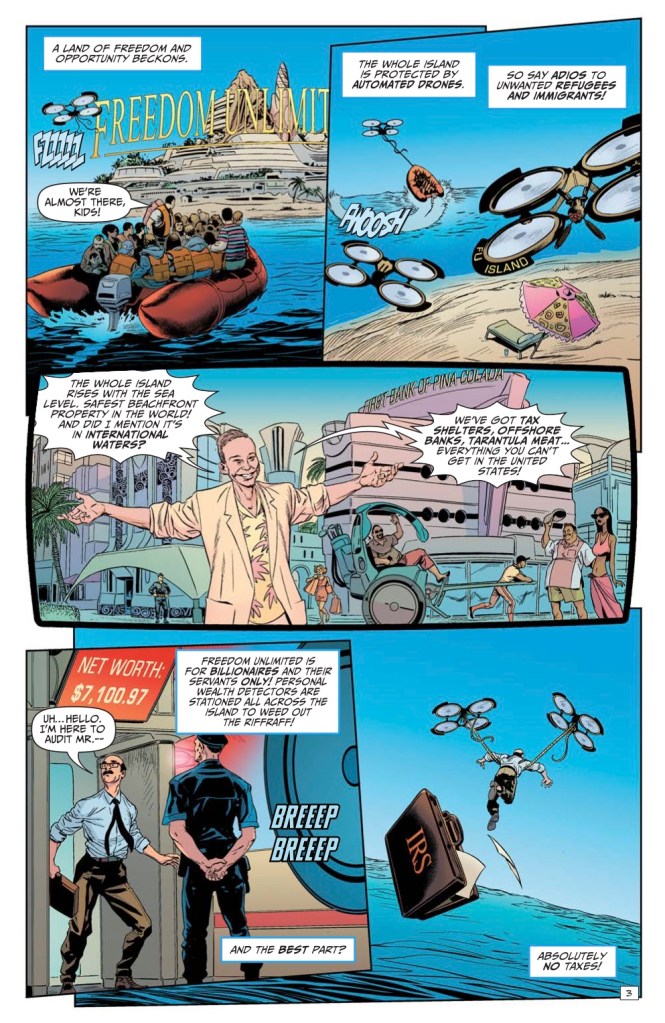 8. Billionaire Island
Mark Russell (Writer), Steve Pugh (Artist), Chris Chuckry (Colorist), Rob Steen (Letterer)
This is not Mark Russell, Steve Pugh, and Chris Chuckry's first time on our lists, but it's definitely the angriest they've been since showing up on here. If we're really being fair, it's entirely deserved.
Billionaire Island is a wild fantasy story definitely based on nothing in reality about the world's uber wealthy, who control the world, building their own island to ride out climate change while the poors all die off and suffer on the mainland. It follows a reporter with the Miami Herald, and an ex-mercenary who lost his family to Aggrocorp's sterility experiments in Angola, as they try and bring down the aforementioned billionaires, are trapped on the island, and work to escape.
It is every bit as hilarious as you would expect from the team who brought us The Flintstones, but there's an edge to it that wasn't there in Russell, Pugh and Chuckry's earlier work. That's probably because of the villains – The Flintstones skewered society, while Billionaire Island takes aim at the shittiest people in the world. Several of them by name.
Despite the undercurrent of anger, Billionaire Island is still packed with genuinely hilarious moments. Pugh's sight gags remain incredible, and the comedic timing on display is outstanding. I had high expectations for Billionaire Island coming into it, and it exceeded all of them.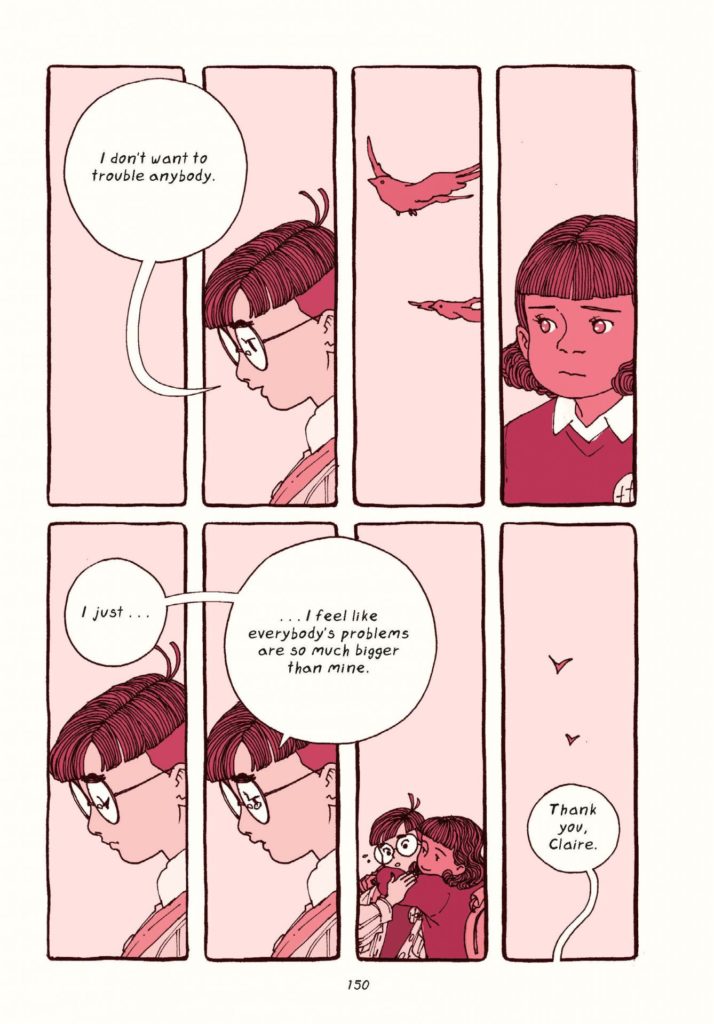 7. The Magic Fish
Trung Le Nguyen (Writer/Artist)
Feel like crying a lot? Because The Magic Fish got almost everyone we've seen read it. It's an incredibly powerful yet quiet comic about a 13 year old coming to terms with who he is and how to talk with his parents about it.
Tien, the aforementioned 13 year old, is a first generation Vietnamese-American with a crush on a friend and a mother who is still processing her move to the States and the family she left behind. Much of the story is about Tien trying to figure out how to broach the subject with his mother.
What stands out about The Magic Fish is how Nguyen tells the story. Much of it is is told by retellings of fairy tales – two modifications of the Cinderella story, and one of The Little Mermaid. The colors are especially effective in setting up the mood and tone of the sections of story, elegantly communicating so much about Tien's emotional and intellectual state. And the fashion and hair are magnificent. Nguyen draws Alan Davis-good hairstyles.
Nguyen's The Magic Fish is accessible, deeply moving, and beautiful, a book that should be shared with friends.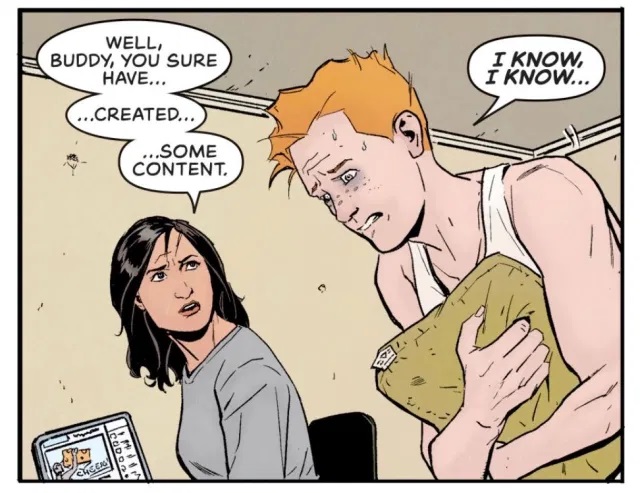 6. Superman's Pal, Jimmy Olsen
Matt Fracion (Writer), Steve Lieber (Artist), Nathan Fairbairn (Colorist), Clayton Cowles (Letterer)
It's probably good that the prank war issue, where Timmy Olsen stole the wheel off the Batmobile for Youtube clout, was published last December, because otherwise this entire entry would be the Den of Geek reciting bits to each other like this was comics Anchorman. And all that time we'd spend telling each other we sure have created some…content…would distract from the fact that Superman's Pal, Jimmy Olsen is one of the nicest, most thoughtful, best put-together comics in years.
Beneath all of the gags – and there are a ton – Fraction, Lieber, Fairbairn, and Cowles put together a deceptively complex character study of Jimmy, Superman and Metropolis. This is a book that is as much about what Jimmy Olsen means to the people of Metropolis as it is about Dex-Starr puking blood on the remnants of Jimmy's Gorilla City wedding, or the army of Kevins attacking him.
Lieber and Fairbairn were the perfect choices for art on this story: Lieber's facial expressions and Fairbairn's bright color palette sell every joke and set every mood that the story requires, and the way the creators play with time and information release is masterful. Superman's Pal, Jimmy Olsen is essential reading, both because of its importance to the Superman universe as a whole, and because it's just that damn funny.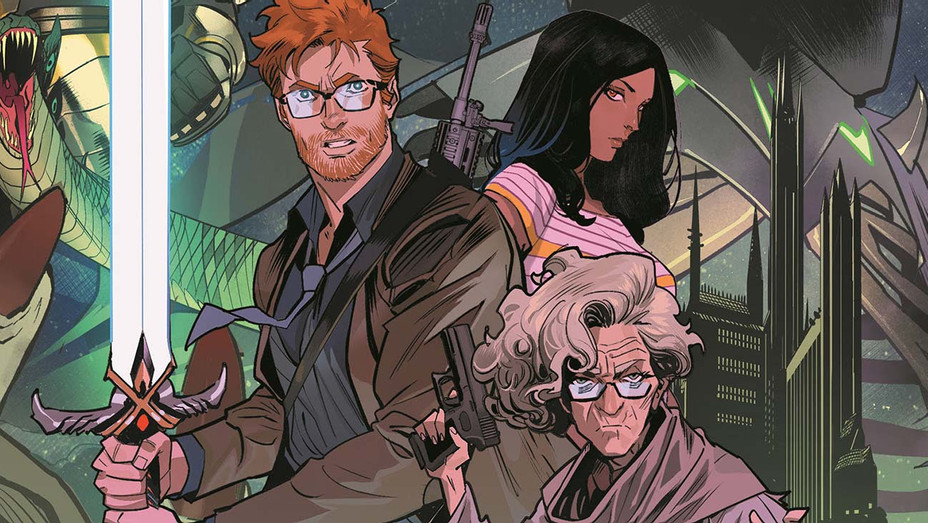 5. Once and Future (READER'S CHOICE!)
Kieron Gillen (Writer), Dan Mora (Artist), Tamra Bonvillain (Colorist), Ed Dukeshire (Letterer)
Turns out letting Dan Mora draw his way through an English lit degree is a really good idea.
Joking aside, our readers have excellent taste, naming Once and Future their top pick for comic of the year.
Kieron Gillen takes the "story about a story" formula, smashes several more stories into the first one, and then lets Dan Mora and Tamra Bonvillain go ham on the whole thing, and the resulting comic is breathlessly exciting, and gorgeous to look at. It remixes Arthurian legend and this year added a sprinkle of Beowulf and developed the magic a little more, while juxtaposing that rich fantasy world with the mundanity of things like a senior living facility.
Mora draws monsters exceptionally well, and Bonvillain gives several scenes an ominous glow that sets a hell of a tone. Once and Future is a great pick by our readers, and is comfortably one of the best books of the year.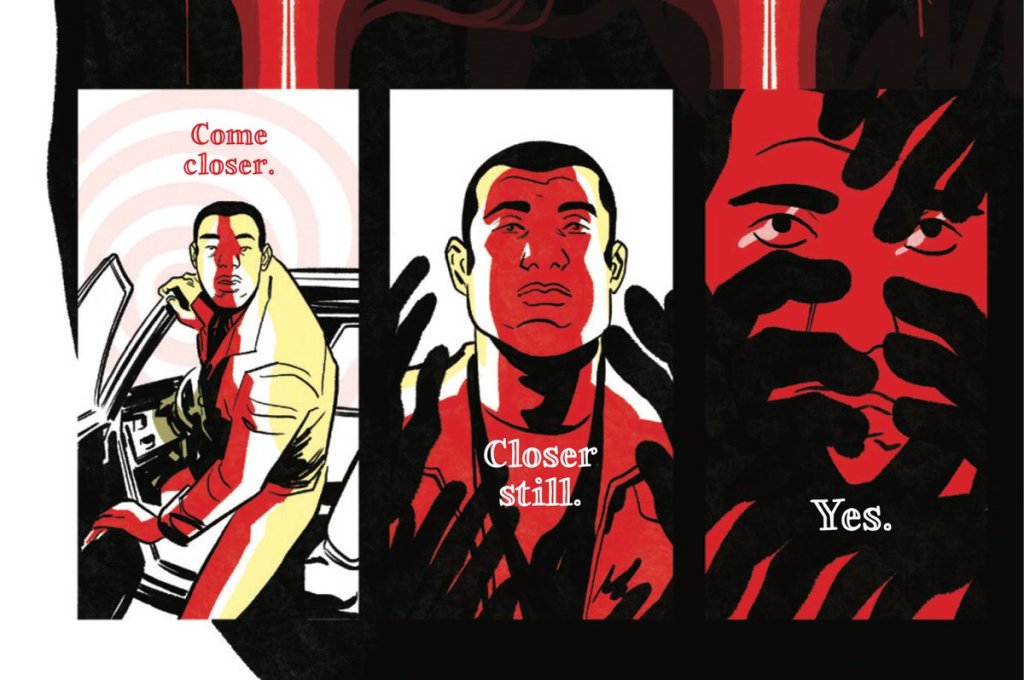 4. Dracula, Motherf**ker!
Alex de Campi (Writer/Letterer), Erica Henderson (Artist)
You may not realize that you need a grindhouse '70s story about Dracula's brides being extremely done with his shit, but trust us, you need Dracula, Motherf**ker! in your life.
This book isn't especially long, nor is it terribly complex. We get a lot of echoes of the original Dracula story updated to a dingy 1970s Los Angeles, and a lot of what you'd expect from a grindhouse horror comic, but it's done exceptionally well by two incredibly talented storytellers.
In retrospect, it's hard to believe this is the first time de Campi and Henderson have ever worked together. Dracula, Motherf**ker! felt a lot like someone discovering peanut butter cups for the first time – there's that dawning realization as you're reading that it really works well, and then a secondary shock that nobody had ever done it before.
De Campi is a pro's pro and a veritable cluster bomb of ideas. Henderson is a gifted sequential artist who gets to show off her mastery of color art as a storytelling device in these pages. The final package is outstanding.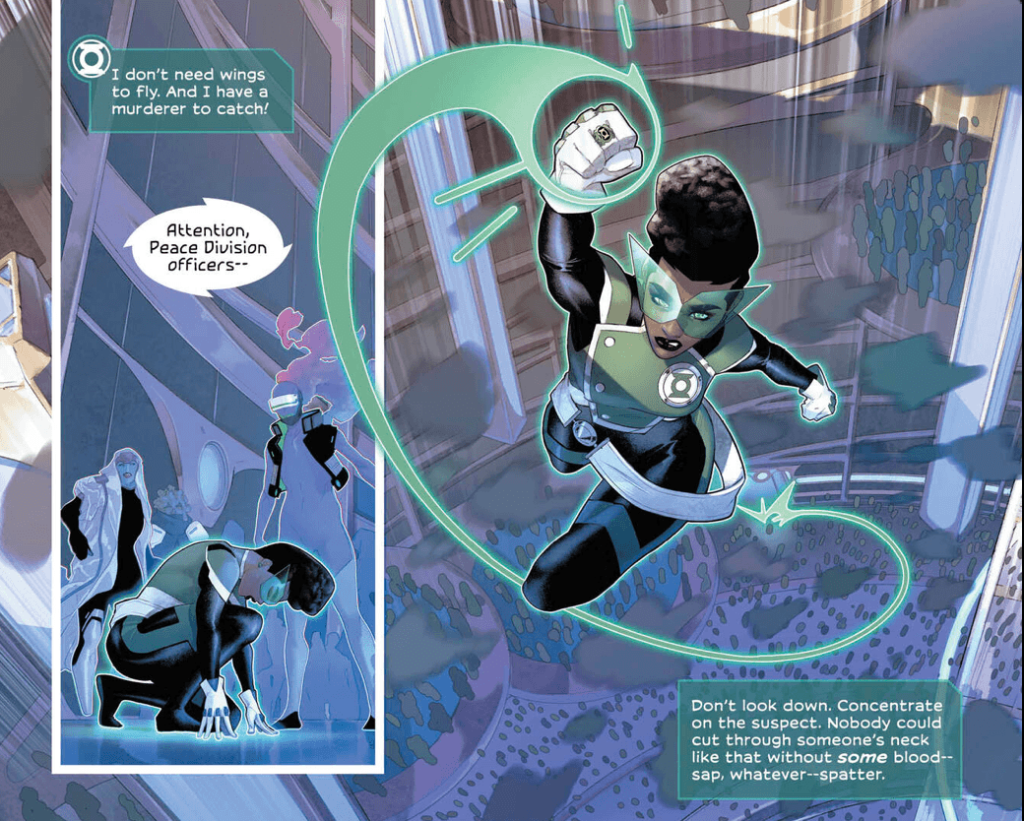 3. Far Sector
N.K. Jemisin (Writer), Jamal Campbell (Artist), Deron Bennett (Letterer)
The quality level of Far Sector is almost impossible to believe. Jamal Campbell doesn't have an enormous comics resume, and this is N.K. Jemisin's debut comic story. And yet the skill evident in every panel screams that this was made by a team of master craftsmen.
Far Sector is the story of Jo Mullein, a new Green Lantern with an experimental, self-charging ring, dispatched to a floating megacity run jointly by three alien races; the Nah, a group of spacefaring fishtailed/winged bipeds; the keh-Topli, a group of carnivorous plants; and the @at, a race of sentient ethereal memelords. Jo is there at the request of the ruling council to investigate the City Enduring's first murder in centuries.
Her investigation is our way into Jemisin and Campbell's vibrant imaginations.
This is a stunning book to look at – at least once an issue, Campbell draws something completely mind-bending. And Jemisin writes with the easy confidence and command of the form that people who have been writing comics for 50 years can't match: there isn't a wasted word on a single page of this entire series. It's elegantly topical, stunning to look at, and a ton of fun to read. Far Sector is handily one of the greatest Green Lantern stories of all time.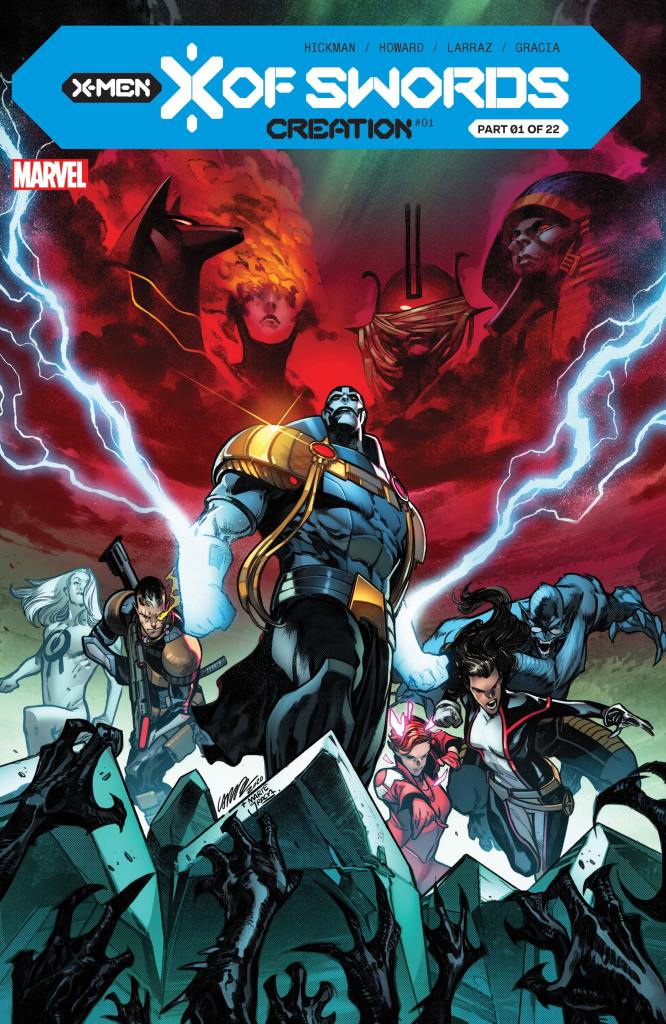 2. X of Swords
Jonathan Hickman, Tini Howard, Leah Williams, Benjamin Percy, Vita Ayala, Zeb Wells, Ed Brisson, Gerry Duggan (Writers); Pepe Larraz, Carlos Gomez, Viktor Bogdanovic, Matteo Lolli, Carmen Carnero, Rod Reis, Phil Noto, R.B. Silva, Mahmud Asrar, Leinil Francis Yu, Stefano Casselli, Joshua Cassara (Artists); Marte Gracia, Israel Silva, Matt Wilson, Edgar Delgado, David Curiel, Nolan Woodard, Sunny Gho, Guru-eFX, Rachelle Rosenberg (Colorists); Clayton Cowles, Joe Caramagna, Cory Petit, Ariana Maher, Travis Lanham, Joe Sabino (Letterers)
X-Men fans are not commonly known for our penchant for consensus. We can and will argue over everything, from who's a better partner for Cyclops to which story arc in the '90s was actually rock bottom. So when you get near unanimity that X of Swords is the best X-Men crossover since Inferno, you can pretty much take that to the bank.
The culmination of the first phase of the X-universe's post House of X/Powers of X plan, X of Swords tied all the mutant comics back together to take on a couple of the biggest ideas dropped in and immediately after HoXPoX. It did something that was nearly impossible: it paid off a year's worth of stories from ten different series, with satisfying climaxes for more than a handful of storylines.
It did this in part because several creators are making the jump to superstardom. Larraz somehow managed to do even better work than on House of X, delivering massive beat after massive beat in the final issue of the crossover. Tini Howard spent a year making Excalibur the best book in the line, and wove her plot threads through the crossover she co-shepherded (with Boss X or whatever they're calling Hickman) to give us a foundational Otherworld and Captain Britain story. All the while, Howard also made sure that this Excalibur-centric crossover paid homage to the first Excalibur series – packing it full of magical silliness and genuine heart. Vita Ayala only got one issue in the crossover, but that issue will go down as one of Storm's best stories of all time. And Joshua Cassara drew two issues of fights and competitions, and dropped multiple staggering spreads.
The X-Men line as a whole is the best it's been in decades, and there's no better proof of that than in X of Swords.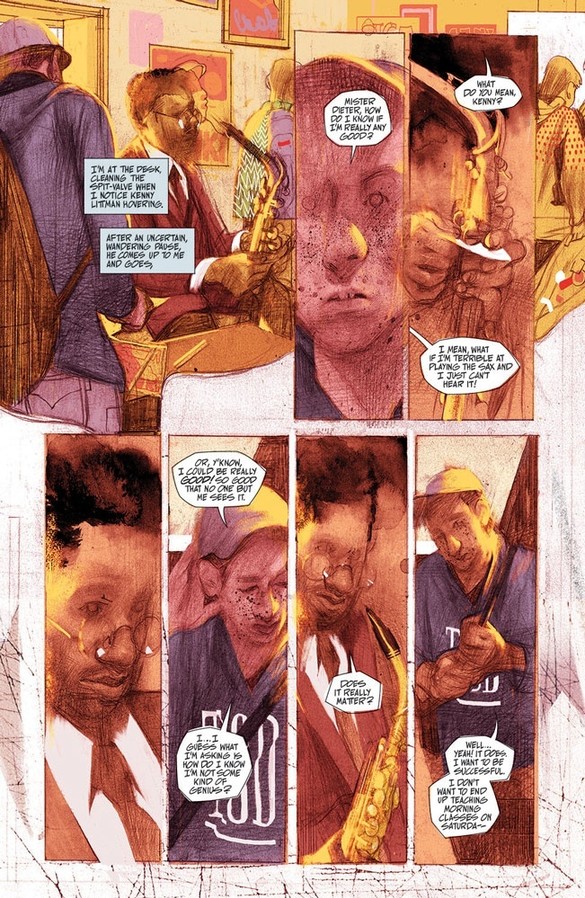 1. Blue in Green
Ram V (writer), Anand RK (Artist), Aditya Bidikar (Letterer)
Fiction is especially tough when the storyteller isn't up to the subjects. If someone is writing a book about the smartest person in the world, the writer has to be smart enough to believably put brilliance in that character's mouth. If someone is making a comic about a drug that makes everyone indescribably beautiful, then the art has to be angelic, or the book falls apart.
But when a creative team IS up to the task, the end result can be sublime. That's what Ram V, Anand RK and Aditya Bidikar gave us with Blue in Green. A comic about jazz that so perfectly evokes the form of its subject matter that I'm willing to bet this comic is taught in years to come. Blue in Green is incredible comics.
Blue in Green's story is broadly familiar: it's the crossroads tale, where the Devil meets a gifted musician and trades the musician's life for magnificent talent. Erik is a talented saxophonist with a rough family history who's pissing away his talents half-heartedly teaching kids how to play. He goes home for his mother's funeral, makes his deal, and wakes up days later, after a fugue state that included him blowing the doors off of a jazz club with his sax. Eventually, the bill comes due.
The presentation has a uniquely loose flow to it, moving from rigid grids to collage with prose attached, with surreal, disorienting colors that match the mood of the section of story marvelously. The way the storytelling shifts from section to section, the way the form changes so that it can tell the story as much as the words or art can, is one of the most skillful feats of comics creation I've read in years. It's like its own kind of visual jazz. Blue in Green is an astounding piece of comics storytelling, and I can't wait to read what's next from everyone involved.