Features
How DC Universe Infinite Brings Welcome Changes to the Digital Comics Reading Experience
The revamped DC Universe Infinite brings fans closer to the ultimate comic book reading app.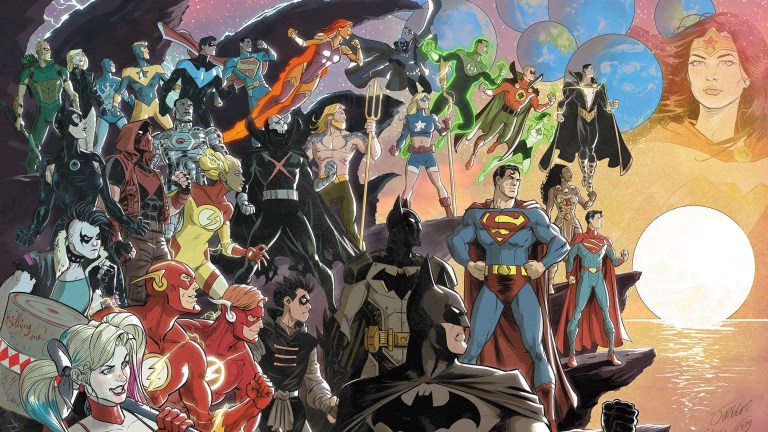 Way back in September, DC's second FanDome event dropped a huge announcement: DC Universe, the all-encompassing DC entertainment streaming app that featured comics, movies, and TV shows from the DC catalog, would narrow its focus to comics, becoming an app called DC Universe Infinite.
The new app launches on Jan. 21 and brings with is a slew of changes, many of them for the better — at least if comics are what you're looking for. Den of Geek got an early peek under the hood of the app and we have plenty of good news to share.
How It Works
First thing's first: if you already have a DC Universe subscription and you've signed off on switching your account to the new app, all you have to do is download the DC Universe Infinite app when it goes live on Thursday morning. The new app will overwrite your old one and port all of your old data over, an especially helpful feature if, for example, you are 145 issues into a Five-Years-Later-through-Abnett-and-Lanning Legion of Super-Heroes read and you don't want to lose your place. The new app will keep all of your old library and lists together, and will even let you pick up on the page where you left off.
Beyond that, the only cosmetic change you will likely notice is the ability to change the app icon. On your settings page, you'll have the option of picking one of several DC characters to serve as your home screen icon, with a selection that we're told will keep growing with time.
Otherwise, the app is pretty familiar – collections, story highlights, how the books are laid out, and how the reader flows all work just about the same as the old app.
Under the hood is a bit of a different story…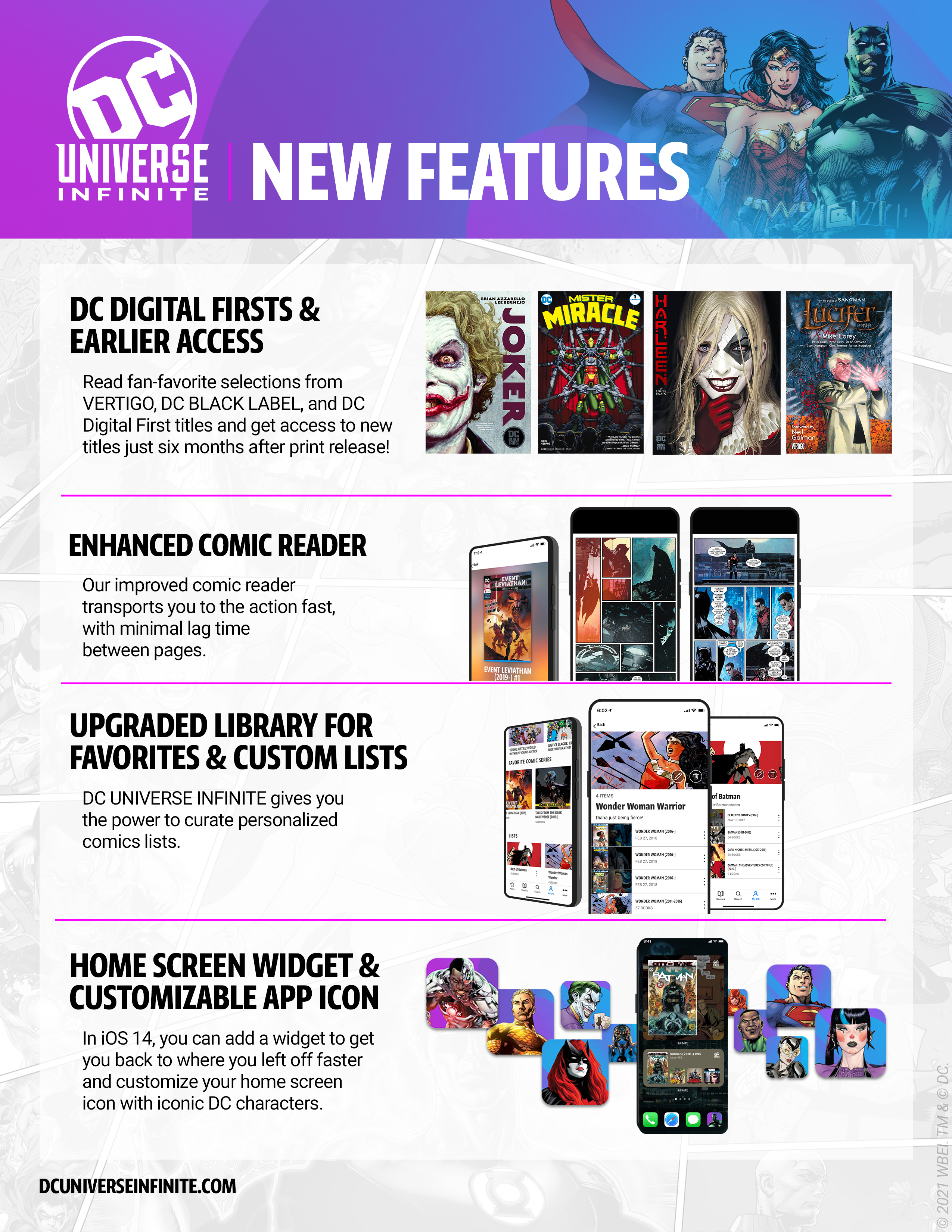 Changes to Readability
DC Universe was already better laid out than most competitors. The binge read experience was far superior due to the built in metadata organization of series and runs. Take the all-time classic Starman. James Robinson et al's seminal work ran through 75 issues of a main title. But it also had annuals, one-shots, and a crossover with Power of Shazam! that were essential to the whole story. DC Universe did a great job of slotting those extraneous issues into their appropriate places in the reading order. And DC Universe Infinite is expanding on that, with more tagging and sorting happening behind the scenes to make that reading experience even better.
The biggest and best change to functionality when DC Universe Infinite launches is a shift in how the books load. DC Universe really was a streaming comics service – it would only download a couple of pages ahead of where you were reading, and because of funky internet connections or different reading speeds, you would sometimes drop a page in the middle of the book. No more of that in Infinite, though: the app preloads the entire issue when you click it. This is a huge upgrade for readability.
Infinite also comes with a widget for mobile devices that will let you jump back to your reading spot with a swipe to the control panel, an easy way to help you stay current on your doomscrolling while reading your comics. And boy will there be a ton of comics. Hopefully less doomscrolling, too. But most importantly, lots of comics.
The Best Change: Milestone, Vertigo, Black Label, and Faster Updates
DC Universe's comics library was already close to the gold standard for streaming services. The switch to Infinite brings some changes that will push it far and above all its competitors.
New offerings on DC Universe Infinite include a stack of classic original graphic novels:
BATMAN: ARKHAM ASYLUM written by Grant Morrison and art by Dave McKean
GREEN LANTERN: EARTH ONE written by Corinna Bechko and Gabriel Hardman
JOKER written by Brian Azzarello with art by Lee Bermejo
JUSTICE LEAGUE: THE WORLD'S GREATEST SUPERHEROES written Paul Dini with art by Alex Ross
LUTHOR written by Brian Azzarello with art by Lee Bermejo
MISTER MIRACLE written by Tom King with art by Mitch Gerads
SUPERGIRL: BEING SUPER witten by Mariko Tamaki with art by Joëlle Jones
A pile of classic Vertigo runs that were pulled from DC Universe shortly after it launched, like:
EX MACHINA written by Brian K. Vaughan with art by Tony Harris
HELLBLAZER Written by Jamie Delano, Garth Ennis, Paul Jenkins, Mike Carey and more
iZOMBIE written by Chris Roberson with art by Michael Allred
LUCIFER written by Mike Carey with art by Peter Gross
PREACHER written by Garth Ennis with art by Steve Dillion
V FOR VENDETTA written by Alan Moore with art by David Lloyd
Recent smash hits from DC's Black Label imprint:
BATMAN: DAMNED written by Brian Azzarello with art by Lee Bermejo
HARLEEN written and illustrated by Stjepan Šejić
SUPERMAN: YEAR ONE written by Frank Miller with art by John Romita Jr.
THE LAST GOD written by Phillip Kennedy Johnson with art by Riccardo Federici
THE QUESTION: DEATHS OF VIC SAGE written by Jeff Lemire with art by Denys Cowan
The very popular Hill House line of horror books, which was curated by Joe Hill:
BASKETFUL OF HEADS written by Joe Hill with art by Leomacs
PLUNGE written by Joe Hill with art by Stuart Immonen
THE LOW, LOW WOODS written by Carmen Maria Machado with art by Dani
DAPHNE BYRNE written by Laura Marks with art by Kelley Jones
THE DOLLHOUSE FAMILY written by Mike Carey with art by Peter Gross
And another delightful surprise – Milestone Comics!
STATIC written by Dwayne McDuffie with art by John Paul Leon
HARDWARE written by Dwayne McDuffie with art by Denys Cowan
STATIC SHOCK! REBIRTH OF THE COOL written by Dwayne McDuffie with art by John Paul Leon
ICON: A HERO'S WELCOME written by Dwayne McDuffie with art by M.D. Bright
ICON: VOL. 2: THE MOTHERSHIP CONNECTION written by Dwayne McDuffie and M.D. Bright with art by Chris Cross, M.D. Bright, John Paul Leon, and Jeff Moore
Many of these books were made available for limited reading on DC's web site during FanDome, and the small taste they gave was nowhere near enough. It's really exciting to see Vertigo included, and just as good to see Milestone getting the push it deserves. This is all in addition to the digital first exclusive comics going onto the app daily, and a community function that looks like a better moderated old-school message board experience.
The big loss in the switch to Infinite are the original television series, which are all moving to HBO Max. However, the library additions more than make up for the narrowed focus. If you're looking for a comics binge service to get you through…all THIS…DC Universe Infinite looks like a terrific investment.
Subscribe to Den of Geek magazine for FREE right here!