Features
Infinite Frontier and What's Next for the DC Universe
Infinite Frontier kicks off a bold new era for the DC Universe. Here's what it all means...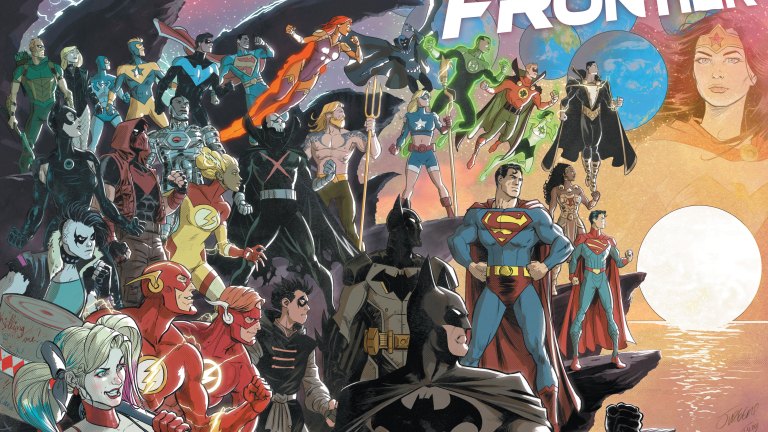 DC Comics released a first look at its March comics, the first batch after the end of the multiverse-spanning Dark Nights: Death Metal and the pause-everything company wide reset Future State, and from our first glimpse of the solicitations, the big changes coming in Future State look like they might be sticking around.
With the sheer volume of change that DC underwent in the last year – new distributors, new release days, personnel changes, cancellations and FanDomes included – there was a lot of speculation about the future of the comics line. This first batch of solicitations provide an interesting answer to that speculation. It looks like, post-Future State, DC's changing everything. By keeping some things the same.
Here are our biggest takeaways…
It All Counts
Dark Nights: Death Metal #6 features a big twist where Wonder Woman powers up for the final battle with The Batman Who Laughs by reactivating all of DC's past continuity. YES, that's ridiculous, but it's also awesome: the DC Universe contains 80+ years of stories, and they're never, ever better than when they are playing around in what's come before. 
So while Future State is a look forward at what's to come for the DC Universe, the most exciting part of what follows is how much it takes in what came before:
Justice League, by Brian Michael Bendis and David Marquez, is bringing in Black Adam, clearly following up on recent events in Endless Winter.
Batman: Urban Legends is full of cuts both fresh and deep, with Matthew Rosenberg and Ryan Benjamin continuing the story of Wildstorm's Grifter in Gotham, while Brandon Thomas and Max Dunbar start an old-school Outsiders story with Katana, Metamorpho and Black Lightning. 
Suicide Squad kicks off a new run from Robbie Thompson and Eduardo Pansica with Peacemaker. The last time he was hanging with the Squad was in John Ostrander and Kim Yale's classic run. 
And the Crime Syndicate makes its return with a limited series by Andy Schmidt and Kieron McKown with a blend of the classic team (with an Ultraman origin backup from Bryan Hitch) and the Trinity War era Syndicate – Atomica is one of the newest additions to the team.  
You've also got plenty of forward-looking stories, starting with the big one kicking it all off. Infinite Frontier #0 is the jam book spearheaded by Josh Williamson, but with samples from much of the rest of the DCU, functioning the same way that DC: Rebirth #0 did. It's got some of Joelle Jones' new Wonder Woman; some of Becky Cloonan and Michael Conrad's new status quo for Diana; and the next big move for the Joker spinning out of Joker War.
New Faces
Hands down the most exciting part of Future State is all the new blood brought in to create the books, and seeing them carry over to the main DCU is invigorating. New blood means new perspectives, and new perspectives can completely turn the old superhero formula on its head.
Also, some of these creative teams are bonkers. Wes Craig (Deadly Class) doing a Superman story in the Red & Blue anthology! Mariko Tamaki (Wonder Woman) and Dan Mora (Once & Future) on Detective Comics! Tom Taylor on a Nightwing he can't kill! Presumably.
But we're also getting new faces in the books. Ram V, maybe the hottest writer DC has at the moment, is sticking with his Future State: Swamp Thing collaborator Mike Perkins to put a new face in the Green: Levi Kamei is the new Swamp Thing in the main DCU.
Red X, Dick Grayson's other secret identity from the various Teen Titans cartoons, is making his comics debut in Future State: Teen Titans, and Tim Sheridan and Rafa Sandoval are going to keep using him when we get back to normal continuity.
Damian Wayne is getting a new costume in Williamson and Gleb Melinkov's story, "Demon and Detective," running as a backup in Batman and Detective Comics.
And then there's the book I can't actually order fast enough: Gene Luen Yang (Superman Smashes the Klan and The Terrifics) and Ivan Reis (like, everything big from DC for the last half-decade, including some awesome Aquaman and Superman) diving into the multiverse for Batman/Superman, introducing three villains from the old movie serials as Batman and Superman nemeses from parallel Earths. It's so beautiful!
Plenty to Sample
DC's anthologies seem to have been successful enough that they're going to keep putting them out. Batman: Black & White continues to be Eisner-bait, and DC is trying to transfer some of that magic over to Superman: Red & Blue, which will run short stories by prestige creators that use only those two colors. Meanwhile, Batman: Urban Legend looks like another chance for multiple creative teams to tell quick hit stories that are either artistic experiments, backdoor "pilots" for future books, or tryouts for up and coming creatives.
And many other regular titles – Batman, Superman, Action Comics, Detective Comics, Wonder Woman, to name a few – are coming with backup stories and extra pages. It's extra bang for your buck, plus it's a nice way to tie the line together without publishing multiple books like they're one story (I'm looking at you, '90s X-Men comics). However these backups and anthologies are going to work, they should be valuable parts of the publishing universe. 
Also valuable to DC: not killing your creators or readers. Double shipping – putting out a new issue of Batman every two weeks, for example – is logistically complicated, taxing, and expensive for me. That's done: everything is coming out monthly.
In fact, there seems to be more of an effort at truth in advertising with some of these titles, with more books advertised up front as miniseries than I can remember in the past. There is some speculation among people who monitor comics sales that advertising a story as a mini upfront can restrict its readership. But creatively, knowing that there is an end can often make the story more meaningful. And let's be honest, most comic readers are reading for the story and not the title – when a story in a book ends, people move on, regardless of whether the subsequent issue is a new #1 or issue 768.
Black Label's Still Got It 
DC's prestige line, Black Label, has been one of the focal points of speculation, but judging by these offerings, everything keeps humming along. Tom King's whole line of books (Batman/Catwoman, Rorschach, and Strange Adventures) are all well underway, and now with added Helena Wayne. The Dreaming: Waking Hours kicks off a new arc. And John Ridley and Giusseppe Cammuncoli's maybe-masterpiece, The Other History of the DC Universe, drops its Katana issue in March. Rumors of Black Label being on the chopping block don't seem to have had anything to them.
Grant Morrison's Swan Song
The last bit of news from DC's March solicits is a sad one. Grant Morrison, the architect of so much of what has made the DC universe beautiful for the last 25 years, is stepping away from that world on March 9th. That day sees the publication of their final two DC comics: The Green Lantern Season Two #12, and Wonder Woman Earth One vol. 3. 
The beautiful thing is, Morrison was a huge proponent of the "everything matters" school of comics continuity, making it their central thesis on their Batman run, but also using it to incredible effect in their Superman triptych. It's really easy to see their influence on the last 25 years of DC stories, but that influence has only grown stronger over the last few years, as a generation of comics creators took over the industry committed to honoring and integrating everything that came before. Hell, it's the entire point of Death Metal. So for their DC career to wrap up as their influence reaches its textual peak is just a nice way to go out.