News
Dark Nights: Death Metal -DC Event Gets Bigger and Crazier
DC's Dark Nights: Death Metal event has added to its all star lineup of talent with even more all stars!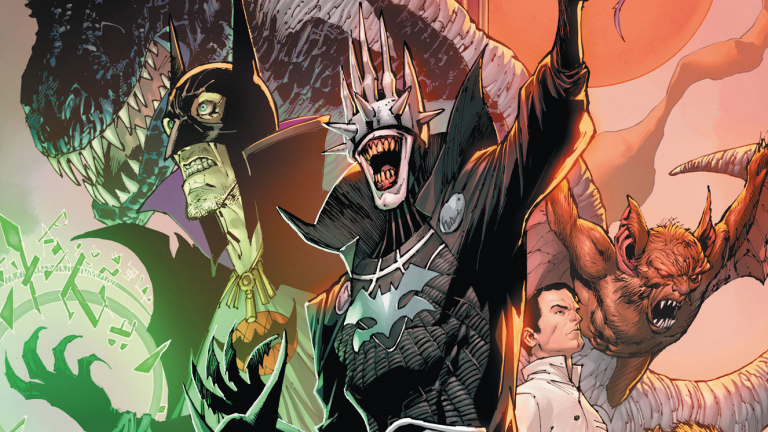 We knew Dark Nights: Death Metal, the big DC megaevent from Scott Snyder, Greg Capullo, Jonathan Glapion and FCO Plascencia, was reworked when it got delayed. DC just announced how much it was reworked.
The main series has been expanded from six to seven issues, with a skip month planned for September. However, to help fill us up for that break, we get two supplemental comics: Dark Nights: Death Metal Guidebook #1 on August 11th, and Dark Nights: Death Metal Legends of the Dark Knights #1 on August 25th.
Death Metal is the follow up to Dark Nights: Metal, the series that introduced the Dark Multiverse and its evil coterie of Batmen (including the Batman Who Laughs) to the DCU; to Snyder's Justice League, which brought dark goddess Perpetua in from her prison in the Source Wall, to tear down the existing multiverse and replace it with something more pliable; and to Hell Arisen, the story about the final showdown between the Batman Who Laughs and Lex Luthor in a Martian Manhunter suit to see who would be Perpetua's chief general.
Guidebook and Legends of the Dark Knights are anthologies that include some bonkers talent. Guidebook will have short stories from Snyder, James Tynion IV (Batman), Joshua Williamson (The Flash), Becky Cloonan (Doom Patrol: Weight of the Worlds), Vita Ayala (a really good Aquaman annual), Chip Zdarsky (!), Christopher Priest (Deathstroke), Doug Mahnke (Final Crisis: Superman Beyond), Khary Randolph (Excellence), and others. The Guidebook takes readers on a tour of the Earth, remade by the Batman Who Laughs so the continents are shaped like a giant bat. This will be a theme. The Guidebook also shows readers what happened to the Justice League at the end of issue #39, when they admitted defeat at the hands of Perpetua and disappeared through a mysterious door to regroup. 
The second book, Legends of the Dark Knights, has stories from Snyder, Tynion, Williamson, Peter Tomasi (Batman & Robin), Joelle Jones (Catwoman), Daniel Warren Johnson (Wonder Woman: Dead Earth), Warren Ellis (!! The Batman's Grave), Garth Ennis (!!! Preacher), and others. Legends looks at the backstories of some of the various Dark Multiverse Batmen brought to Earth Prime to help the Batman Who Laughs rule. This will include Warren Ellis' origin story for B-Rex, the T-Rex Batman seen in the preview pages of Death Metal #1.
The covers for both books are very good – Yasmine Putri draws the cover for Guidebook, a stunning image showing Wonder Woman in her set up as ruler of Hell, and new designs for Wasteland ruler Harley Quinn, and pirate captain Aquaman, while Tony Daniel puts in a very Capullo-esque cover for Legends of the Dark Knights with glimpses of B-Rex, a sentient Batmobile, and several Man-Bats (Men-Bat?).
For more on Dark Nights: Death Metal, including more from our conversation with Scott Snyder, and periodic reminders that Warren Ellis is writing a two page origin story for a sentient robot dinosaur Batman (!!!), stick with Den of Geek!