News
Animorphs Books 4, 5, and 6 to Be Adapted Into Graphic Novels
More classic Animorphs stories, including the introduction of fan-favorite Andalite Ax, will be drawn by Chris Grine!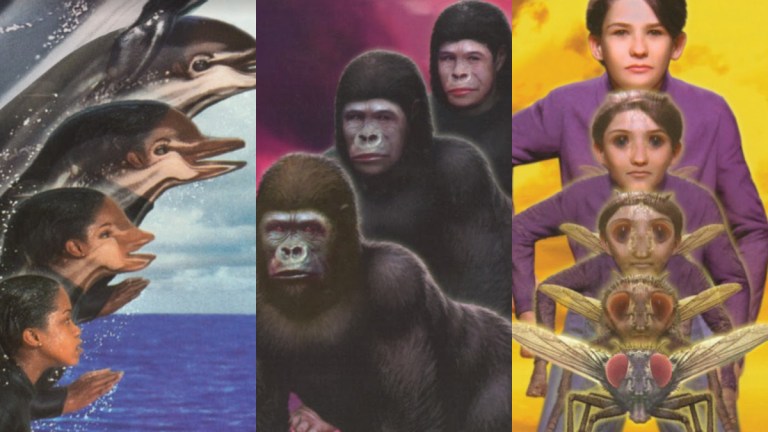 When the Animorphs graphic novels were first announced, no one could have predicted how well they'd turn out. Would they be new versions of the old stories? Would there be updated pop culture references? Could they live up to the legacy the long-running sci-fi kids book series has etched into stone since the 90's? 
It did all that and more. Faithful to the originals down to many scenes being 1:1 recreations, the first graphic novel, which adapted the original novel, went over immensely well with fans. At the time of its release, it was known that artist Chris Grine, adapting the books originally written by K.A. Applegate and Michael Grant, had been signed on to adapt the first three entries in the series. 

Fans wondered, though: would we be seeing more?

Well the answer is yes! As confirmed today by Scholastic (after much teasing on Twitter by Grine and Applegate), the adaptions will continue with new graphic novel versions of The Message, The Predator, and The Capture, published by Scholastic Graphix. Even better, Scholastic let us know that these books will be released on an accelerated schedule compared to the first three. They're planned to release Fall 2023, Summer 2024, and Fall 2024. 
Three books in the span of a year? That's great news for Animorphs fans, especially since The Message introduces one of the most popular characters of the series. The Andalite, Ax. Known for his love of eating all kinds of food (and some things that most assuredly are NOT food), fans will not only get to see his first appearance in graphic novel form but also his gradual attempts at fitting into and commenting on human society. We won't say that if Scholastic hadn't adapted these books it'd be a crime but, come on, the more Animorphs books we get the more chances we have to see Ax with cinnamon buns. Can't beat that!
These books also feature critically important stories for Cassie and Marco, their first focus novels in the whole series. Much of the groundwork of the characters (and the series) is established here. They're books that could not be skipped and we're glad to see Scholastic is committing to adapting the in full. Hopefully more will come after these three!