Features
Sharks of the Wasteland Cover Reveal
Sharks of the Wasteland is the story of a genetically-modified human living in a post-apocalyptic America.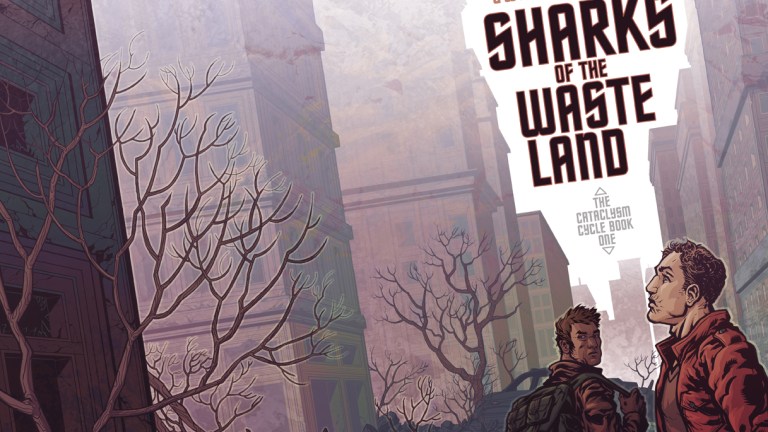 Sharks of the Wasteland, the first book in The Cataclysm Cycle by Gwendolyn N. Nix, follows the story of a genetically-modified human living in a post-apocalyptic America poetically known as "the wastelands." Sharks of the Wasteland will hit bookshelves in September, but we have a first look at the gorgeous and eerie cover right now…
"Raising a book always takes a village and I'm blown away by how artist Jeremy Mohler interpreted my vague suggestions of 'environmental apocalyptic New York!' and 'Blade Runner vibes!' into this stunning cover," says Nix of the cover design. "I love how the environment is just as much of a character here as the two main characters, and the off-set title makes me imagine being drawn to some dive with a flickering neon sign above it, where you decide to be brave, sit down and stay a while, maybe listen to a story meant to intrigue and unnerve you."
Nix brought on a sensitivity reader, someone who reviews a manuscript for representation issues, for the writing of Sharks of Wasteland.
"Writing Sharks of the Wasteland was a fantastic experience, but one of the most rewarding pieces was working with a sensitivity reader to enrich the characters," says Nix. "While living and studying in New York, I was so inspired by the stories of the Native American peoples of that area that I was excited to reimagine a future where those cultural boundaries were drawn and explored anew. Ensuring those representative characters were as authentic as possible was incredibly important to the plot of the story and development of those characters on their respective journeys. Having a sensitivity reader ensured the story was successful on those fronts and added to the narrative layers."
Nix says she first came up with the idea for Sharks while walking along Brooklyn's Dead Horse Bay, which helped her "visualize the opening scene," but the deeper inspiration for the story goes all the way back to Nix's childhood.
"Having grown up in Montana, the proximity of Yellowstone—and its long-overdue explosion—is an event that's always in the back of my mind," says Nix. "Bringing the two together was a natural, if frightening, story origin. I knew there would be a love story, but as I wrote, I felt the characters growing together in ways I hadn't even planned for. I was pleasantly surprised with how organically the relationships formed and how in the midst of devastation there is always hope."
Here's the full, official synopsis for Sharks of the Wasteland…
"In the wastelands that remain after the apocalypse…
Subject T—Thresher—never expected to be free from his life as an experiment, but now that he's escaped into the outside world—a world transformed after the Yellowstone volcano erupted—he's determined to never go back. Life as a genetically modified human never prepared him to face the dangers beyond the Facility, and he'll only survive if the fascinating outsider, Mako, agrees to bring him along on his journey.

Mako isn't sure what to make of the wanderer he finds, except that the naive man can't survive the environmental toxicity ravaging the landscape. That's not Mako's problem—not when there are warring tribes of survivors to maneuver, old enemies to confront, and an abducted sister to find. Yet when Thresher reveals clues leading Mako closer to his destination, he realizes that this wanderer—this experiment—changes everything.

The two wanderers must navigate more than just the inherent dangers of a post-apocalyptic world. A disease pulls what remains of society apart at the seams, and the remaining tribes are fractured, constantly competing for water and resources that will allow the strongest of them to rule. But two sharks might have the best chance to survive—and bring the world with them."